Affiliate Disclosure: As an Amazon Associate I earn from qualifying purchases. Details
When you are a watch guy whose job or hobbies are best described as tough and physically demanding, the last thing you want to wear on your wrist is a subtle dress watch or a $20 plastic time-telling accessory.
Instead, what you'll be needing is a watch that is tough as stone and durable as Duracell Bunny.
The rugged watches we'll be covering in this post are precisely tough and durable by standing up against various extreme conditions while maintaining their dependability and brand new appearance.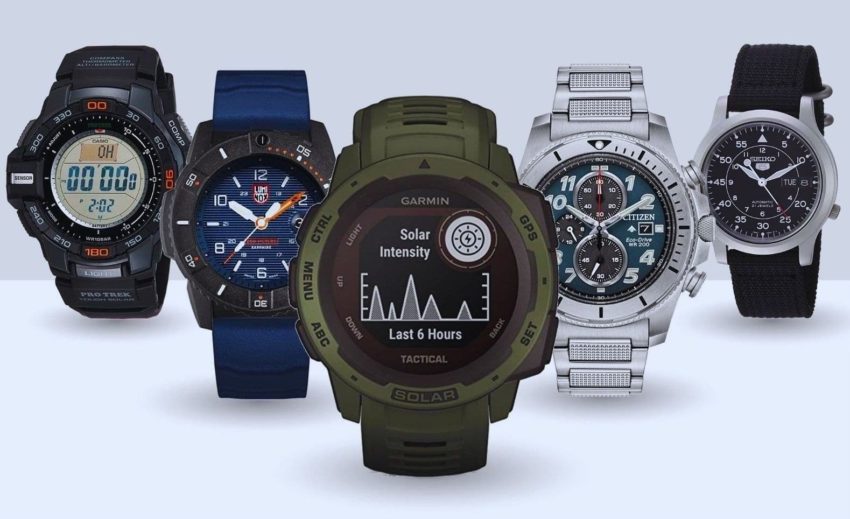 You will not find timepieces costing in their thousands because a true rugged beater watch shouldn't be something you later regret taking with you.
As such, the best rugged watches we cover here feature a median price of only a couple of hundred dollars (with few exceptions on both ends of the scale).

Top Rugged Watches
Without much ado, here are tough watches that look and act like one.

G-Shock XL Watch
Case Size: 53mm
Water Resistance: 200m (660ft)
Crystal: Mineral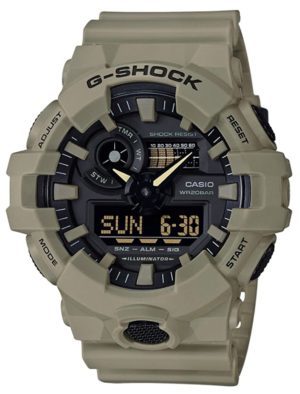 When talking about durable watches, there is no better brand to start with than Casio G-Shock. Constructed to withstand gravitational shocks (G in front of Shock is what it stands for), as well as temperature and magnetic shocks, the G-Shock watches are spot-on for physically demanding works and hobbies.
The G-Shock XL is one of the watches that you can take with you without much worrying about its durability and reliability. Moreover, it doesn't even cost a three-digit sum for the excellent features it comes with.
The watch has a 200m (660ft) water resistance, a standard in each G-Shock. It is also equipped with a World Time function in 31 time zones, as well as a home city/world city swapping option, making it a perfect travel watch for your journeys. You'll also find classic functions, such as the stopwatch and alarm features.
One of the conditions that make a rugged watch rugged is its appearance. In that particular department, the G-Shock XL is an exemplary model. Covered with a desert tan color and sporting a knobby and knurly design, a watch cannot go any tougher than this G-Shock.

The watch is an analog-digital watch, with the time displayed via the hands and other functions through the digital screen. In terms of legibility, the hands are pretty easy to capture. However, the digital display is almost impossible to read in specific lighting. That is probably the most significant disadvantage this G-Shock has.
Other than that, the watch is super durable, accurate, and affordable. Moreover, it looks rugged and commanding on any wrist due to its knobby exterior and 53mm case size.

G-Shock Master of G Rangeman GW9400
Case Size: 53mm
Water Resistance: 200m (660ft)
Crystal: Mineral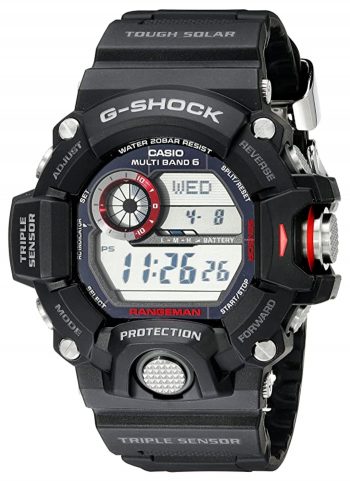 The line-up of G-Shocks is vast, and compiling a list of the toughest watches consisting of only the said brand's timepieces wouldn't be an exaggeration. And although we are not going to do it for the sake of different tastes, we can't help but include more than one G-Shock to this list.
The Master of G Rangeman is a more advanced watch in terms of functions compared to the previous entry when the widespread alarm, stopwatch, and World Time features are complemented with Triple Sensor and Tough Solar innovations.
The Rangeman can hence measure altitudes, barometric pressure, and read temperatures and a compass while energizing itself entirely by a battery-less solar power.
And if that wasn't already enough, the watch is equipped with a Multiband 6 technology, ensuring atomic precision throughout its lifetime.
The watch looks rugged and heavy-duty with all the protrusions surrounding the case. It is also large, standing at 53mm in diameter (without the crown). It means slender wrists are not the best fit for this G-Shock.
What's great is that this digital watch has a positive display – black numbers on a light background. So it ensures excellent readability in any lighting condition compared to negative displays. On top of that, you'll get an LED backlight that activates through the button or when tilting your hand 45 degrees.
There are some concerns among owners with the thermometer and altimeter not showing precise results. Still, overall, the Rangeman GW9400 is almost a spotless old-school G-Shock for extreme conditions with a plethora of functions.

Garmin Instinct Solar Tactical Watch
Case Size: 45mm
Water Resistance: 100m (330ft)
Crystal: Power Glass
The Garmin Instinct Solar can easily be called one of the toughest around due to the U.S. military standard 810G for thermal, shock, and water resistance the timepiece is constructed. These standards ensure its aptness for various conditions, whether up in the air or deep down in the water.
Appearance-wise, the Instinct is as rugged as it is in terms of build quality. Additionally, it comes in a moss green color that is spot-on for military and tactical purposes.
The focal function of any Garmin timepiece is the GPS, which is the bread and butter of the brand. Hence, you can expect the most accurate positioning any watch can provide. In addition, you can download maps beforehand through the Garmin Explore app.
The GPS works hand-in-hand with the 3-axis altimeter, barometer, and compass, adding an extra dimension to navigation. And if you add the features like waypoint projection and dual-position GPS format, you'll have a complete hiking watch at your disposal.
A neat addition to this Garmin Instinct is the solar charging capability that extends the battery life nearly five times compared to the non-solar Instinct (from 14 days to 68 days) while adding another 14h in a GPS mode (from 16h to 30h).
Besides the survival and tactical functions, the Instinct Solar offers various other applications that help track workouts and how your body responds to them.
Last but not least, the variety of colors this Garmin comes with is enormous, ranging from moss green and flame red to sunburst yellow and seafoam blue. Therefore, there's always a Garmin available for every taste, whatever your preference.

Suunto Traverse Alpha
Case Size: 50mm
Water Resistance: 100m (330ft)
Crystal: Sapphire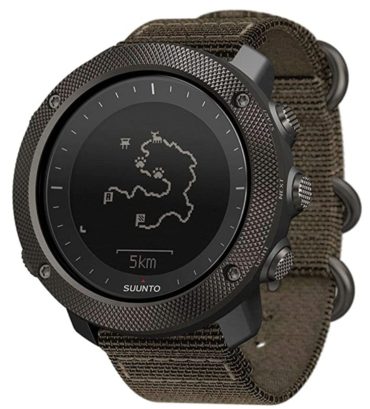 When the Garmin Instinct emphasizes the tactical side of a watch, the Suunto Traverse Alpha we have up next concentrates more on hiking, fishing, and hunting. As a result, you can anticipate a sturdy timepiece constructed to stand up against rigid conditions.
The Suunto Traverse Alpha is a spot-on hunting watch due to its specialized features, such as shot detection and breadcrumb trail, coupled with accurate GPS technology. The functions can also be applied to fishing.
The routes can be uploaded beforehand through the Suunto app, after which you can easily track your current position and the whole course.
The watch is a very handy piece of wearable in mountainous regions as well when an altitude graph shows heights for the past 12 hours. Paired with a barometer and thermometer, you'll also be aware of the current and forthcoming weather trends.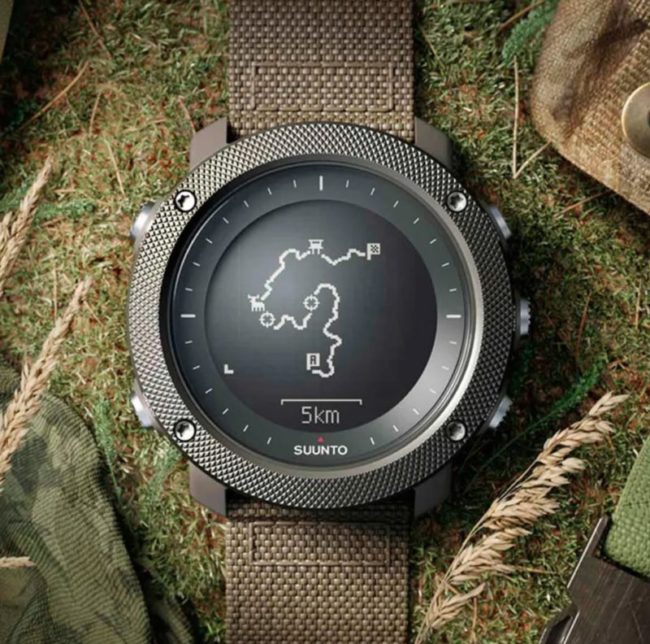 In terms of materials, the Suunto Traverse Alpha is a very durable watch. For example, the knurled bezel comes in stainless steel, the face is covered with premium-class sapphire crystal, and the band is made of water-repellent nylon.
Like the Garmin Instinct, the Suunto Core doesn't always show dead accurate results when the steps count and heights can differ from the actual result. However, it doesn't happen too often to interfere with the user experience.
All in all, the watch not only looks like a real deal tough man's watch but provides excellent functions that all but confirm its status as one of the most comprehensive outdoor watches.

Luminox Navy Seal 45mm
Case Size: 45mm
Water Resistance: 200m (660ft)
Crystal: Sapphire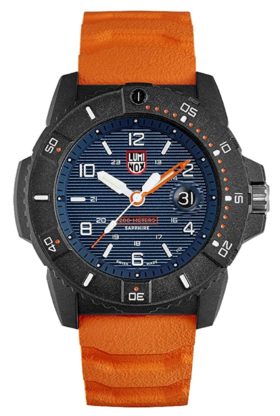 Luminox, a Swiss brand most known for its ever-glowing tritium watches, also produces long-lasting and durable watches. And looking at the Luminox Navy Seal 45mm timepiece, it's difficult to suggest otherwise.
Cased in carbon compound, the watch offers something from two opposite worlds – at one end, an ultra light weight that is typically not in correlation with toughness, while on the other end, a very rigid scratch and shock resistance.
In fact, the watch weighs a mere 75g (2.65oz), which is twice as light as a classic stainless steel ticker.
The lightweight Luminox piece also features a scratch-resistant sapphire crystal, the most appreciated watch glass in the industry. With added coatings of anti-reflectiveness, the watch is also highly legible in sunlight.
However, the best selling point of any Luminox watch, including this particular model, is its luminosity. The tritium-filled hour markers have a constant glow for up to 25 years, making Luminox watches some of the best luminous timepieces available.
The tritium tubes are located on the watch hands and hour dots, as well as on the bezel as a small pip.
In addition, the Navy SEAL is water-resistant to 200m, enabling it to be worn for swimming, snorkeling, and shallow diving.

When it comes to the eye-catching orange rubber strap, it is much thicker than typical rubber straps. Also, it is strong and feels comfortable on the wrist. However, if your wrist measures well above the average (more than 8 inches), the strap might not be long enough.
All things considered, the Luminox Navy SEAL is a smaller and more modest alternative to G-Shock watches.

Victorinox I.N.O.X. Swiss Army Watch
Case Size: 43mm
Water Resistance: 200m (660ft)
Crystal: Sapphire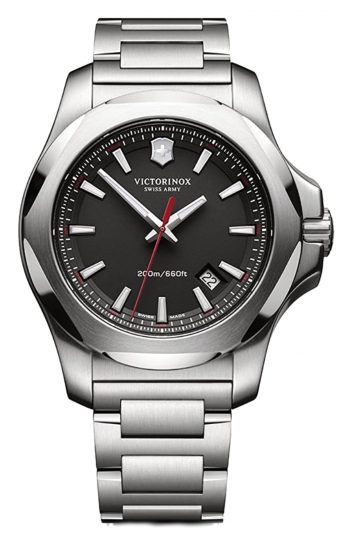 Victorinox is another Swiss brand that manufactures long-lasting watches. The producer's best-selling line is the I.N.O.X. collection, where every watch goes through 130 endurance tests, starting with a 10-meter drop and finishing with a dive to 200m.
Out of all the I.N.O.X. watches, the Victorinox Black I.N.O.X. has been the crowd's favorite for years. It looks masculine, offers plenty of reliability, and goes with numerous attire, whether it be a suit and tie or a military uniform.
The watch is 200m (660ft) water-resistant and is cased in anti-corrosive and scratch-resistant 43mm stainless steel. Like most Swiss watches, the glass comes in sapphire with several coatings of anti-reflective treatment. Hence, the quality standards are top-notch.
This Victorinox is powered by a Swiss quartz movement that is reliable and accurate. A neat extra you get with this timepiece is the battery's end-of-life indicator that notifies the wearer of insufficient energy levels by advancing the second hand every four seconds.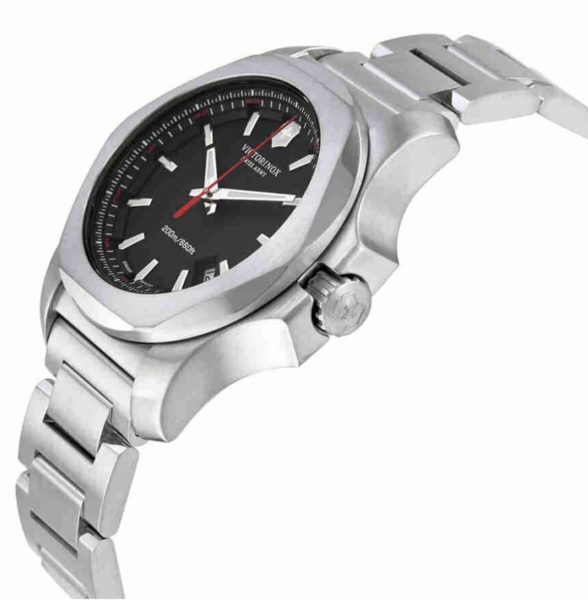 The bracelet is some of the best you can get for the money. Once resized for the perfect fit, it is almost flawless in terms of comfort. The bracelet features a secure deployant clasp with a Victorinox logo.
The only downside is the lume that should've been better considering the high quality of other components. The luminosity is pretty bright, but, unfortunately, it doesn't last very long.
Other than that, the Victorinox I.N.O.X. is the most versatile tough watch with proven Swiss quality. You just can't go wrong with a Swiss watch.

Citizen Promaster Tough CA0720-54H
Case Size: 44mm
Water Resistance: 200m (660ft)
Crystal: Sapphire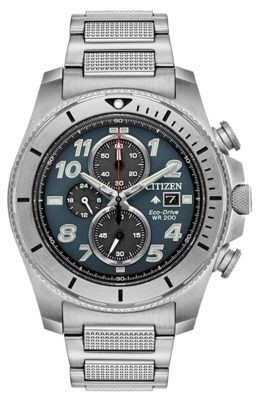 The Citizen Promaster Tough CA0720-54H is a heavy-duty watch with a pleasant feel and appeal on a wrist. With a weight of more than 200g (7oz) and rugged metal construction, it leaves no doubt that this Promaster withstands severe conditions.
The watch belongs to the Tough series, where the timepieces are enhanced to be more shock-resistant and less prone to magnetic influences.
Another factor contributing to the watch's tough nature is that it is coated with Citizen's proprietary surface hardening technology, called Duratect, making the timepiece more scratch-resistant and much harder.
The Citizen watch is also equipped with a sapphire crystal and a water resistance to 200m (660ft). You'll also find the watch hands and hour numbers luminous.

Probably the most eye-catching part of this Citizen is the bracelet. What makes it stand out are the textured center links that add ruggedness. Moreover, the bracelet is of outstanding quality for being ultra-durable and not rattling when moving the wrist.
Although the watch employs a bezel similar to those of dive wristwear with minute markings and coin edge, it serves visual purposes rather than practical. Namely, the bezel is fixed. Another peculiar addition is the luminous pip on the bezel. If the bezel is fixed, then why have it there?!
Regardless of these minor cons, the solar-powered Promaster piece is one of the toughest metal watches at the given price range.

Citizen Promaster Tough
Case Size: 44mm
Water Resistance: 200m (660ft)
Crystal: Sapphire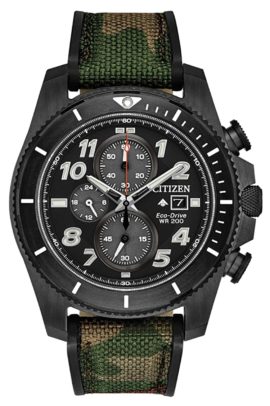 The following watch is also from Citizen and is similar to the previous Promaster Tough model. However, the Citizen CA0727-12E differs in terms of looks when a camouflaged nylon band combines with a black face and case.
The 43.5mm stainless steel case is treated with Duratect and is covered with black ion plating, resulting in a very masculine appeal. And if you add the military-patterned nylon band, you'll have a classic tactical watch at your disposal.
The features you can easily apply to tactical exercises, as well as to various everyday occasions that involve precise time or timings, are the 1/5-second chronograph function and 12/24-hour time format. The stopwatch is accessible via the pushers at either side of the crown.
The legibility is good (except for the date window), the luminosity glows brightly, and the leather strap is thick and long-lasting. In addition, the face is protected with a sapphire crystal that is almost impossible to scratch.
Therefore, the Citizen Promaster Tough is one sturdy watch to own. What makes it even better is that you don't ever have to worry about replacing the batteries or winding the watch because it receives power from light.
The only thing you should know before buying this watch is that the strap is pretty stiff initially. However, it will adjust to the wrist's contours after wearing a couple of weeks.

Marathon Tsar Military Issue Watch
Case Size: 41mm
Water Resistance: 300m (1,000ft)
Crystal: Sapphire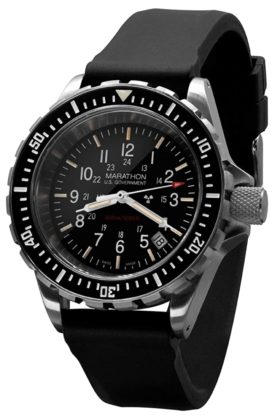 The Swiss-made Marathon watches have been widely employed by the U.S. Armed Forces, confirming their high level of durability and functionality. Hence, it's hardly surprising to find a Marathon piece featuring on this list.
The Marathon Tsar, which, at first sight, may seem like a bulky timepiece, is only 41mm wide.
Further, the lowered dial surrounded by a unidirectional bezel all but makes the perceptible size even smaller. Thus, there's no need to worry about the watch being bulky, regardless of its 20mm case height.
This masculine watch is unique and coveted for several features. One of them is the 300m (1,000ft) water resistance that allows it to be worn for scuba diving. Coupled with a one-way rotating bezel and a screw-down crown, the Tsar offers utmost safety deep down in the water.

Another feature many watch connoisseurs can't help but admire is the tritium luminosity. With the tiny gas tubes placed on the hour markers and watch hands (par the second's hand), the Marathon Tsar provides a constantly glowing lume for several decades.
Even though this watch is the priciest on this list, it is one tough timepiece with a proven history and bulletproof construction worth every penny. If there's one quartz watch that'll last you as long as an automatic watch, then this Marathon is the one.

Seiko Prospex "Arnie" SNJ029
Case Size: 47.5mm
Water Resistance: 200m (660ft)
Crystal: Mineral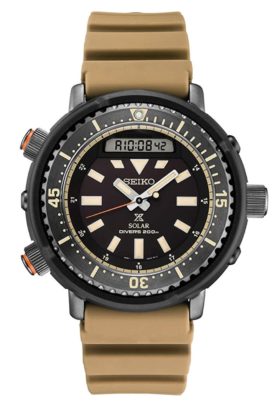 If a watch has been worn by someone like Arnold Schwarzenegger in a blockbuster action movie, it instantly becomes coveted as a tough timepiece worn by a tough character. The contemporary version of this iconic model, the Seiko Prospex SNJ029, is a watch that not only enjoys fame but is actually a tough survival watch to own.
The timepiece that also has the nickname Tuna due to the case's resemblance to a tuna can is made of durable stainless steel and is water-resistant to 200m (660ft). The resistance is ISO-certified, meaning the watch is suitable for deep diving.
In terms of appearance, the Seiko SNJ029 is as rugged as is its build – the case has a black ion plating, while the rubber band is of militaristic desert tan tone. Even the small digital screen displaying alarms and stopwatch results leaves a tough impression for its directness and simplicity.
Topping the suitability for rigid conditions is the solar quartz movement that receives energy from any light. Once fully charged, you can expect a six-month power reserve without any additional light applied to it.
When it comes to luminosity, it may not be as bright as in other Seiko divers, but it is still very good compared to other brands' divers. The luminous paint can be found from the watch hands, hour indices, and bezel (a small pip at 12 o'clock).
If you're not a fan of desert tan tone, you should check out the black Seiko SNJ025. It is the exact watch specs-wise, with the only difference being the color.

Casio Pro Trek Tough Solar PRG-270-1CR
Case Size: 52mm
Water Resistance: 100m (330ft)
Crystal: Mineral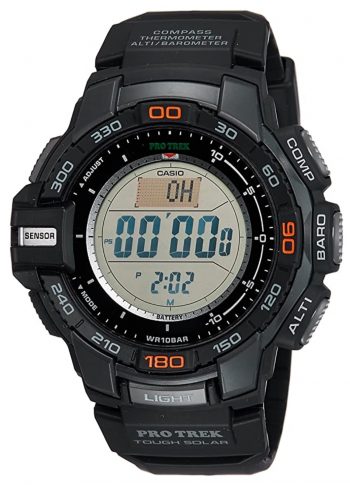 The Pro Trek PRG-270-1CR is the best value-for-money ABC watch by a mile. With a price tag well below the $200 mark, you'll not find any better offer.
And since the Pro Trek is meant for strenuous outdoor activities and comes from Casio's production line, you can expect it to be tough as hell.
Construction-wise, this Casio has a decent water resistance of 100m (330ft), which is more than acceptable for heavy-duty water-related activities. The several buttons you find from both sides of the case are protected with protrusions, while the glass comes in mineral crystal, which is shatterproof and decently scratch-resistant.
When moving inside the watch, the Pro Trek offers a plethora of functions that come of aid out in the wild.
The previously mentioned ABC function (altimeter, barometer, and compass), as well as the LED light and thermometer, are something that a true outdoorsman cannot get by without. The readings are surprisingly accurate and easily readable from the positive digital display.
A watch meant for rugged conditions also needs a reliable powering method. As such, the Pro Trek is equipped with a Tough Solar movement, which is the most trustworthy and carefree movement type currently available.
Though, what you should look out for is the size of this Pro Trek watch. It stretches to 52mm in diameter, limiting its suitability to slender and medium-sized wrists. If a watch is too big on the wrist, it doesn't look good, and it gets in the way more frequently.

Garmin Fenix 5 Sapphire Black
Case Size: 47mm
Water Resistance: 100m (330ft)
Crystal: Sapphire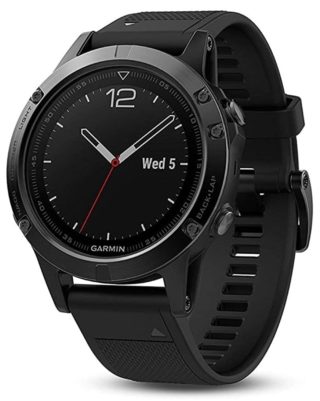 The Garmin Fenix 5 offers a rugged appearance with its stainless steel bezel, buttons, and rear case. It is a timepiece that can take the beating while maintaining its functionality. Hence, it does not come as a surprise that it is still a highly coveted outdoor watch, even if newer and more advanced models are available.
The Garmin Fenix 5 provides a very accurate navigational technology regardless of your position due to the fact it applies two satellite systems – American-owned GPS and Russian GLONASS. With these two combined, the results are more accurate than with only one navigational system.
These two are the basis for other functions the watch comes with, such as measuring the altitude and barometric pressure. With a complete set of metrics, the wearer is informed about the heights, weather, and temperature at certain locations.
The Garmin Fenix 5 is also a known companion for sports, such as running, swimming, skiing, and cycling. It features numerous workout apps and even measures a heart rate. You can check out the full set of features here.

Compared to quartz, solar, and automatic watches, lithium-ion timepieces require frequent charging. However, Garmin is a pretty decent option for such wristwear because the battery life is much better in comparison to Apple or Samsung smartwatches.
For example, the Garmin Fenix 5 lasts 14 days in smartwatch mode, and in GPS mode, the battery life is up to 24 hours.
When the new versions of the Garmin watch cost around a thousand bucks, the Fenix 5 is available twice as less. Hence, it is a great value-for-money rugged outdoor watch with many high-tech functions.

Hamilton Khaki Field Mechanical Watch
Case Size: 38mm
Water Resistance: 50m (165ft)
Crystal: Sapphire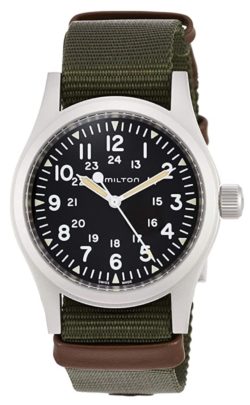 While most tough and durable watches run on either quartz or lithium-ion mechanisms, there are some timepieces with very durable self-winding and manual mechanical calibers withstanding shocks and rough conditions. One such timepiece is the Hamilton Khaki Field Watch.
It is a manual mechanical watch, meaning it requires hand winding every two days. It might seem quite frustrating and cumbersome at first, but when you've gotten used to it, it becomes a habit you won't even notice doing.
In terms of apparel and functions, the Hamilton Khaki is a vintage-style military watch with a simple three-hand analog dial and an army green nylon strap. The classic hour numbers have been paired with military time format, and the hands come luminous.
It is a highly legible watch with perfect contrast between the hands and the background.
What you won't find from this watch, though, is the date window. Therefore, consider the importance of this feature before buying this watch.
Like all Hamilton watches, this one is also Swiss-made and features a scratch-resistant sapphire crystal, ensuring dependability and precision.

Seiko 5 Automatic SNZG15
Case Size: 42mm
Water Resistance: 100m (330ft)
Crystal: Hardlex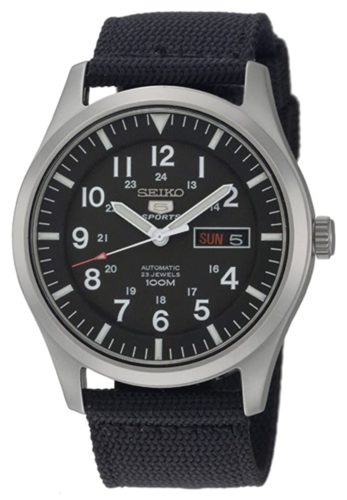 Another non-quartz watch that can be called dependable is the Seiko 5 SNZG15.
Compared to the previous watch, however, this one doesn't require manual winding. Instead, the watch winds itself automatically with an added rotor that spins while the timepiece is in motion.
The movement is 7S36, which is known for its accuracy and workhorse reliability. Unfortunately, you can't halt the second hand or manually wind it, which limits the convenience a bit.
The dark-toned sweeper reminds a straightforward army-style watch for casual everyday wear. But, of course, its use is not limited to that only as it suits perfectly well for outdoor activities, too.
An assuring factor supporting it is that every Seiko automatic watch is equipped with Diashock, a device protecting the vital parts responsible for timekeeping.
In addition, you'll get Seiko's proprietary Hardlex crystal, which is more scratch-resistant and shatterproof than standard mineral glass. Also, the watch is safeguarded from water intrusion with a 100m water resistance rating.
The watch measures 42mm in diameter, which is considerably larger than the 37mm Seiko SNK809 – a very similar timepiece to the SNZG15. It means the size is spot-on for average-sized wrists (7in-7.5in) that find the SNK809 too small.
Therefore, if you're after a simple beater watch for less than two hundred bucks, the Seiko SNZG15 fits the bill in all departments.

Timex Expedition Shock XL
Case Size: 50mm
Water Resistance: 200m (660ft)
Crystal: Mineral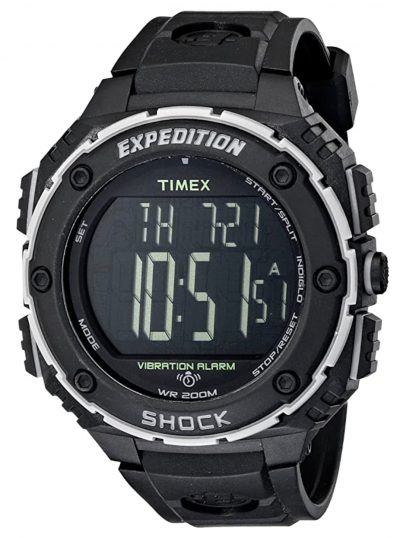 Our last watch comes from the American watchmaker Timex. The Expedition Shock XL, out of the famous Expedition collection, is a shock-resistant 50mm digital watch with various exciting functions.
The 200m (660ft) water-resistant sports watch has a vibrating alarm function perfect for heavy sleepers and for people wishing to receive noise-free notifications. There are three alarms that you can set for weekdays and weekends separately.
Besides the vibration, the Timex watch provides several other intriguing functions, such as the hydration timer, occasion reminder, 100-hour chronograph, and 24-hour countdown timer. These features are accessible through the four pushers on the sides of the case.
The most famous part of any Timex piece is the Indiglo backlight. It differs from many other lighting technologies for its distinctive greenish-blue tone and can be applied with a push to the crown.
The watch is an easy-to-read digital timepiece with large digits. It is also lightweight with its 75 g (2.7 oz).
The Timex Expedition Shock XL is, therefore, a more affordable alternative to G-Shock and Pro Trek watches.

What Makes a Watch Rugged?
Now that we've brought you the selection of very durable timepieces that look and act tough, you may already guess what all the prerequisites defining a tough watch are.
Nevertheless, it won't do any harm to go them over again.

Construction
A tough watch has a construction that can take a beating while maintaining flawless functionality.
Every manufacturer employs different methods to safeguard the well-being of a timepiece.
G-Shock watches, for example, have a knurled and knobby exterior for balancing the shocks. They also have hollow cases with cushions for minimizing the threat of injuring vital inner parts.
Rugged automatic watches, such as the ones from Seiko, employ a special shock-absorbing device called Diashock. In short, it is a device protecting the balance wheel pivot from damage when dropping the watch or hitting it hard.
Besides shock resistance, most rugged watches feature crown protectors and sometimes even pusher protectors. They might not seem anything more than design elements at first, but in reality, the protectors are vital constructions for protecting the buttons.

Reliable Crystal
Another essential component of a durable watch is a reliable crystal protecting the dial.
There are three core types of watch crystals: acrylic, mineral, and sapphire.
A heavy-duty timepiece should come with either mineral or sapphire crystal because acrylic glass is below-par, equivalent to plastic.
Mineral and sapphire crystals have their pros and cons that define their suitability for different heavy-duty activities.
For example, mineral crystal is more shatterproof than sapphire but receives scratches fairly easily. Sapphire, on the other hand, is almost impossible to scratch, but when hit hard, it shatters a little more easily than mineral.
Therefore, the majority of rugged watches come mainly with mineral crystals, as receiving scratches is far less damaging than entirely shattering them.
On the other hand, wearers who do not intend to use their watches for heavy-duty wear but wish to simply own a highly durable and rugged-looking timepiece go for sapphire watches.

Water Resistance
A durable watch is far from being durable if it's not equipped with decent water resistance.
The minimum rating should stand at 50m (165ft) and must be sufficient for swimming. The higher the rating, the better. The vast majority of tough watches, for instance, come with a 100m (330ft) water resistance.
The ultimate water resistance level for durable watches is 200m, which is certified with ISO 6425 standard for professional diving. While most of us will not use such a watch for deep diving, it nevertheless is a characteristic you can entirely rely on, no matter the conditions you find yourself in.

Luminosity
Another characteristic a tough timepiece must have is luminosity. Although it has nothing to do with ruggedness per se, the feature offers possibilities to get by in harsh conditions.
One can distinguish between three core types of luminosity – LED light in digital watches, tritium lume that glows for several decades, and phosphorescent luminosity that requires frequent charging.
All these types work well for rugged watches. However, if we were to choose the most acknowledged out of the three, then it has to be tritium luminosity.
The properties that come with tritium-filled gas tubes are unparalleled compared to others. The ever-glowing luminosity not requiring any light source or battery power is something you can't appreciate unless you've tried it out.

Applicable Functions
Although many wearers can perfectly live without additional functions and don't consider them essential in a tough watch, some people can't get by without them. If you take a Garmin, Suunto, or G-Shock watch with all the excellent functions, it is clear why.
A feature spot-on for tough conditions is the ABC measuring an altitude, barometric pressure, temperature, and direction. Hikers, mountaineers, trekkers, and mountain cyclists often find themselves on rough terrains and fierce weather conditions and profit most from these gauges.
A GPS is another highly appreciated extra. Knowing the exact location and the surroundings is not only helpful but can also be a lifesaver in unfamiliar areas.

Closing Words
Rugged watches reflect masculinity and strength – the characteristics men couldn't survive without already back in the Stone Age. Hence, it's no wonder the evolutionary influences are still rooted deep within men when they want watches that are tough as stone and durable as hell.
These watches we've brought you are tough, durable, and capable of surviving even the extremest conditions. Moreover, they are not only tough in their construction but in their looks as well. So, these watches are perfect wearables for offering strength in severe conditions while providing masculine appeal for all to witness.

You may also like:
Affiliate Disclosure: As an Amazon Associate I earn from qualifying purchases. Details
Latest posts by Carl Pender
(see all)