Affiliate Disclosure: As an Amazon Associate I earn from qualifying purchases. Details
Surf watches have gradually become valuable additions to surfers' essential equipment. With the technology advancing rapidly, it's almost unimaginable now to think back at times without the possibilities for precise tide tracking from one of your gadgets.
Although many surfers do perfectly fine without the information received from a surf-specific time-tracker, the opportunities that lie within can not be underestimated in any way.
Take, for example, the function of a tide graph in various surfing Meccas in the world; or a wave counter and GPS for accurately tracking your sessions in the water.
In order for you not to miss out on such unique types of watches, we've compiled a list of the best surf watches currently available.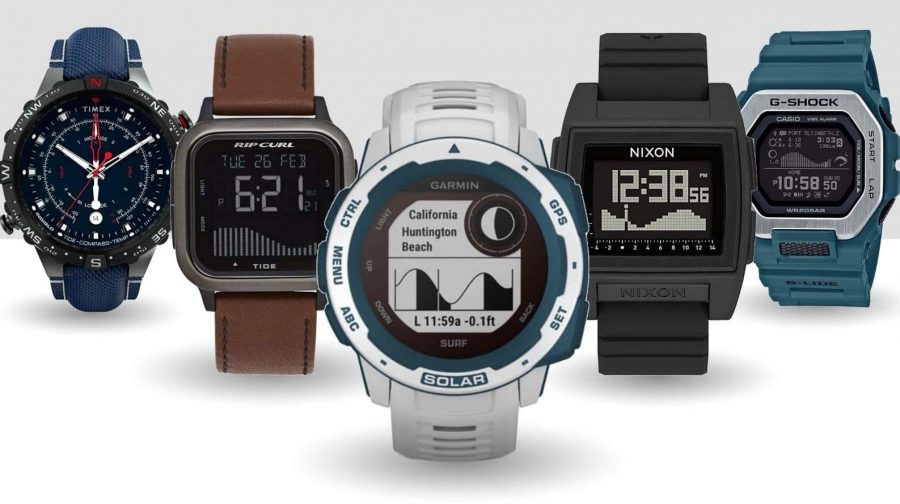 Best Surf Watches
The array of watches is relatively large due to a number of brands producing them. As a result, you'll find technology-rich smartwatches from world-famous brands, as well as cheaper-end digital timepieces produced specifically for surfing.
Without further ado, here are the top watches for tide tracking and wave catching.

Garmin Instinct Solar Surf
Tide Graph: yes
Preset Surfing Spots: yes
Water Resistance: 100m (330ft)
Battery Life: 30h to 56 days (+ solar charge)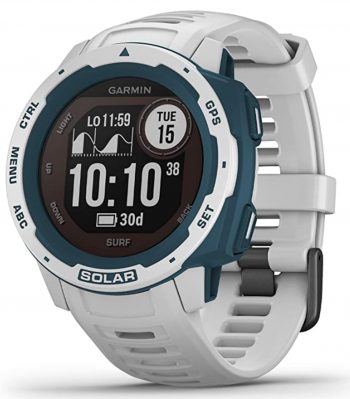 Garmin is a well-known brand of GPS sports watches. Therefore, it's no wonder it manufactures some of the best surf watches currently available. Yes, the prices may be somewhat heftier compared to other tide graph timepieces, but the variety of functions for a consummate surfing experience weighs it well over.
The Garmin Instinct Solar Surf, which features in numerous best-of lists precisely because of the variegated features it comes with, is powered by light and can last up to two months in a battery saver mode. When using power-hungry features, the battery life is approximately 40 hours.
There isn't any more complete wristwatch around when it comes to the functions a surfer would need. Equipped with tide graphs in the majority of surfing spots in the world and fitted with the wave counter, speed, and distance measures, you can be sure to enjoy your hobby while not missing any valuable information.
Other excellent functions you'll find from this timepiece include a heart rate monitor, altimeter, barometer, compass, thermometer, and stress tracking. All these are applicable for various sports and outdoor activities, such as running, cycling, swimming, and hiking.
Since the Garmin surf watch is built to the US military standard 810 for thermal, shock, and water resistance (330ft), you can be sure that it won't fail you even in the severest of conditions.
The only problem the owners face with this Garmin is actually nothing to do with the build or features but the software. Namely, it is too complicated, consisting of various softwares that all take time to get used to.
Therefore, take your time to comb through and get acquainted with everything the watch has to offer.

G-Shock GW7900-1ER Tide Graph
Tide Graph: yes
Preset Surfing Spots: yes
Water Resistance: 200m (660ft)
Battery Life: up to 10 months (+ constant solar charge)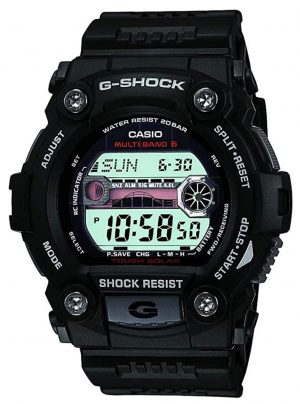 Another top surf watch is the G-Shock GW7900-1ER.
Similar to the Garmin Instinct, the G-Shock is powered by solar energy and withstands extreme conditions. However, the quality of solar technology and the resistance to shocks is on a whole new level with this G-Shock.
When fully charged, the watch has a power reserve up to 10 months, while high-quality shock resistances protect the timepiece from knocks, thermal shocks, and intense water pressure. A G-Shock watch is often considered the toughest watch on the planet, making it a perfect wearable for extreme water sports, including surfing.
Even though the GW7900 doesn't come with as many features for surfing as the Garmin piece does, it still covers the essentials, such as the tide graph function, which displays tidal movements based on the latitude, longitude, and lunitidal interval on your home city location.
You'll also have the option to calibrate the tide graph to be specific to a chosen coastline. In addition, the function enables you to input a date for future readings in advance.
The graph is coupled with a precise moon phase indicator for several other practical uses, such as fishing.
On top of the uncountable pros, this G-Shock also features Multiband 6 – a radio-controlled atomic timekeeping technology, ensuring utmost accuracy wherever you're located.
However, what you should look out for is the size of this G-Shock. Since it measures 50mm in diameter and 18mm in height, it is a serious oversized timepiece with a bulky appeal. Therefore, make sure your wrists accept these dimensions before buying this watch.

G-Shock G-Lide GBX100-2 Surf Watch
Tide Graph: yes
Preset Surfing Spots: yes
Water Resistance: 200m (660ft)
Battery Life: 2-3 years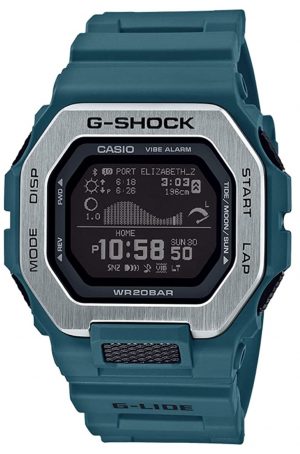 The G-Shock GBX100-2 is on this list due to its rich possibilities via Bluetooth connectivity. A dedicated app, G-Shock Move, tracks every little detail of your workout (distance, speed, pace, etc.) and has a selection of around 3,300 surfing locations worldwide. 
Along with the tide graph, the complete G-Shock watch has several other useful functions, including a step counter, moon phase indicator, high and low tide times, and sunrise/sunset times. Moreover, all the valuable features are conveniently displayed on a high-definition LCD screen, which outperforms many of its counterparts legibility-wise.
A function that many other surf watches don't come with is the vibrating alarm feature. When wishing to have a vibrating notification instead of a soundable one, whether it be due to a personal preference or a medical condition, then the G-Shock piece is spot-on for such a cause.
Appearance-wise, this surf tide watch won't disappoint either – it comes with a honed-finished metallic bezel and a teal urethane band that matches perfectly with each other.
The only problem with this G-Shock G-Lide is that the user interface has been made too tricky to maneuver in. It means that it can take several steps before finding the required application. Therefore, be prepared to spend some time learning the watch thoroughly.

G-Shock G-Lide GWX5600C
Tide Graph: yes
Preset Surfing Spots: yes
Water Resistance: 200m (660ft)
Battery Life: up to 10 months (+ constant solar charge)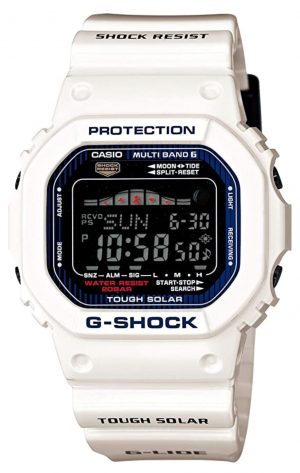 The next surf watch is another representative from the famous G-Shock line of Casio. The G-Lide GWX5600C-7JF model has a striking white appeal and a set of useful features for catching the waves.
The typical functions you'll find from any other surf watch are all represented, including a tide graph and a moon phase indicator. Besides these two essentials, the watch also comes with a stopwatch, alarm, illumination, and negative screen, adding to a wide array of options you can do with this timepiece.
However, what makes this G-Lide stand out from other surf watches is the combination of solar power and atomic time.
When a regular wristwatch runs on quartz movement, keeps an accuracy of about +/- 15 seconds per month, and requires battery replacement every 2-3 years, then this solar atomic watch never needs a battery replacement and is accurate to atomic precision. On top of that, the cell can last up to ten months when fully charged.
Unlike most G-Shocks, this particular model isn't oversized when the case diameter measures a decent 43mm. As a result, the watch goes with the majority of wrist sizes and shapes.
When talking about negatives, there's one significant concern that many have outlined – the legibility of the negative display. Although it's not too dim, it is still quite challenging to read in bright lighting, taking a couple of seconds to catch the digits.
Regardless of the con, the shock-resistant G-Lide is worth every penny, especially considering its favorable price tag just south of the $200 line.

Apple Watch Series 7 GPS 45mm
Tide Graph: yes
Preset Surfing Spots: yes
Water Resistance: 50m (165ft)
Battery Life: 18 hours (rechargeable)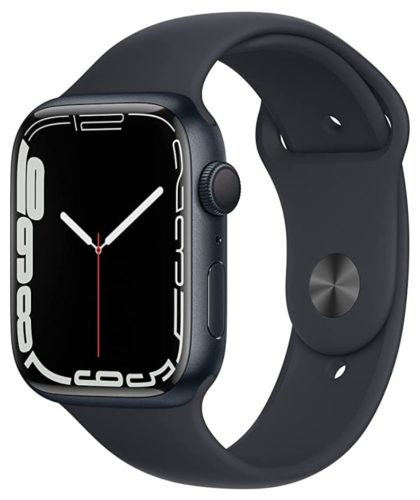 Although an Apple Watch is not exactly a genuine surfer's piece built for this particular sport, it can be used as one. The Apple Watch 7, together with surfing-specific apps, such as Dawn Patrol and Surf Watch, work like a charm in providing detailed information regarding the tides, moon phases, wave heights, and many more.
Apple wearables are not as water-resistant as non-smartwatches but nevertheless provide decent protection against water impact. A 50m (165ft) water-resistance this Apple Watch 7 comes with enables it to be worn for long hours in the water.
What makes an Apple Watch irresistible, though, is the vast number of other useful apps and functions. Therefore, buying a surfing-enabled timepiece such as this one won't limit its use for other daily activities.
For example, this particular model allows you to accept calls and reply to text messages, measure your blood oxygen, check your heart rate, and many more.
The Apple Watch 7 is also noteworthy because of its 20% larger screen size (compared to AW 6) and an always-on Retina display, which enhance the legibility and convenience drastically.
This smartwatch costs more than most surf watches on this list, which can be a dealbreaker for many. But, on the other hand, the Apple Watch 7 offers so much more in terms of functionality than others. So, the additional dollars are worth spending.

Nixon Base Tide Pro
Tide Graph: yes
Preset Surfing Spots: yes
Water Resistance: 100m (330ft)
Battery Life: 2-3 years
Nixon is one of the first go-to brands when wishing to acquire surf watches. Although it doesn't possess the fame of those mentioned above, Nixon has nevertheless achieved a strong reputation, especially among the youth.
The Nixon Base Tide Pro represents precisely the futuristic and straightforward style that appeals to younger audiences. However, behind the bulky digits on a fairly simple face are a plethora of functions for serious surfing activity.
With the pre-programmed tide information and sunrise/sunset times in 550 beaches all around the world, the Nixon surf watch makes sure you are covered wherever you're located.
An additional function that complements its perfect suitability for the hobby is the wave counter, allowing for precise insights into the sessions.
Besides the surf-specific features, the Base Tide Pro has several other efficient functions that you can use for numerous occasions. For example, you can make use of the stopwatch, countdown timer, and three alarms.
The Nixon watch is also very sturdy when a 100m (330ft) water resistance, hardened mineral crystal, and durable silicone band all feature in this timepiece.

Nixon The Base Tide
Tide Graph: yes
Preset Surfing Spots: no
Water Resistance: 100m (330ft)
Battery Life: 2-3 years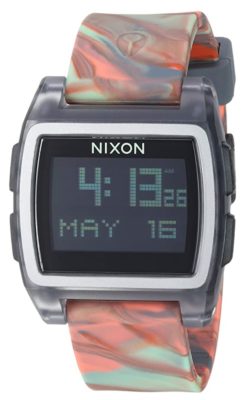 When the Base Tide Pro falls out of your price range, you can consider a bit simpler and cheaper option from Nixon – The Base Tide.
In principle, the timepiece looks the same with minor design differences. It also comes with an easy-to-read tide graph on a negative LCD display.
However, the most significant discrepancy from the Pro version is that you have to manually set the next high tide, from which it reports the rest of the tide. The biggest concern with this is the inaccuracy that occurs due to not being pre-programmed to location-specific factors.
Leaving aside the shortage, the Nixon Base Tide is nevertheless a suitable wearable for riding the waves. The timepiece is protected with a 100m (330ft) water resistance, employs molded polycarbonate pushers, and has an ultra-soft silicone band.
Though what makes the watch especially noteworthy is its design. The Base Tide is a retro watch with a simplistic digital display and an angular 38mm case. Hence, the timepiece suits anyone who's into vintage style with a splash of modernity.

Rip Curl Rifles Tide Watch
Tide Graph: yes
Preset Surfing Spots: yes
Water Resistance: 100m (330ft)
Battery Life: 2-3 years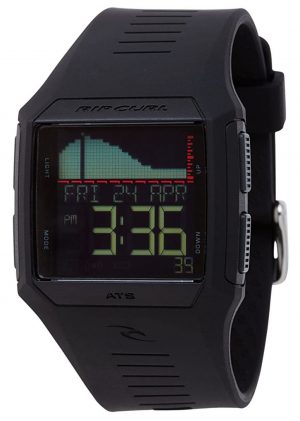 Rip Curl is one of the world's largest surfing companies, manufacturing everything that a professional surfer requires for the sport, including tide watches.
The Rip Curl Tide Watch is regarded by many as the best surf wristwear for its straightforward yet informative nature.
Cased in a 41mm rectangle plastic, the digital timepiece employs a preset tide feature with 500 surfing spots worldwide, enabling the user to switch between graph and detailed display. The users praise the simplicity of programming the tides and also the accuracy of the function.
The 100m (330ft) water-resistant Rip Curl piece is also equipped with a stopwatch feature and a countdown timer for tracking the time spent in the water, an alarm for notifications, and a light for convenient reading in dim conditions.
For the sub-$150 price tag the timepiece comes with, you'll get a decent and accurate surf watch for years to come.
Like the Nixon Base Tide, it's a retro-style wearable with simplistic aesthetics. Unfortunately, it means the watch isn't as versatile as several others on this list, limiting its use for a broader array of occasions. On the other hand, it's still a statement watch that will surely turn some heads, despite its simplicity.

Rip Curl Next Tide
Tide Graph: yes
Preset Surfing Spots: yes
Water Resistance: 100m (330ft)
Battery Life: 2-3 years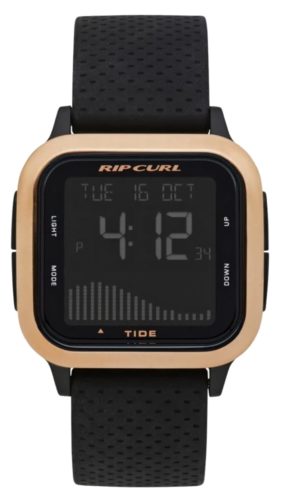 If the vintage appeal of a digital Rifles Tide watch is not your cup of tea, then you should consider another surfer's timepiece from the Australian manufacturer – the Rip Curl Next Tide.
Like the Rifles model, it comes with 500 preset tide graphs with precise tide height, next tide time, and direction. The watch is also equipped with a stopwatch function, countdown timer, and backlight.
However, the design leans towards the contemporary style of digital timepieces with its sleek construction, which includes a mild rose-gold toned rectangle stainless steel bezel and a clear digital display. Therefore, the watch is visually similar to a smartwatch, ensuring a smooth blending into the crowd.
The Next Tide is also pretty durable, consisting of a mineral crystal, lightweight polycarbonate case, and featuring a 100m water resistance rating.

Quicksilver Addictiv Pro Tide
Tide Graph: yes
Preset Surfing Spots: yes
Water Resistance: 100m (330ft)
Battery Life: 2-3 years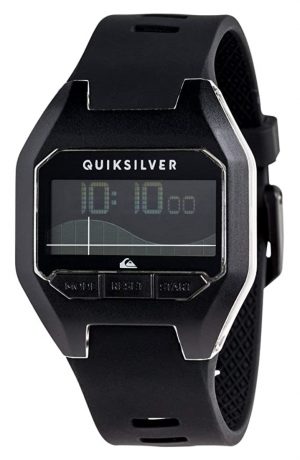 The Quicksilver Addictiv Pro Tide piece is a genuine surf watch with all the bells and whistles required for the sports.
It comes with hundreds of pre-programmed surfing spots in the Asia Pacific, America, Europe, and Africa. The tides are conveniently displayed on a graph, along with detailed information, including tide heights and wave counter.
If you find yourself on a beach not included in the watch, then a customizable option lets you configure the corresponding graph.
Like other top surf watches, the Quicksilver is equipped with several functions, such as the stopwatch, countdown timer, alarm, and backlight. All these features are accessible through three push buttons on the dial.
The watch goes well with those appreciating the simple vintage appeal of digital timepieces. Since the case size is only 40mm, it suits both men and women, no matter the wrist size.
The Quicksilver Addictiv is not as eye-catching as several other tide watches on this list. But, on the other hand, it offers the most important thing surfers require – accurate tide graphs in various surfing spots. Therefore, it's a through and through tool watch for the sport and not that much of an everyday wearable.
---

Buying Guide for Surf Watches
Now that we've presented you with the best surf watches currently available, you're in a better position for choosing the right timepiece precisely to your requirements.
However, it is vital for you to make up some principle choices before proceeding with your purchase.
The following guide explains some critical factors you should take into account.

Water Resistance
The first condition for making the right choice is to pick a surf watch with adequate water resistance. The various resistance levels range from 5 ATM to 20 ATM, with smartwatches with the lowest ratings and G-Shock pieces the highest.
If you decide to go for a traditional wristwatch, then the lowest resistance you should be looking at is 10 ATM (100m, or 330ft). The rating is decent enough for intense water activities, including swimming, snorkeling, showering, and sometimes even shallow diving.
Smartwatches and GPS watches, such as the Apple Watch and Garmin, usually come with a 50m (165ft) water resistance. As a result, they're not as protected from water impact as traditional timepieces but will do equally fine in surface water sports. However, submerging them deeper into the water could cause some severe problems.
Therefore, consider buying a tide watch with greater resistance to water pressure if one of your other hobbies includes snorkeling and swimming. Other than that, both smartwatches and traditional watches are perfect for surfing. 
Feel free to visit our comprehensive guide on water resistances for more information.

Tide Graph vs High/Low Tide
There are two types of tide graphs when digging into the functions the surf watches typically feature.
One is an advanced graph where the tides are presented graphically, depicting past, current, and future tides. The second, on the other hand, only indicates high and low tide. The latter is usually available in analog watches, whereas the first is present in digital timepieces.
Without any question, a graphic tide indicator offers better insight than a simple high/low tide. Thus, go for an advanced tide graph timepiece if you consider yourself a hardcore surfer and pick the simpler version when you wish your watch to be more versatile to suit various attires.

Pre-Programmed Beaches
An excellent feature in surf tide watches is the preset beaches from all around the world. A non-GPS timepiece typically comes with around 500 beaches, while a GPS watch can have them in thousands.
It's an invaluable function to have because going out on the water without knowing the local conditions could result in an unfulfilling experience.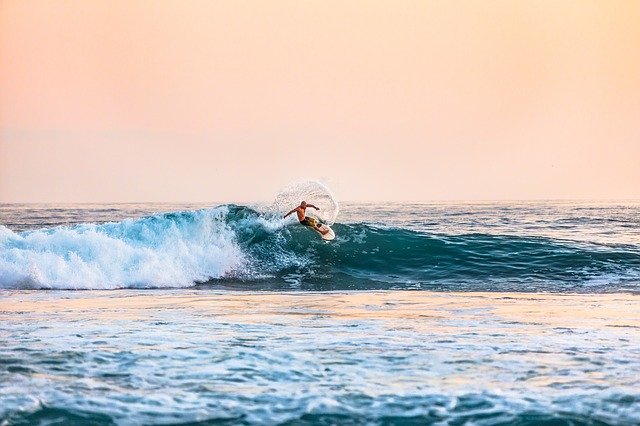 Some more straightforward and cheaper tide watches don't come with pre-programmed spots but require adjusting the settings in order to receive a tide graph for the following days. It's definitely not a dealbreaker as the modification process is relatively straightforward.
However, the problem lies in the accuracy because every spot is not the same when several factors contribute to the actual tide times and wave heights.
Therefore, the surf watches with preset beaches are much preciser than the ones requiring manual setting.

Additional Features
Besides the tide graph function, pay attention to other features that could become handy during your time on or off the water. Wave counter, sunrise and sunset times, moon phase indicator, backlight, stopwatch, and countdown timer are the most prevalent features you'll find in surf wristwear.
There are also timepieces with advanced functions, such as wave height, altimeter, barometer, compass, and thermometer. These watches cost significantly more and are applicable to other outdoor activities as well.
Examine the usefulness of the advanced features to your lifestyle and decide whether they could be of help to you.

Construction
While useful functions are of significant matter, you should not forget to evaluate the overall construction quality of your next surfing piece.
The G-Shock watches are the most reliable you could wish for surfing as they come with several shock resistances, including a 200m (660ft) water resistance. Garmin, too, has constructed its wristwear to standards that survive severe conditions. 
Also, pay attention to crystals that cover the face of a timepiece. Since surf watches usually don't come with sapphire glass, the best crystal around, hardened mineral glass is the best choice for a long-lasting and scratch-resistant crystal.
If possible, choose a timepiece with mineral glass over the one with acrylic glass – the quality difference is noticeable.

Battery Life
Although a smartwatch offers much more in terms of functions, it will run out of energy in a matter of hours. If you don't mind charging it, then it's all good.
However, if you do not wish to waste your time on plugging your surf watch every day and don't care about other functions besides surfing, opt for a quartz tide watch that can last up to 2-3 years until it needs a battery replacement.
The best option in terms of battery is definitely solar-powered watches. Not only do they require merely a splash of light to charge themselves, but you can also forget the cumbersome battery replacements you typically face with simple quartz-driven watches. The prices are somewhat heftier, but the outcome is worth every penny.

Conclusion
We hope the list of the top surf watches has helped you find the right fit according to your needs.
Every surf tide watch is not the same due to the existence of various features, water resistance levels, and prices.
Whether you opt for one of the function-rich timepieces from Apple and Garmin or entirely surf-intended watches from Nixon and Rip Curl, you can be sure that these wearables covered in this post will provide you with quality that lasts for long years.
If you wish to delve deeper into water sports, especially surfing, visit Nulltuul – a specialized blog that covers everything you need to know. Its surfboard volume calculator, in particular, has been a real hit in helping thousands of surfers find their appropriate board size.

You may also like:
Affiliate Disclosure: As an Amazon Associate I earn from qualifying purchases. Details
Latest posts by Carl Pender
(see all)