Affiliate Disclosure: As an Amazon Associate I earn from qualifying purchases. Details
The reason you've probably stumbled across this post about the Bulova vs Seiko comparison is because of the curiosity of which brand is better suited to your needs. It's not hard to assume why so many people happen to find it challenging when both watch manufacturers boast glorious backgrounds, offer a plethora of styles in hundreds of models, and cost about the same.
However, certain elements separate the two brands, which we are about to find out in the following paragraphs. Therefore, stay tuned and discover the best fit right according to your requirements.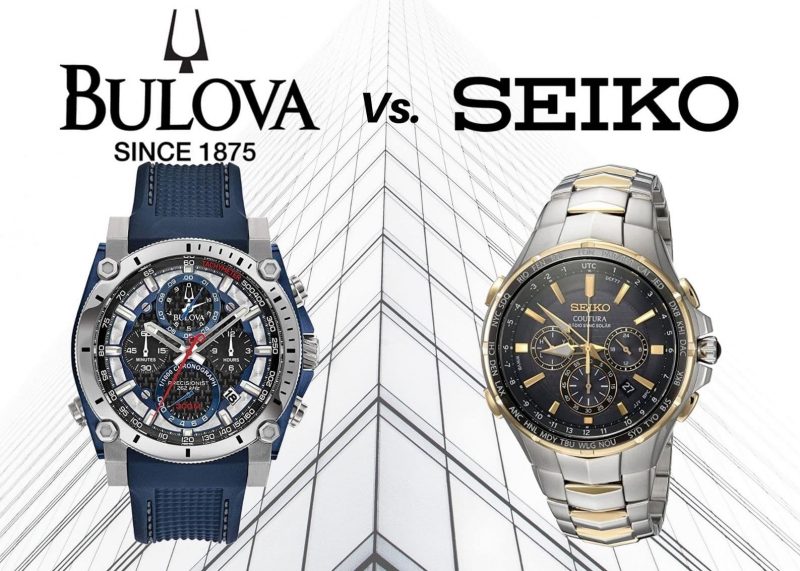 Short Background Comparison
We start the comparison by juxtaposing their backgrounds and achievements in horology. It shouldn't become your primary deciding factor by any means, but it still provides you with knowledge and understanding of the magnitude these famous watch brands hold in the industry.

Bulova
The American watchmaker Bulova started manufacturing pocket watches in downtown New York in 1875. It didn't take long when the sales of accurate and reliable time trackers took off. 
With the growing popularity of men's wrist-worn watches at the beginning of the 20th century, Bulova applied innovational marketing strategies when the first-ever watch commercial and legal television advertisement were aired in 1926 and 1941, respectively, taking the brand to broad masses.
One of Bulova's most notable achievements took place in 1960 with the introduction of Bulova Accutron – an electric watch that employed a high-frequency tuning fork for timekeeping element. It was the second electric watch at the time and came with unparalleled accuracy.
Bulova's strive to produce quality and precise watches earned itself a contract with NASA – the technologies were used during 46 missions over a two-decade period. The icing on the cake was one of Bulova's custom-made watch's journey to the Moon – an astronaut David Scott wore a Bulova Chronograph during a mission of Apollo 15.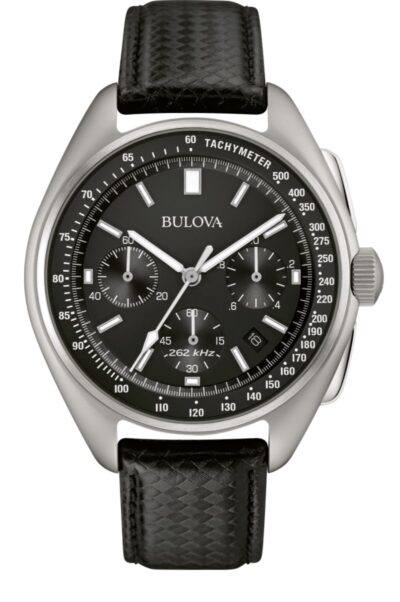 Today, Bulova Watch Company is owned by the Japanese conglomerate Citizen. However, the American grandiosity and boldness is still rooted deep within.

Seiko
Seiko, on the other hand, represents Japanese watchmaking ever since the establishment of the company in 1881. 
The story up to the mid-20th century is quite similar to that of Bulova – it gained an appreciation for reliable and accurate mechanical watches, including the luxurious Grand Seiko line and Japan's first chronograph and dive watches. However, the second part of the century is what made the Seiko brand world-famous.
Seiko's most outstanding achievement is, without a doubt, the introduction of the world's first quartz watch, Seiko Astron, in 1969. When several other non-Swiss manufacturers followed the suit of producing cheap yet accurate quartz watches in the 1970s, the full-scale Quartz Revolution had begun, diminishing the market share of Swiss manufacture.
Seiko has gone down in the history books with several other groundbreaking first-ever innovations based on the quartz technology, such as a Kinetic watch, Spring Drive movement, multiband solar watch, and GPS solar watch.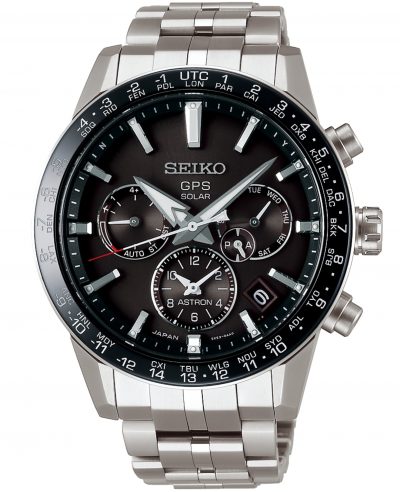 Today, no watchmaker other than Seiko boasts the broadest selection of watch movements – just name any, and Seiko watches have it. Moreover, the company manufacturers all the movements, in that being their own masters and void of suppliers' flaws.
---
The historical achievements of Bulova and Seiko show their dedication to introducing something spectacular every once in a while. Therefore, you can be sure of the high quality they offer with their timepieces.
But what about the types and styles of watches these two brands have available?

Styles & Types of Watches
When comparing the watches of Seiko and Bulova, the first thing that instantly sticks out is the different emphasis on the looks and functionality. When Bulova decorates its wristwatches with skeletonized faces, rose-gold tones, and busy dials, then Seiko pays more attention to its wristwear's applicability.
Therefore, it's no wonder you'll find professional ISO-certified dive watches, atomic precision travel timepieces, reliable automatic watches, and solar-powered tickers in Seiko's line-up. All these types are highly recognized and one of the best-selling watches in the industry.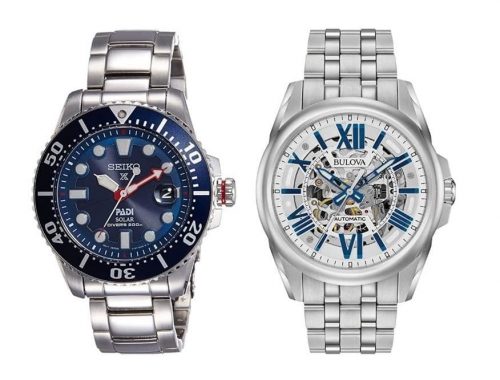 Although Bulova hasn't got many of the types mentioned above in its collections, the brand's watches strike with their sense of fashion and flamboyance instead. The perfect combination of reliability and eye-catching designs is the trademark of Bulova. Its skeleton watches, for instance, are highly sought-after precisely because of this symbiosis.

Quality Comparison
Before heading over to the face-to-face comparison in their immediate categories later in this post, let's determine how they compare in terms of watch calibers and technologies. 

Watch Movements
Like we already mentioned earlier, Seiko is the manufacturer with the most diverse range of watch movements, comprising six different types – quartz, automatic, manual mechanical, Kinetic, solar-powered quartz, and Spring Drive. 
However, the most popular Seiko watches run on automatic calibers. The cheaper-end self-winding timepieces that cost anywhere between $150-$300 are considered the best entry-level automatic watches for novice watch collectors, in that proving the high regard towards their reliability.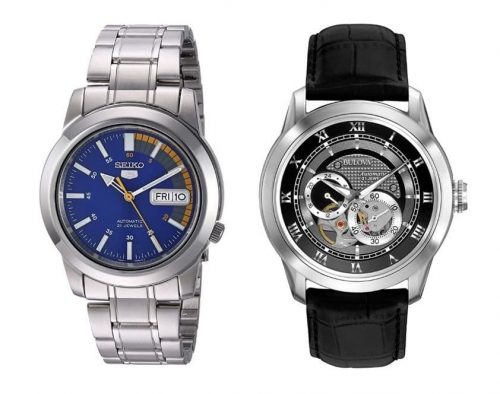 Bulova, too, has quite an extensive range of automatic watches available. The Miyota calibers are durable and accurate but not as highly appreciated as Seiko's. But what makes Bulova timepieces desirable is the open view to the calibers via a fully exposed dial or a small cut. In fact, only a handful of automatic models feature a standard analog face.
In terms of quartz movements, both Seiko and Bulova offer great options with renowned reliability. Some more advanced Seiko quartz watches are powered solely by light, which guarantees needless battery replacement and a power reserve for up to six months.
Although Bulova doesn't offer solar watches, it compensates this with a magnificent Ultra-High Frequency (UHF) quartz movement – a caliber that holds an accuracy of +/-15 seconds per year and has a prestigious sweeping motion of the second's hand.
Therefore, when it comes to the watch movements, Seiko has a much broader selection with very high quality, whereas Bulova's calibers are somewhat inferior, except the UHF caliber that holds a magnificent reputation.

Technologies
Various watch innovations is another factor you should consider upon making up your mind.
As already stated, Bulova offers an innovation in quartz watches that is unique in the industry – a high-frequency caliber with impeccable quality and accuracy. The sweeping motion of the second's hand is almost undetectable when it makes 16 steps in a second. The technology can be found in the Precisionist and CURV collections.
Another Bulova's innovation that is first of its kind is the curved chronograph movement in the CURV collection. The technology doesn't offer anything in terms of functionality but provides the opportunity to design the watch according to a wrist's shape. Besides being super comfortable to wear, it looks gorgeous and unique.

Seiko's technologies are also centered around improving the accuracy and convenience of wearing. The most significant innovations you'll come across include atomic and GPS-enable watches, battery-less solar and Kinetic wristwear, and Spring Drive movement.
Atomic and GPS-enabled watches hold atomic precision and are always up to time due to interactions with atomic clocks and satellites, respectively. Solar and Kinetic timepieces run on quartz calibers but apply light and motion for powering the movement, and Spring Drive technology offers an accuracy of a second a day and a smoothly sweeping second's hand.

Watch Comparisons
Now that we know the essentials of both brands and their strengths and weaknesses, it's about time to juxtapose Seiko and Bulova watches for a clearer overview.
Despite the relatively significant gap between Bulova and Seiko in terms of styles and watch movements they offer, there are three core categories we will compare them face-to-face – automatic, quartz, and dive watches. These are also the most popular types of watches that people are most interested in.

Automatic Watches
The following two watches represent the casual everyday style of automatic watches, which is the best ground for comparing Seiko and Bulova.
Seiko 5 Automatic SNK795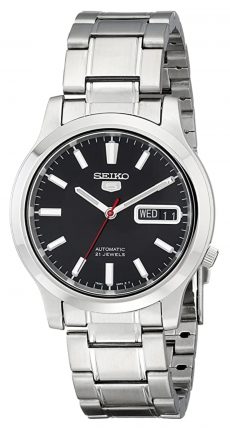 Case size: 37mm
Crystal: Hardlex
Power reserve: 41h
Hacking: no
Bulova Automatic 96A135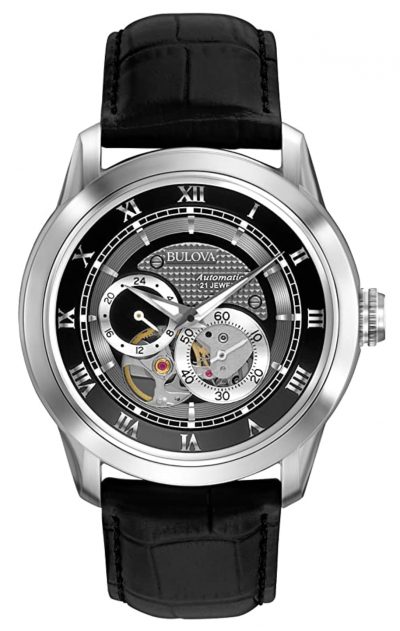 Case size: 41mm
Crystal: Mineral
Power reserve: 41h
Hacking: yes
The Seiko 5 Automatic SNK795 runs on a 21-jewel 7S26 caliber with a power reserve of 41 hours. The movement is widely used in entry-level automatic watches and is a known workhorse that rarely disappoints. Although the manufacturer specs guarantee accuracy to -20 to +49 seconds a day, the common figures stay around +/- 10 seconds. 
As a standard, Seiko watches tend to be smaller in size than many of its competitors. This particular analog piece has a case diameter of 37mm, which goes perfectly well with slender and medium wrists. In terms of quality, the watch comes with Seiko's proprietary Hardlex crystal – a slightly enhanced version of standard mineral glass.
The Bulova Automatic 96A135, on the other hand, is a larger timepiece at 41mm and comes with a more daring appearance but costs twice as much as the Seiko 5.
It comes with an open heartbeat design that exposes a part of the automatic caliber and features an eye-catching dial design with a textured background and additional sub-dials.
The caliber is a 21-jewel Miyota product with 41 hours of power reserve and decent accuracy. A nice extra is the hacking possibility that lets you set the time by the second's accuracy – something that's missing from many mechanical pieces.

Quartz Watches
These watches run on quartz movement but are far from typical quartz-driven timepieces and differ quite significantly from each other.
Seiko Coutura SSG010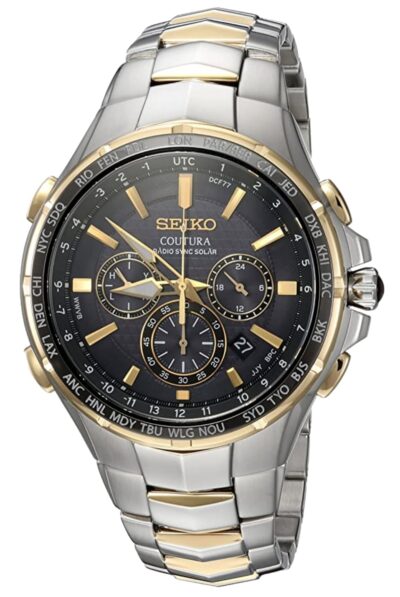 Case size: 44.5mm
Accuracy: atomic precision
Crystal: sapphire
Water-resistance: 100m (330ft)
Bulova Precisionist 98B228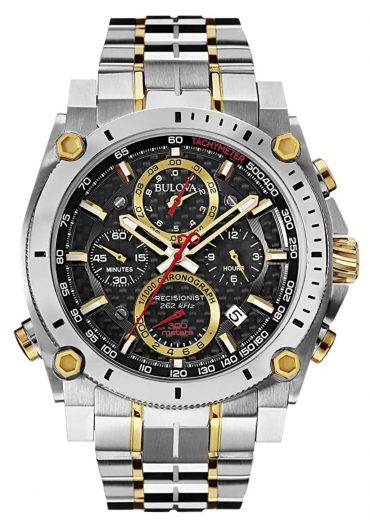 Case size: 47mm
Accuracy: +/-10sec a year
Crystal: curved mineral
Water-resistance: 300m (1,000ft)
The Seiko Coutura SSG010 is a solar atomic watch in receiving energy from light and possessing atomic precision through radio waves. It means this Seiko is always accurate and never needs a battery replacement. The World Time feature enables you to pick between 25 timezones worldwide and covers North America, Europe, Japan, and China.
Despite the fact that the Bulova Precisionist 98B228 is not powered by light and does not come accurate to atomic precision, it is one of the most sought-after quartz watches in the industry. The UHF movement holds a marvelous accuracy of +/-15 seconds per year and has a visual treat in store – a perfectly sweeping second's hand.
Additionally, the watch is equipped with an astonishing 1/1000-second chronograph feature and is water-resistant for up to 300m (1,000ft).

Dive Watches
Seiko is one of the first brands to turn to if a professional dive watch is under consideration. Bulova may not be famous for these types of watches but, regardless of that, has several high-class models available.
Bulova Sea King 96B228
Case size: 47mm
Movement: UHF quartz
Water-resistance: 300m (1,000ft)
Crystal: sapphire
Seiko Diver's SKX007J1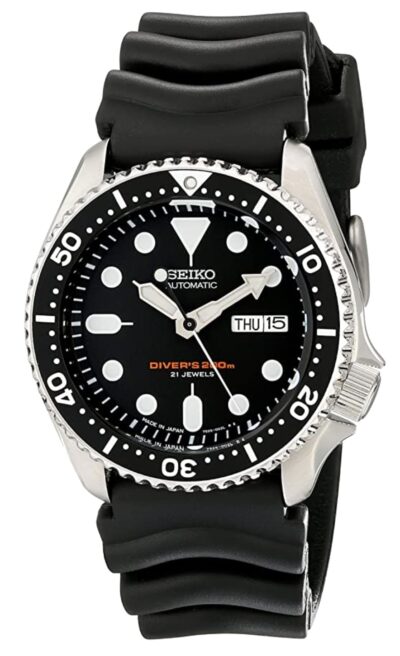 Case size: 43mm
Movement: automatic
Water-resistance: 200m (660ft)
Crystal: Hardlex
The Seiko SKX007 is a classic in the dive community. It features a 200m (660ft) ISO-certified water resistance and has a bright luminosity that rarely lets down.
The watch is powered by a highly appreciated 7S36 automatic caliber and goes with the majority of wrist sizes and shapes. A coin-edged bezel is both practical and beautiful, adding to the overall professional looks of the watch.
The Bulova Sea King 96B228 is also ISO-certified but has greater water resistance at 300m (660ft). It's also more accurate than the Seiko watch due to featuring a UHF quartz movement. 
The size of this Bulova is bigger, reaching 47mm in case diameter. However, the smaller dial makes the perceptible size a bit smaller.
Another great feature of this watch is the inclusion of a sapphire crystal instead of mineral glass, making it more resistant to scratches.
With the price being similar to that of Seiko, the Sea King is a proper competitor to the famous SKX007 model.

Bulova or Seiko – Which One Is Better For You?
As you can see from the comparison, both brands offer state-of-the-art watches for various tastes and occasions. But who should go for Seiko and who for Bulova?
Seiko is a better option for those appreciating the functionality of a watch more than the looks. A classic Seiko owner is someone that expects reliability, accuracy, and a long-lasting wearing experience from a moderately stylish timepiece.
Compared to Bulova, Seiko has proven quality and better prices for automatic and dive watches. In addition, the selection of various watch movements is much broader, enabling one to choose from unique calibers that are guaranteed to last.
For a comprehensive overview of the brand, read our Seiko guide. In addition, take a closer look at the top-performing Seiko watches here.
On the other hand, Bulova is a better option for those wishing to decorate their wrists with flashier wristwear that offer striking visual elements. A classic Bulova owner is more courageous in trying out new trends and preferring larger timepieces.
Ultra-high frequency watches and skeleton timepieces are something that are missing from Seiko's line-up. Therefore, if you want your watch to be eye-catching as well, besides being reliable, then choose Bulova over Seiko. 
Read more about Bulova watches here.
---
We hope this Bulova vs Seiko comparison has solved some of your dilemmas in choosing between the two. Regardless of your choice, both brands live up to the expectations by providing high-class timepieces for affordable prices.

You may also like:
Affiliate Disclosure: As an Amazon Associate I earn from qualifying purchases. Details
Latest posts by Carl Pender
(see all)