Affiliate Disclosure: As an Amazon Associate I earn from qualifying purchases. Details
Orient and Seiko are the creams of the crop for affordable watches. Whether it be a dive watch for professional marine activities or an elegant dress piece for complementing your suit and tie, these two Japanese brands seem to be so dead even that it causes a real headache to make up your mind. 
But how to decide between the two? And what are the factors to consider in order to make the right choice according to your requirements? The following Orient vs Seiko watches comparison aims to guide you in this challenging selection process.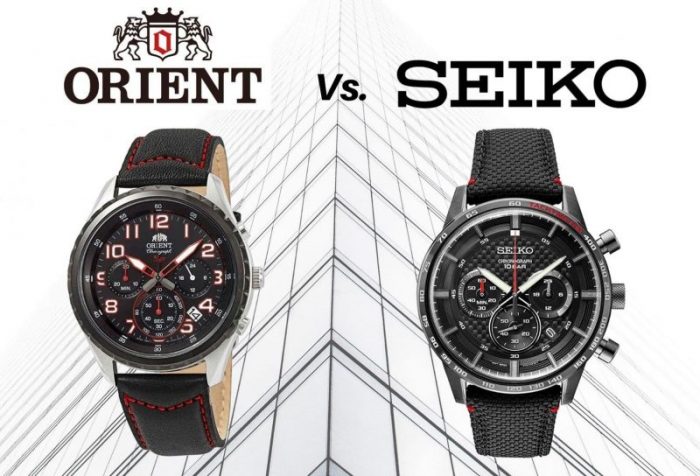 We start the face-off from both brands' short background stories and swiftly move on to comparing their styles and level of quality. The second part of the post concentrates on the best models from each manufacturer in their immediate categories.
By the end of this post, you will hopefully be able to come to a decision choosing between these two renowned watch brands.

Background Comparison
Both Orient and Seiko go a long way back in the history of watchmaking. When the predecessor of Orient was founded in 1901, then Seiko exactly two decades earlier in 1881.
Another factor that connects these brands is that Orient is owned by Seiko Epson, one of three core companies of the Seiko Group. Despite the ownership and shared values with Seiko, Orient has maintained its independence and continuity of legacy.
One of the achievements that have made Orient watches so sought-after throughout the 1950s up until today are their mechanical movements. The in-house produced calibers boast the utmost reliability and precision that are typically missing from lower-priced movements.
After the introduction of quartz technology in 1969 by Seiko, most watch manufacturers seized the opportunity to produce accurate and affordable timepieces. Orient, on the contrary, opted to continue the old path of producing mechanical pieces, which, in the end, was the key to the brand's success.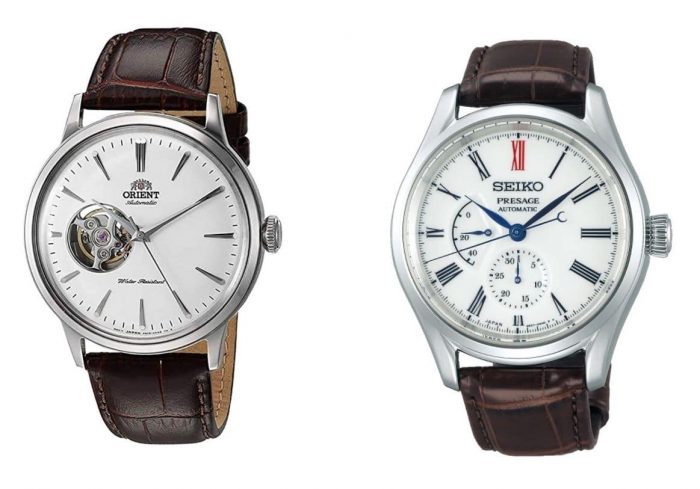 Seiko, too, is famous for its mechanical watches that can last for generations if properly taken care of. However, the most remarkable achievements are all based on quartz. The first quartz watch in 1969, the first Kinetic timepiece in 1988, and the luxurious Spring Drive movement in 1999 were followed up by the first-ever multi-band atomic time and solar GPS watches this century.
Besides the greater significance contributed to horology, Seiko is also the front-runner commercially. The brand has been an official timekeeper of two Olympic Games and four FIFA World Cups, and several other grandiose sporting events.

Styles & Types of Watches
However, more often than not, people don't buy timepieces based on the number of partnerships or recognitions the brand has. It's the design and variety of types they care about. In this regard, Orient and Seiko have much to be compared.
The two types that both brands excel in are dive and dress watches. Dive-purpose wristwear is very practical with basically non-existent flashiness – they serve their purpose without any unnecessary bells and whistles. Dress watches, on the other hand, beam elegance and are sure to receive positive feedback for their appearance.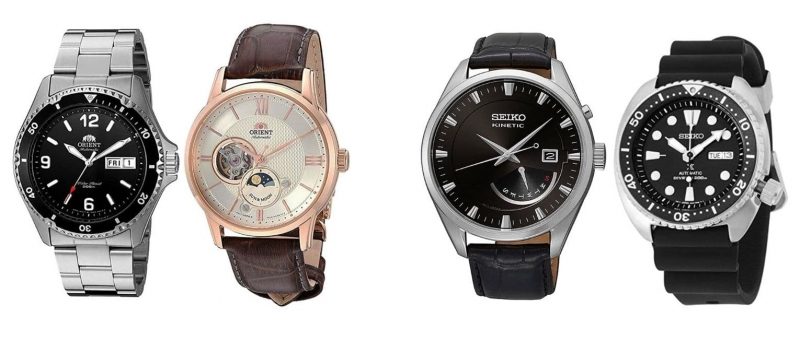 However, what separates Seiko from Orient is the broader selection of sports-oriented, military-style, and casual watches. One of the reasons that explain Seiko's diversity in terms of types is the more extended possibilities to employ various watch movements – besides the widespread quartz and automatic calibers, Seiko offers wristwatches with Kinetic and solar-powered movements as well.
Orient, on the other hand, produces almost exclusively mechanical watches with only a handful of quartz-driven pieces in the line-up.

Quality Comparison
Since we already touched on the topic of watch movements, why not have a quick overview of the quality Seiko and Orient watches have.
To be frank, there are no significant differences in this matter. Both Orient and Seiko hold a superb reputation for the quality of watch calibers.
Much of it can be accredited to their in-house production, which they've perfected to high standards over the decades. This, in turn, means both of them can market the models for lower prices than many others in the industry who outsource the movements.
In terms of watch materials, the pattern between Orient and Seiko is pretty much the same. While the affordable Orient watches feature mineral glass, Seiko employs them with their proprietary hardened mineral, called Hardlex.
The pricier watches from both of them come in high-grade stainless steel and feature sapphire crystals.

Price Comparison
When it comes to prices, the average cost of an Orient watch is cheaper than that of a Seiko piece. A well-made Orient watch with all the essential features has an average price tag of around $150-$200. At the same time, a standard Seiko watch costs about $250-$500. 
Besides affordable watches, both manufacturers have similar premium-class lines of watches in their collections – Orient Star and Seiko Presage. These higher-grade timepieces with enhanced quality typically cost above the $500 mark, with Orient Star being a bit pricier than Presage.

Watch Comparisons
Now that we're aware of the backgrounds of these brands, as well as the various styles and quality levels they offer, it's about time to compare Orient and Seiko watches in their immediate categories.
We have chosen five categories that typically interest the buyers: dive, dress, field, chronograph, and premium-level watches.

Dive Watches
Since dive watches are the best-selling models out of both brands' collections, we start the comparison precisely with these types of watches.
Orient Mako XL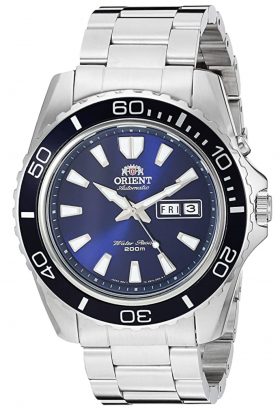 Case size: 44.5mm
Water-resistance: 200m (660ft)
Movement: automatic
Seiko Diver's SKX009K2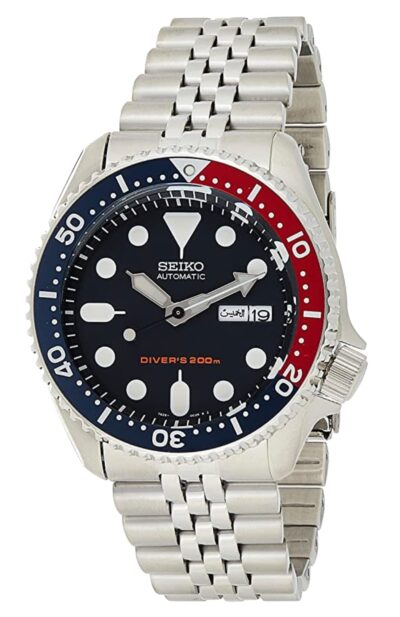 Case size: 42mm
Water-resistance: 200m (660ft) ISO
Movement: automatic
The Orient Mako XL is a large diver's piece with a renowned reputation in the community. With a price tag around $200, it's also a cheap option. 
The 44.5mm watch is water-resistant to 200m (660ft) and is suitable for serious water activities. However, since it doesn't come with ISO certification for deep diving, its use is limited to only recreational diving. Considering the vast popularity of dive wristwear being worn for other occasions, too, it won't be much of a problem for many.
You'll find a reliable automatic caliber powering the watch. Also, all the inherent features of a genuine dive watch are present, including a one-way rotating bezel, luminous hands and indices, and a screw-down crown.
The Seiko SKX009K2, also a legend in the dive community, has the ISO 6425 standard, meaning that you can wear it to depths reaching 200m (660ft). It is one of the most significant advantages over the Orient Mako watch in this comparison. 
Besides the certification, the Seiko diver has an excellent luminosity, which is another advantage. In fact, the brand employs some of the best lume watches in the affordable category.  
The better build quality is also one of the reasons the Seiko SKX009K2 costs twice the money of the Orient counterpart. However, if your target is to own the best quality for the money, this Seiko piece would be money well spent.
In terms of appearance, it comes with an attractive coin-edge Pepsi-design bezel, durable five-link stainless steel bracelet, and deep blue dial. You can also expect it to keep accurate time for an automatic movement.
---
Winner: Although the Orient Mako XL is so much cheaper and features qualities comparable to much pricier timepieces, the better dive watches still come from Seiko's production. The SKX009K2 model has a better luminosity, looks prettier, and is better protected deep in the water.

Dress Watches
Another category where Orient and Seiko go toe-to-toe with each other is dress watches. The most significant difference when comparing the two is that Orient have them equipped with automatic calibers, while Seiko employs other movements as well, including a sought-after solar-powered quartz caliber.
Seiko Dress SNE102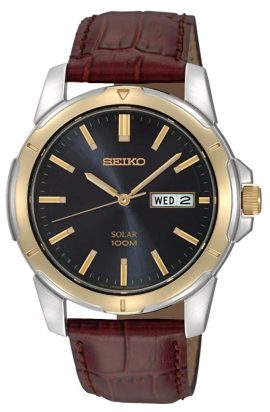 Case size: 39mm
Movement: solar quartz
Crystal: Hardlex
Orient Bambino Open Heart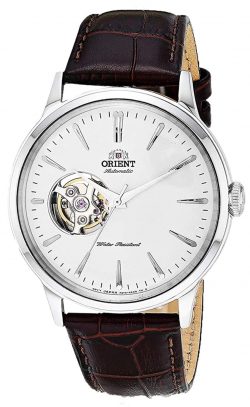 Case size: 40.5mm
Movement: automatic
Crystal: curved mineral
One of such watches with solar-powered movement is the Seiko SNE102. The hassle-free nature of the caliber ensures a power reserve for up to six months without the need for light exposure. The watch is also accurate, losing or gaining only about 15 seconds a month. 
The Seiko SNE102 has characteristics inherent to this type of wristwear when an easy-to-read analog face features only the essentials, such as the three-hand movement and date window.
An important feature of a good dress piece is also the appearance. With this Seiko, you won't be disappointed, as the gold-and-silver case around the black dial makes it both elegant and versatile.
The Orient Bambino Open Heart, on the other hand, runs on an F6T22 automatic caliber. The movement is not as hassle-free as a solar quartz one, nor does it provide the same accuracy, but the prestige and possibilities to showcase the caliber's intricacy are much higher.
As such, this Orient dress watch comes with an appealing open-heart design where the sophistication of an automatic movement is visible through a round cut. That's one of the characteristics that makes this timepiece so desired among watch enthusiasts.
Compared to Seiko, the Orient also looks more luxurious due to a neat white dial and silver-toned hands and markers. However, the more elegant looks limit its use for casual wear.
---
Winner: Between the two, the winner is Orient Bambino. The purpose of a dress watch is to complement smart outfits – the more elegant and sophisticated it is, the better. Although the Seiko will do the job just fine, the Orient is still more prestigious with its looks and complicated automatic movement.

Field Watches
Although field watches are not the most prevalent in Orient's and Seiko's line-ups, there are still a couple of them that will withstand the strenuous activities during hikes and treks.
Orient Flight Green Field Watch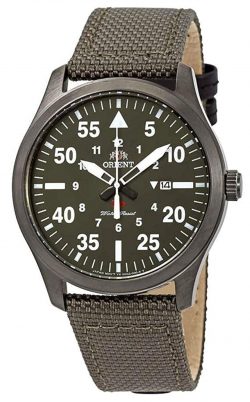 Case size: 42mm
Movement: quartz
Crystal: mineral
Seiko Field Watch SNE331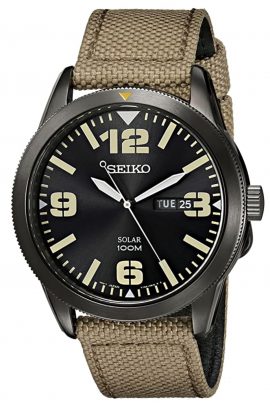 Case size: 43mm
Movement: solar quartz
Crystal: Hardlex
As the convenience of wearing is an essential prerequisite for a genuine field watch, the Orient Flight Green Dial timepiece comes in a decent size at 42mm and features a fabric strap. The easy-to-read dial has a straightforward setup and features lume-filled hands for better readability in the dark. 
The watch looks outdoorsy with its grey PVD-coated case and army-green strap. It's also accurate and quite sturdy for employing a quartz movement and scratch-resistant mineral crystal.
However, compared to the Orient watches with automatic calibers, the price of this quartz ticker may seem a bit hefty.
The Seiko SNE331, on the other hand, seems to justify its value. First off, it is powered solely by light and can hold a charge for up to ten months when fully charged. Solar technology is more valuable in a field watch than, for example, a dress piece. 
Secondly, the Seiko has better water resistance at 100m (330ft). Also, you can expect great luminosity from the watch hands. 
In terms of appearance, the timepiece is similar to the Orient piece – it has an easy-to-read black dial, dark ion-plated 43mm stainless steel case, and army-style khaki nylon strap.
---
Winner: Seiko. Leaving out people's visual preferences, Seiko outclasses Orient in terms of features, convenience, and quality. For approximately the same amount of money, you'll get a whole lot more than you would with an Orient field watch.

Chronograph Watches
The next category is for those appreciating the sportier look of a timepiece. The two chronograph watches we have here come with similar styling and design.
Orient Sporty Chronograph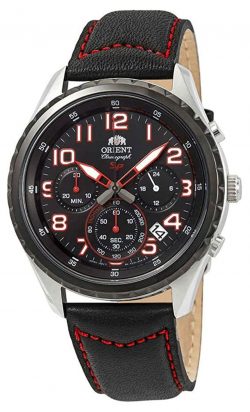 Case size: 43mm
Movement: quartz
Crystal: mineral
Chronograph: 1 sec to 30min
Seiko Chronograph SSB359
Case size: 45mm
Movement: quartz
Crystal: curved Hardlex
Chronograph: 1/5 sec to 60min
This Orient has an eye-catching visual appeal that sees the red contrasting with the overall black color. The fierce-looking timepiece runs on quartz caliber that powers the three-hand movement and three sub-dials, which belong to the chronograph function and GMT. 
The accuracy of a stopwatch is in 1-second increments and measures up to 30 minutes. The tachymeter bezel you'll typically find from the bezel has been placed to the bottom window, making the calculation process relatively complicated due to the small size.
Regardless of this particular con, this Orient watch is nevertheless easy to capture, even in the dark. And what's also important is that it costs below the $100 mark, which is a real bargain from a renowned brand like Orient.
A wonderful value for money is also the Seiko Chronograph SSB359. For almost double the price compared to the Orient Chronograph, you'll receive some extra in terms of features and aesthetics. 
First of all, the stopwatch measures in 1/5-second increments up to 60 minutes. Secondly, the adjustable tachymeter ring sits on the bezel and is easy to handle and read. Also, the chronograph's second hand runs on the main dial, leaving the main seconds' counter to one of the subdials. 
The appearance is another advantage over the Orient watch, although it's up to everyone to decide. One of the design elements that add pricier appeal is the textured dial that harmonizes perfectly with a similarly patterned fabric strap. Another contributor is the curved Hardlex crystal instead of a flat one.
---
Winner: While both provide decent chronograph watches, Seiko has the edge over Orient. The reasons for that are quite simple – they have better features and look more sophisticated. Even the higher price won't influence the result.

Premium-Level Watches
The last comparison between Seiko and Orient involves their higher-priced watches.
Orient Star Automatic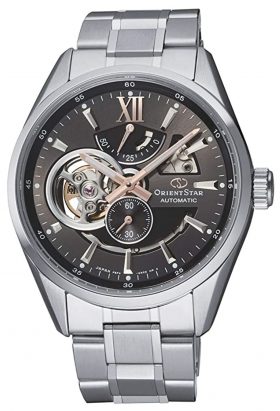 Case size: 41mm
Movement: automatic
Power reserve: 50h
Crystal: Sapphire
Seiko Presage SSA379J1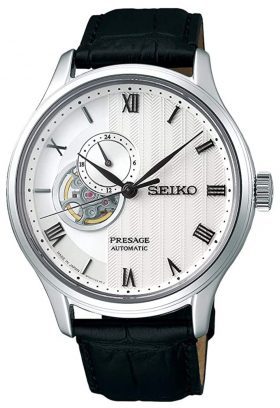 Case size: 42mm
Movement: automatic
Power reserve: 41h
Crystal: Sapphire
The Orient Star collection is the line of wristwear that made the brand famous. It's also unique due to the fact of being made entirely in Japan. Therefore, the Orient Star Automatic is a genuine Japanese-made watch that oozes quality. 
The watch features several practical and visual enhancements. The trademark addition you'll find from the majority of Star watches is the power reserve indicator at the twelve o'clock position. Half a circle in shape, the indicator is an addition that many crave for in automatic wristwear.
Then there's the partially skeletonized dial that lets you see the intricate mechanical movement doing its job. An interesting thing with this Orient Star is also the second counter's placement on the bottom window instead of being on the main dial. 
In terms of quality, the timepiece is water-resistant to 100m (330ft) and has a premium-class sapphire crystal.
The Seiko Presage SSA379J1 watch is also of high quality for featuring sapphire glass and top-notch automatic self-winding caliber. However, the power reserve in this timepiece is 41 hours when the Orient Star has it at 50 hours. Also, there's no indicator in the Presage.
Similarly to the Orient, the dial is partially exposed through a round cut that enables one to glance at the workings of the mechanism.
In terms of overall appearance, this Presage piece is more elegant for featuring a neater dial and Roman numerics, but also due to the leather straps.
---
Winner: The Orient Star watch gets the nod for the better power reserve and a very handy power indicator. When it comes to the looks, the flashier yet sophisticated appeal also outclasses the too-rigid appearance of Seiko Presage.

Orient or Seiko – Which One To Choose?
We know that both brands hold an excellent reputation for their quality wristwatches and reliable automatic calibers. But what are the differentiating factors to consider when choosing between the two?
1) Seiko has a better selection for other types of movements besides the automatic one. The array of quartz, solar, and Kinetic watches is vast and covers most styles for various occasions. Although Orient has some great quartz tickers in its line-up, it's still quite limited compared to Seiko.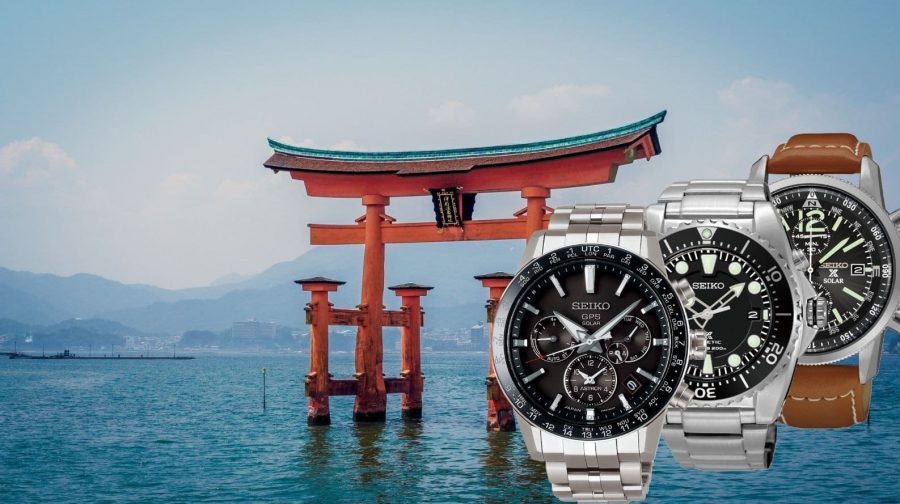 Therefore, if you want anything other than an automatic watch, choose Seiko.
2) Seiko has more technologies in their hands. The likes of atomic-precision time and solar-powered movement provide utmost convenience in everyday wear that become invaluable for those trying them out.   
3) Seiko's dive wristwear comes with ISO-certification for professional diving – something that is rare among Orient pieces. If you want the utmost reliability during your water explorations, go for one of the Seiko dive watches. 
However, if you don't intend to use it for professional scuba diving but rather swimming, snorkeling, and recreational diving, the Orient dive watches will do the job just fine. Besides, they cost much less than Seiko pieces.
4) Orient's dress watches tend to look a bit more appealing, especially those with an open-heart design. Also, they are somewhat cheaper in comparison to Seiko. For the equal quality of automatic movements, an Orient watch is a better value for your money.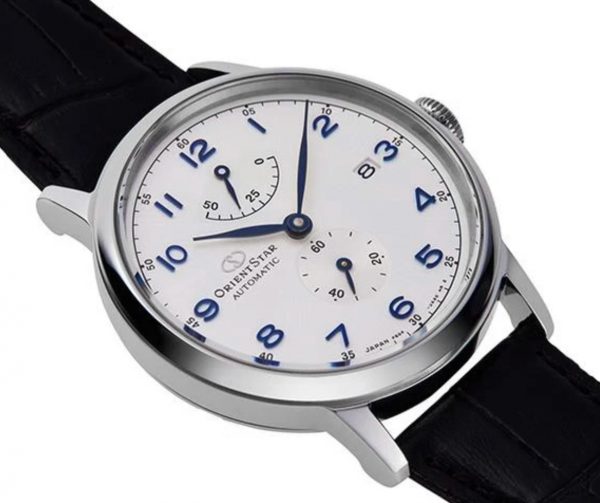 5) Orient Star collection is the most advanced line of wristwear from the brand. If you have money to spend, then a Star watch would be more impressive than any of the pricier collections from Seiko. The inclusion of a convenient power reserve indicator, combined with an extended power reserve, is truly top-class in mechanical wristwatches for the money.
If you wish to learn more about both of the brands, visit our comprehensive guides on Orient watches and Seiko watches.

Conclusion
We hope this Orient vs Seiko comparison has made your choice between these two excellent brands much more manageable.
Despite their differences in watch calibers, numbers of features, and prices, they both boast outstanding reliability and value for money. Whichever timepiece you choose from either of the manufacturer, you can be sure they'll last you for long years to come.

You may also like:
Affiliate Disclosure: As an Amazon Associate I earn from qualifying purchases. Details
Latest posts by Carl Pender
(see all)