Affiliate Disclosure: As an Amazon Associate I earn from qualifying purchases. Details
An alarm function is an appreciated feature in a watch by providing timely reminders. However, the simple sound alarm isn't simply enough in some cases, especially considering its low sound volume.
Therefore, several timepieces have added a vibration alarm that can be set either individually from the sound or together.
It is a function that is more powerful and also more discreet than the sound version, which makes it spot-on for heavy sleepers, the hearing impaired, the elderly, and people with a fast-paced life.
This post combines the best vibrating alarm watches that provide several daily alarms with sufficient vibration.
On top of that, these timepieces have a reliable construction and accurate timekeeping, making sure they're more than just vibrating watches.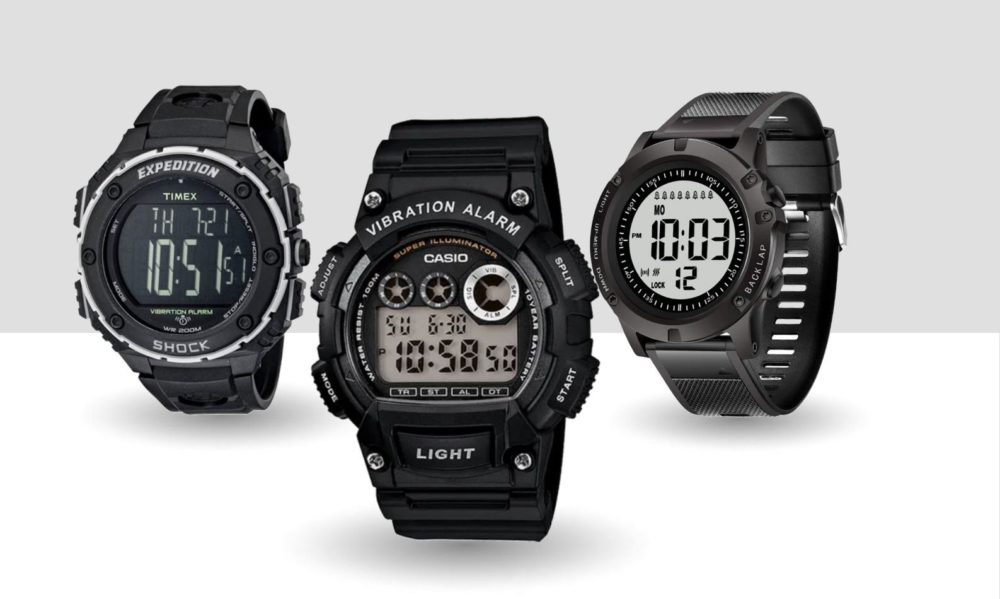 Vibrating Alarm Watches
We combined the list of vibrating watches, taking into account the following prerequisites:
Price not exceeding $200
Minimum number of 3 daily alarms
Durable construction to withstand more than just indoor conditions

Also, you'll find timepieces from renowned watch producers, as well as from unfamiliar brands that have come out with surprisingly durable and practical models.
Hence, stay with us to discover the best there is.
Casio Mud-Resistant Quartz Watch
THE BEST OVERALL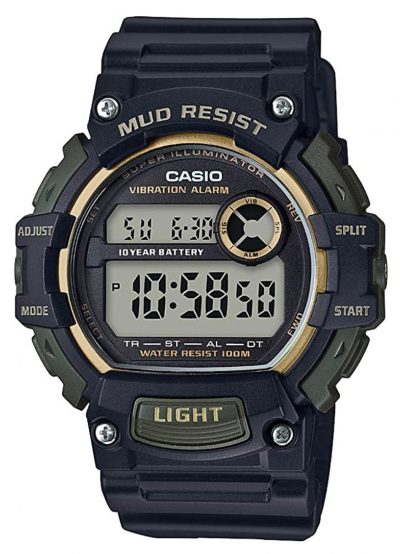 Daily Alarms: 3
Countdown Timer: yes
Backlight: yes
Water Resistance: 100m (330ft)
Casio is one of the most recognized Japanese watch manufacturers. Therefore, you can be sure of the quality of the brand's production line.
Besides the reliability, Casio also stands out with a high number of functions for various purposes, including the main topic of this post, a vibrating alarm.
The Casio Mud-Resistant Quartz has the possibility to set three daily alarms that notify the wearer with a vibrating nudge. However, it's not the only occasion it goes on vibration – the watch has a vibrating hourly signal as well.
Besides this beneficial function, the Casio offers heaps of quality with its 100m (330ft) water resistance, ensuring its aptness for serious water sports. It means you can go swimming with it with no harm done to your watch.
Another resistance that the brand so broadly markets is mud resistance – due to its construction and prime material of plastic, it not only prevents the watch from humidity entering the inner parts but guarantees simple cleaning as well.
When coming back to the vast array of functions, you'll find the Super Illuminator that lights up the display, a 1/100-second stopwatch, and a 1/10-second countdown timer. All these features run on accurate quartz movement powered by a battery that will last up to a magnificent ten years.
However, there's one thing you should look out for before opting for this Casio. Namely, it measures nearly 48mm in diameter. Therefore, when your wrist circumference measures below the average (7.3in), consider other options coming up next.
All in all, with a price tag below $50, this feature-packed Casio is the best vibrating watch currently available.
---
G-Shock GD350-1B
THE MOST DURABLE OPTION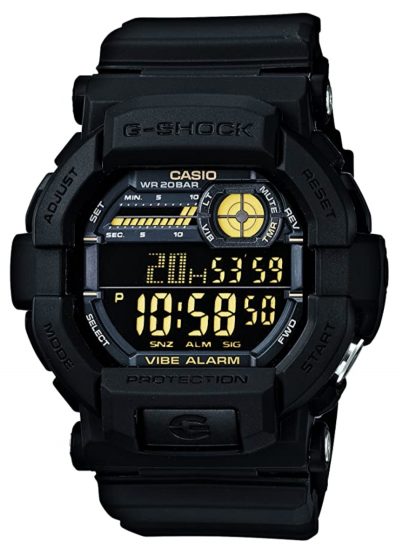 Daily Alarms: 5
Countdown Timer: yes
Backlight: yes
Water Resistance: 200m (660ft)
Casio's sub-brand of G-Shock has also equipped some of its wristwear with a vibrating alarm function. The G-Shock Vibration Alarm GD350 comes with five separate alarms, with the fifth of them being similar to a snooze function.
Unfortunately, the alarms last only 10 seconds, which might be insufficient for heavy sleepers. However, for others, it shouldn't be much of a problem.
Similar to the previous Casio model, this G-Shock comes with a countdown timer, stopwatch, and backlight. The countdown timer, in particular, is notable for vibrating when the time is up. Therefore, it can be used as an additional alarm if the five already present are not enough.
The reason for the knobby design the timepiece has is to protect it from all sorts of shocks. In fact, G-Shocks are considered one of the sturdiest watches in the world.
Moreover, not only gravitational shocks won't do much harm, but also magnetic and water-related shocks.
Therefore, if you want your new timepiece to withstand extreme conditions besides all the fantastic features it comes with, go for this G-Shock. The high number of vibrational alarms is also something you won't find in many other traditional watches.
---
Timex Expedition Vibe T49950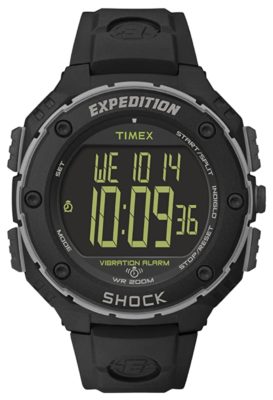 Daily Alarms: 3
Countdown Timer: yes
Backlight: yes
Water Resistance: 200m (660ft)
The American watchmaker Timex is heavily competing with Casio for the same customer segment. That's for a good reason, too – the brand's timepieces are incredibly sturdy and reliable for the bucks spent.
The Timex Expedition Vibe T49950 we have up next is also available for less than $100. What's even better, it adds a vibrating alarm function to the already feature-rich set this durable timepiece comes with. The number of alerts stands at three, enabling one to place several notifications for a day.
Not only can you make use of the alarms, but also the stopwatch and countdown timer for various time measurements. All the functions can be easily modified by the pushers on both sides of the watch.
This Timex Expedition is a pleasant alternative to Casios for not being as rugged and heavy-duty in terms of appearance. However, one thing you still can't escape from is the watch's size, standing at 50mm in case diameter.
Another con with this Timex is to do with legibility. Since the dial is a reverse (negative) display, it is sometimes difficult to read. Fortunately, the watch is equipped with Timex's proprietary Indiglo backlight, compensating for the disadvantage.
---
Pavlok Shock Clock 2 for Heavy Sleepers
THE STRONGEST VIBRATION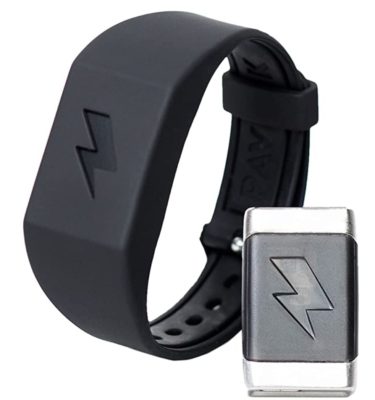 Daily Alarms: numerous
Alarm Types: beep, vibration, zap, & various combos
If you have serious problems waking up on time in the mornings, you should try the following specialized wearable for this condition.
The Pavlok Shock Clock 2 is not a classic watch with a vibrating alarm function but instead a through and through shock gadget with an additional module.
It offers six different wake-up modes, from modest beeps and vibrations to sudden electrical zaps.
As a matter of fact, the zap function that this Pavlok offers is sure to wake up if vibrations or beeps won't.
Further, you can also enable the Jumping Jack Mode, which turns off only if the physical jumping jacks have been made. An alternative to jumping is scanning a QR code in another room, ensuring you won't stay in bed and fall back to sleep.
The Pavlok Shock Clock also comes with an accelerometer and Bluetooth connectivity, offering sleep tracking opportunities and convenient alarm modifications from your phone.
The watch doesn't show time (well, anything, to be honest), so if you don't wish to wear it all day long, just place it on your wrist only in the evenings before bedtime.
---
TICCI Unisex 8
THE BEST FOR THE VISUALLY IMPAIRED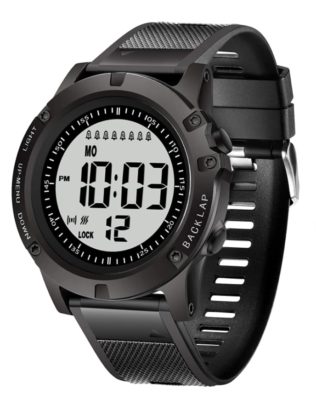 Daily Alarms: 8
Countdown Timer: yes
Backlight: yes
Water Resistance: 50m (165ft)
The Ticci brand may not be familiar to most of you since it specializes in producing medical-oriented timepieces. Ticci's nurse watches, for instance, are sought-after for their simplicity and practicality.
The Ticci Unisex 8 watch is also simple and easy to use, working out as a perfect timepiece for those in need of constant reminders.
The number "8" that appears in the name stands for the eight daily alarms that can be set to beep and vibrate, only beep, or only vibrate. Thus, the specially designed alert watch becomes really handy when taking pills or reminding daily tasks is required.
The watch's design is suitable for both men and women but can be personalized with variously colored bands the brand has available.
Although the timepiece's size may be a bit on the larger end with a 48mm case diameter, like with most vibrating watches, it shouldn't be a problem. After all, the watch doesn't serve to complement one's attire but helps out with daily activities. And the bigger it is, the more convenient it is to read the time.
When discussing the most significant disadvantage of this Ticci piece, it's somewhat hard to understand instructions on setting the alarms. Hence, take your time and hold your nerves.
---
Fitbit Versa 3
THE MOST VERSATILE OPTION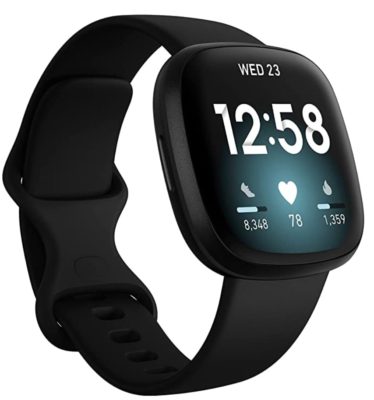 Daily Alarms: 8+
Countdown Timer: yes
Backlight: yes
Water Resistance: 50m (165ft)
In contrast to the aforementioned vibrating watches, we've included an affordable smartwatch on our list. It's the Fitbit Versa 3 that stands out with the ability to set alarms and timers through the user's voice, offering a convenient hands-free user experience.
The voice command can also be used to check the weather forecast, receive news and information, control smart home devices, etc.
However, Fitbit Versa's most significant trait is its utmost suitability for sports and fitness tracking. It comes with a technology that reads sleep phases from the wearer's heart rate, which helps determine the sleep quality.
In combination with more than 20 goal-based exercise modes, including swimming (the watch comes entirely swim-proof), the Fitbit Versa 3 is a through and through health tracker.
However, one of the downsides of this watch compared to classic quartz-driven pieces is the constant need to charge it. Due to the countless power-hungry apps, the battery runs empty typically in 5-6 days when GPS is not used.
Despite the drawback, the Fitbit Versa 3 provides overwhelmingly more than a classic timepiece does. Therefore, if you're not afraid to pay a little extra, this watch could be your next best friend.
---
Fitpolo Smartwatch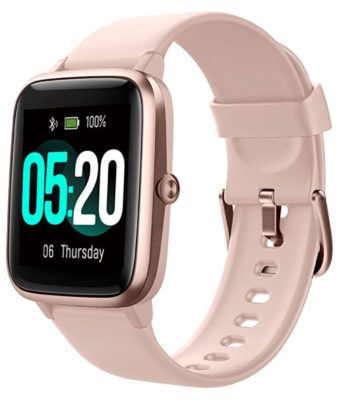 Daily Alarms: 10
Countdown Timer: yes
Backlight: yes
Water Resistance: limited swim-proof
If Fitbit doesn't fit into your budget, there's a much cheaper option available – the Fitpolo Smartwatch.
Feature-wise, it provides similar functions as Fitbit – the sleep tracker, heart rate counter, step counter, various exercise modes, etc. In addition, the smartwatch enables you to set multiple alarms (up to 10) with a vibration possibility.
What's different, though, is the Fitpolo's excellent battery life for a smartwatch – it lasts about ten days under regular use.
For the sub-$50 price tag, you'll also get a 1-year hassle-free warranty period. It's nothing special but long enough to get it repaired if serious malfunctions occur right from the beginning.
Although the Fitpolo watch doesn't seem to give much away compared to more appreciated fitness trackers, it still comes with a significant con – water resistance.
The IP68 rating the wearable comes with guarantees its aptness for short immersion in the water (up to 30 minutes in no deeper than 1m), limiting its use for longer swim sessions. Regardless, the Fitpolo wearable is a dirt-cheap alternative to much pricier smartwatches.
---
Timex Expedition Shock XL Vibration Alarm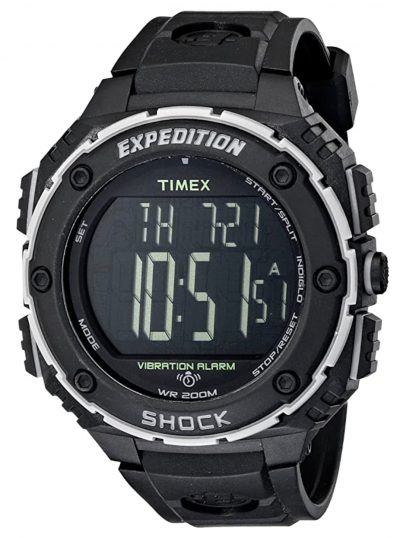 Daily Alarms: 3
Countdown Timer: yes
Backlight: yes
Water Resistance: 200m (660ft)
Moving back to traditional wristwatches, we have another Timex featuring on this list. 
The Timex Expedition Shock XL comes with three vibrating and audible daily, weekday, or weekend alarms and a 24-hour countdown timer. Due to the existence of special occasion reminders, the number of timely notifications can be conveniently increased.
What makes this timepiece special, though, is its compliance with the ISO standard for shock resistance. A durable resin case and reinforced construction ensure its suitability for severe conditions on land and sea. Hence, it is not only a capable vibrating timepiece but also a tough and durable watch.
Also, let's not forget the watch is also equipped with the famous Indiglo backlight, which helps read the display in dim lighting conditions.
The legibility of this watch, however, leads us to the biggest concern with this Timex, despite the presence of a backlight. Namely, due to the color scheme comprising pale-green on a black background, the readability takes a serious hit. For example, reading the time in low light conditions requires very sharp eyesight.
Also, the mineral crystal that protects the face reflects glares and shadows, complicating the legibility from certain angles.
Therefore, opt for this oversized Timex Expedition if your eyesight is sharp and you are willing to accept the somewhat poor legibility in certain lighting conditions.
---
G-Shock GD350-8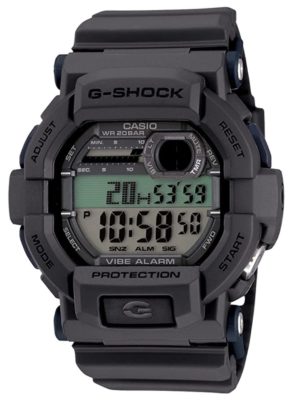 Daily Alarms: 5
Countdown Timer: yes
Backlight: yes
Water Resistance: 200m (660ft)
The G-Shock GD350-8 is a fantastic vibrating alarm watch – on top of the five daily alarms you can configure, the timepiece is also equipped with a flash alert. Furthermore, the function gives a buzzer for hourly time signals and when the countdown timer's time is up.
The vibration is smooth yet easily perceptible because of the unique shock absorber design of the back of the watch.
If the wearer has eyesight problems, the Super Illuminator lightens up the entire display for enhanced readability. On top of that, the digits are easy to read due to the contrasting yellow tone on a black background.
Like with all the G-Shocks, the water resistance is guaranteed to 200m (660ft), and the resistance to gravitational shocks is outstanding. The watch withstands hits and knocks tremendously well without impacting the vital timekeeping module.
A nice extra for regular travelers is the World Time feature that enables you to switch between 35 time zones covering 100 major cities.
---
Casio Super Illuminator Watch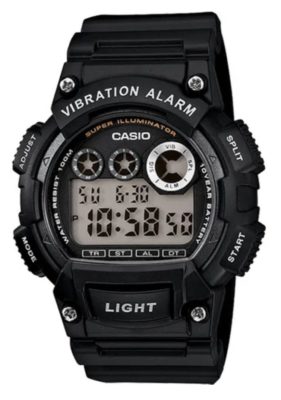 Daily Alarms: 1
Countdown Timer: yes
Backlight: yes
Water Resistance: 100m (330ft)
The Casio Super Illuminator is a decently sized watch (44mm case diameter) that fits both men and women.
It is equipped with a vibrating alarm possible to set once a day. Compared to others on this list, the alarm count is somewhat limited, which is the biggest disadvantage compared to others on this list.
However, with the help of a countdown timer that can be configured to go off several times a day, you can have at least five daily alerts.
An additional positive besides the countdown timer is the greenish light that flashes during the alarm and when the countdown is finished. It illuminates the entire display not only during the alerts but also at a touch of a button located at the six o'clock position.
The face of the watch is covered with a mineral crystal that protects the easy-to-read digital display. The watch also comes water-resistant to 100m (330ft) and has an extraordinary battery life of ten years.
---
Cadex VibraPlus Sport
THE BEST FOR THE ELDERLY
Daily Alarms: 8
Countdown Timer: yes
Backlight: yes
Water Resistance: only low-impact contact
The next entry is the Cadex VibraPlus Sport, a purpose-built buzzer timepiece for those in need of constant reminders and with limited hearing. 
Since the watch is specially designed for the cause, you'll find more alarms than in traditional wristwatches. It is possible to set up to 8 alarms that automatically repeat every day. The options for only vibrate, only sound, and both simultaneously are also provided.
A great feature of this Cadex watch is the possibility to lock it, thus preventing accidental button presses and changes.
Besides the vibrating alarm and lock feature, the timepiece also comes with a stopwatch function, backlight, and countdown timer. And although the Cadex VibraPlus is not entirely waterproof, it's still safe to wear it during hand washing or any similar low-impact water contact.
When it comes to battery life, it falls short compared to other battery-powered vibrating watches. If you use more than 4-5 daily alarms, the battery will last you no more than six months.
Hence, this timepiece is best suited for those who require more than 3-5 daily alarms. All the others should opt for watches that come with much better battery life.
---
WOBL Vibrating Reminder Watch
THE BEST FOR KIDS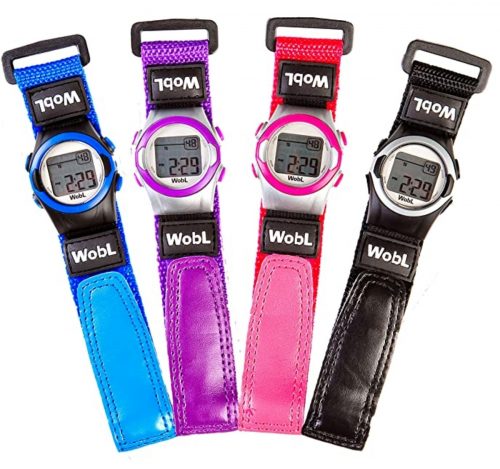 Daily Alarms: 8
Countdown Timer: yes
Backlight: yes
Water Resistance: only low-impact contact
Finishing the list is a simple watch for kids. The colors come for both genders – blue for boys and pink for girls – but have a unisex black as well.
The WOBL Reminder Watch has 8 alarms in total that aid the wearer in reminding critical daily activities. There are vibration and sound functions for the visually impaired, and those with hearing difficulties can choose only the vibrating option.
The timepiece also features a countdown timer with auto-repeat and stopwatch possibility.
Since the watch's construction is not meant for swimming or showering, it is vital to take it off before water-intense activities.
---

Buying Guide For a Vibrating Alarm Watch
A watch with a vibrating alarm can become handy in various situations for different people.
If you've never thought about buying one for yourself or a loved one, then read on to discover the variety of possibilities how and to whom the watch can become a real life-saver (in its straightest meaning, in some cases).

Who Is It For & How It Helps?
1. Individuals with intense workdays – If your work routine is filled with meetings and submitting important reports or caring for demanding patients as a nurse, you can set your watch to remind you of what needs to be done.
Instead of a sound alarm, a buzzing mode is a convenient way of receiving the notification without drawing too much attention from others around you.
2. Heavy sleepers – It's quite common for some people to have deep sleep phases where not even a rock concert couldn't wake them up. Thus, a wearable that vibrates on the wrist could become a real game-changer.
Another handy purpose of a vibrating timepiece comes into play when the wearer has a different daily schedule from their partner or child. A buzzing watch stays unnoticeable for everyone except you, which lets others continue their sleep.
3. People with hearing problems – Those who have problems with hearing can't use a regular sound alarm. Depending on a device, the volume can be set to a maximum level, but it could become annoying for others around you.
Therefore, a vibrating watch is a perfect alternative for the wearer to receive reminders and wake-up alerts.
4. Elderly people – Older people often tend to forget some vital tasks in their everyday life. Whether it be taking medicines several times a day or eating/drinking at certain hours, a vibrating watch ensures the wearer gets the essential reminder.
Those with dementia and Alzheimer's disease are the most benefit from this type of wristwear.
5. Individuals with ADHD – Attention deficit hyperactivity disorder, or ADHD, is common among both children and adults. The disorder causes trouble focusing on a single task or sitting still for long periods of time.
If the person has a vibrating alarm watch on the wrist, it helps them stay more focused and keep a consistent structure. The smooth nudging of the function won't draw unwanted attention and helps keep the reminders discreet.
6. Anyone preferring a vibration instead of a sound – Sound alarms are prevalent in the majority of devices. However, the ones that vibrate provide better convenience for not making an audible sound.
Therefore, choose vibrating wearables if you think you prefer them instead of those with only the sound.

Types of Vibrating Watches
The array of vibrating timepieces is not broad. Therefore, we can divide them into three broad categories.
1. Smartwatches & Fitness trackers – Smartwatches and fitness trackers come with a variety of features besides the vibrating alarm. Such timepieces suit active wearers who wish to take more out of a device than just time-tracking and reminder function.
The watches can be used for sleep phase monitoring, step counts, and exercises, but also for checking notifications and weather forecasts.
2. Rugged outdoor watches – The second type that employs the feature is an outdoor watch. Casio, G-Shock, and Timex are known manufacturers of durable and rugged watches for intense wear and tear activities.
Besides the option to set several daily alarms, the timepieces typically come with a stopwatch, backlight, and extended water resistance to at least 100m (330ft).
3. Medical watches – Finally, there are watches made precisely for medical purposes. These timepieces don't look like traditional digital watches but are more simpler in build with little to no aesthetic additions.
Elderly, hyperactive children, people with hearing problems, and also heavy sleepers (although mostly not a medical condition) are the ones finding precisely this type the most suitable. The watches are aesthetically simple yet provide utmost practicality.

Final Words
If you've never considered yourself wearing a timepiece that provides vibrating reminders instead of sound alerts, give it a try!
You'll be amazed by its convenience. Although the variety of such watches is somewhat limited, some reputable brands have them available in their line-ups.
Whether it be a rugged G-Shock or Timex, or a straightforward yet highly functional Ticci or Cadex timepiece, you can be sure that any timepiece from this list of the best vibrating alarm watches will serve you or your loved one for years to come.

You may also like:
Affiliate Disclosure: As an Amazon Associate I earn from qualifying purchases. Details
Latest posts by Carl Pender
(see all)