Affiliate Disclosure: As an Amazon Associate I earn from qualifying purchases. Details
What if you could design your own watch by assembling the different parts of a watch in just a couple of seconds? Or change the dials and cases according to your moods and whenever you wish?
No, it's not a fantasy that never comes true because a watch company called TEKNON offers you the possibility to design custom watches out of numerous variously styled components, from cases and bezels to dials and straps.
You can buy the parts separately and mix them in just seconds without any previous watchmaking knowledge!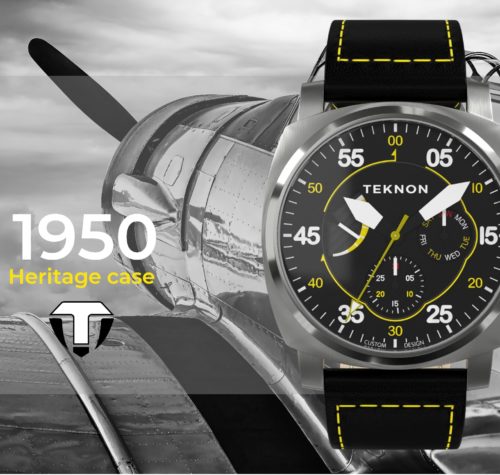 The total number of combinations exceeds 33,000(!), while the limited number of modules (500, if to be precise) guarantees their exclusivity.
So, if you consider yourself a watch enthusiast who wishes to stand out from the crowd with never-before-seen timepieces, check out what TEKNON has in store for you.

What is TEKNON?
After working in the luxury watch industry for more than twenty years, TEKNON's founders wished to build their own legacy by radically challenging the watchmaking industry.
Their aim is to provide a unique customer-centric experience, allowing watch lovers to express their creativity by designing the kind of watches they find the most eye-catching.
Moreover, the components you can customize for the watch are of the highest quality. As such, every timepiece comes with:
316L stainless steel case
anti-reflective sapphire crystal
Seiko automatic caliber
transparent sapphire caseback
luminous hands
Italian calfskin leather strap


Visually, TEKNON's custom watches possess a vintage yet modern DNA, inspired by the legacy of military aviation and legendary racetracks. Therefore, the outcome of the configuration is either an aviation or racing watch with vintage vibes to it.

How to Customize a TEKNON Watch?
So, what are the options for designing your own TEKNON watch and how does it work?
We'll walk you through the options and configuration process in six easy steps, starting with the base component, the function.
You can also try out the configuration process HERE and find the most suitable combination you like the best.
1. Choose a Function
TEKNON offers three different types of functions that run on different Seiko calibers:
Three-hand analog with date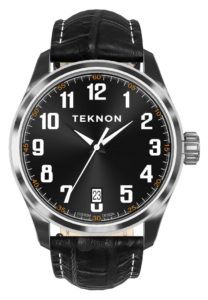 Watch Size: 40.5 mm
Caliber: Seiko NH35
Caliber Specs: 24 jewels, 21,600 vph frequency, 41h power reserve
Power reserve indicator with calendar
Watch Size: 40.5 mm
Caliber: Seiko NE20
Caliber Specs: 29 jewels, 28,800 vph frequency, 48h power reserve
Automatic chronograph watch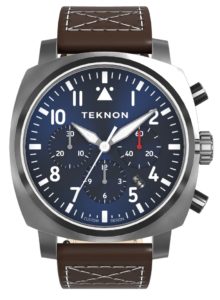 Watch Size: 43 mm
Caliber: Seiko NE88
Caliber Specs: 34 jewels, 28,800 vph frequency, 45h power reserve
The first two functions go with 40.5mm cases, and all the components are interchangeable, while the chronograph function suits 43mm case sizes only.
All the Seiko automatic calibers employed by TEKNON are high-quality and are known to keep precise time. For example, the NH35 caliber is widely employed by numerous watch manufacturers, including Seiko, Invicta, and Spinnaker.
The NE20 and NE88, on the other hand, are expensive options due to the extra complications they include. They are considered high-class calibers and can be found from premium-class timepieces.
If you wish to know more about automatic watches and how they compare to quartz watches, see our quartz vs automatic watch comparison.

2. Choose a Module
After you've made up your mind regarding the core function, it's time to choose a module. TEKNON refers to the module as the part of a watch that goes into the case.
A module consists of a dial, an anti-reflective and scratch-resistant sapphire crystal, a transparent sapphire caseback, and a crown (pushers).
When choosing a module, you basically pick the dial you wish your custom watch to feature. TEKNON offers four underlying designs with various color options.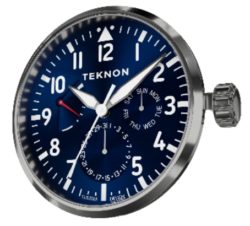 Pilot
The module is inspired by aviation watches from the World War II-era with large white Arabic numerals and luminous hands that contrast against the dark background. The finishing of the face is solved in a sunray style, offering a beautiful reflection when casting light onto it.

Colors: Black, Navy Blue, Grey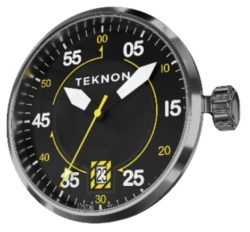 Military Pilot
This module takes the aviation inspiration a step further in paying tribute to WWII fighter planes' instruments. It comes with a double-layered matte black dial and yellow outlines. 

A notable difference compared to the Pilot module is that instead of using 1-12 Arabic numerals, TEKNON opted for numbers going from 0 to 55 in intervals of five.

Note: the Military Pilot function is NOT available with the chronograph function.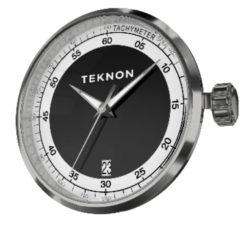 Racing
The Racing module's most notable feature is the tachymeter on the outer ring of the dial. The module comes with a bold contrast between the center of the face and the numbers ring. It's either black in the center and white surrounding it, or vice versa.

Note: the Racing module is available only with the three-hand analog function.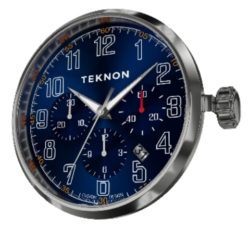 Vintage
This module boasts a clean design with solid white or white outlined vintage Arabic numerals on a black, navy blue, or grey dial. 

A neat addition is the orange tone of the minute numerals, providing a fresh contrast against the darker-colored dials.

3. Pick Between Two Bezels
Along with the module, you also have to pick between two types of bezels – rounded or angular. Both versions are available for every module described above.

4. Choose a Suitable Case Design
Now, wrapping the whole design up is picking between three underlying case styles: Heritage, Military, and Pilot.
Like other customizable parts, the cases come with extra options for personalization. For example, besides the style, you'll have the option to choose between classic stainless steel and black-plated and rose-gold plated cases with either matte, brushed, or polished finishing.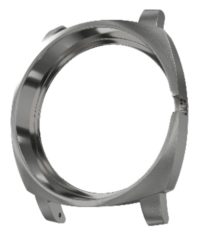 Heritage Case
This case has robust corners, giving it a rounded square profile. In addition, the style distinctly frames the face of a watch for a classic look.

Selection:
Black-plated case – matte finish
Rose-gold plated case – brushed finish
Stainless steel case – brushed or polished finish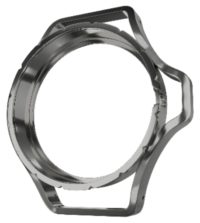 Military Case
This style combines a round profile with a frame that encompasses a crown protector. There is a considerable gap between the frame and the round circle, which looks prominent and adds masculinity to the watch.

Selection:
Black-plated case – matte finish
Rose-gold plated case – horizontal and vertical brushed finish with a polished ring and edges on the frame
Stainless steel case – the same as with rose-gold plated case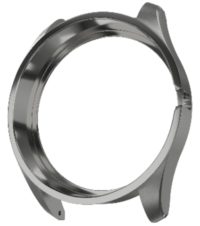 Pilot Case
The last case type comprises sleek, swooping contours that are reminiscent of historic aviator timepieces and let the boldness of the dials shine through. 

Selection:
Black-plated case – matte finish
Rose-gold plated case – brushed finish with polished edges
Stainless steel case – brushed finish with polished edges   

5. Pick an Appropriate Strap
The final step of designing your own watch is picking an appropriate strap out of the Italian calfskin leather options TEKNON provides.
The family of straps comes in black, dark brown, red-brown, and medium brown. You'll also have the opportunity to choose the stitched versions with orange, white, red, yellow, black, and brown tones.
What's even better, the straps can be finished in regular, smooth, or crocodile-pattern styles.
The straps are extremely easy to swap and replace because of the quick-release pins and because, regardless of the case size, one fits all.

6. Mix & Match
What makes TEKNON watches special among custom watches is the possibility to mix and match the three core components: the module, case, and strap.
As a result, they are extremely easy to assemble and disassemble without any specialized knowledge or the use of tools.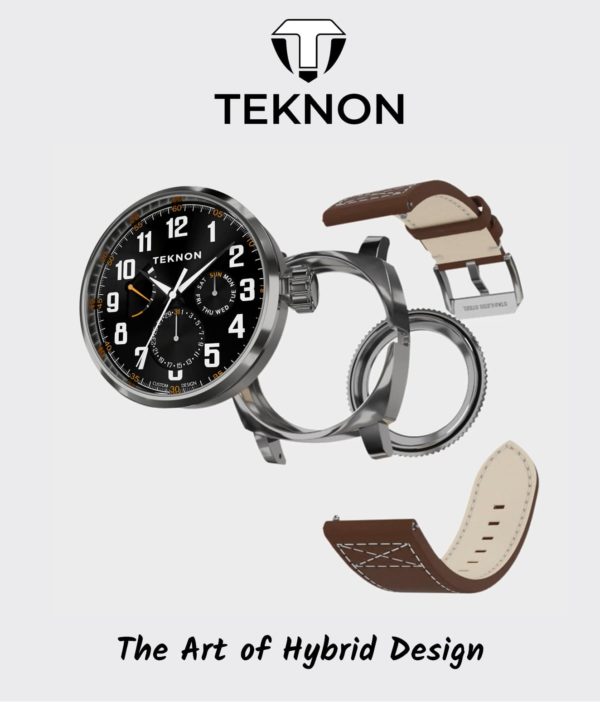 For example, you can buy two different cases and modules and change them as often you like. And it only takes a couple of seconds to do it.
TEKNON has also provided you with the how-to guide for assembling the watches, which you can find HERE.

Prices & Warranty
The configuration process on TEKNON's homepage is top-notch – it is very easy, shows precisely what you're going to get, and also gives you the price.
The valuation of the watches is a bit pricier than with mass-produced timepieces from established brands. However, considering the fact the modules (dials) are manufactured only a limited number of 500 pieces each, it's the exclusivity, combined with high-quality materials, that contributes to the end price.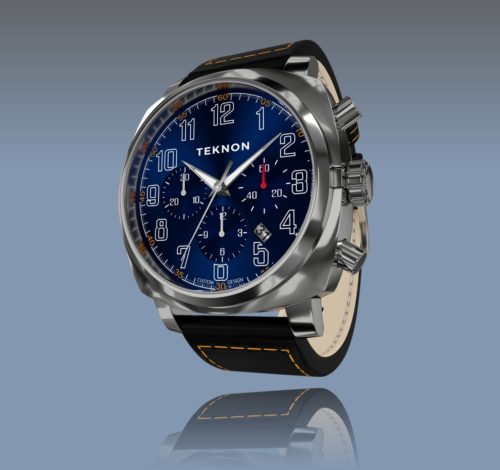 The most affordable option is the three-hand analog TEKNON watch with a price tag of $450 to $500, depending on the modules and cases you select.
The power reserve and calendar function automatic watch costs $690-$740, while the chronograph-equipped self-winding timepiece is priced at $1,290-$1,340.
If you wish to add another case, module, or bracelet to your TEKNON watch set, you can easily do it through their shop, where they have a vast selection to choose from.
When it comes to warranty, TEKNON offers a 2-year limited guarantee from the date of purchase from their website or from an authorized dealer against manufacturing defects. If a defect occurs, the brand will repair it or provide you with a replacement watch free of charge.
If you wish to know more about the conditions, check out their warranty page.

Final Words
There are quite many watch brands on the market these days that offer the possibility to design your own watch. However, finding one that lets you also swap the dials and cases faster than a wink of an eye is exceptional. Therefore, TEKNON has taken customizable watches to a whole new level.
What's even better, you will not find many people wearing the same timepiece as the number of modules is limited to only 500 pieces.
The brand also promises to add new styles and designs once the limit has been reached. So, if you don't find the most suitable style rightaway or wish to add another design to your existing watch, it is worth checking TEKNON's site on a regular basis.

You may also like:
Affiliate Disclosure: As an Amazon Associate I earn from qualifying purchases. Details
Latest posts by Carl Pender
(see all)