Affiliate Disclosure: As an Amazon Associate I earn from qualifying purchases. Details
For executing the laborious and precision-critical tasks, a nurse needs equipment that won't let down and is of the greatest help.
A wristwatch, which is often deemed irrelevant and of no practical use by some, is actually a nurse's handiest companion. The ability to track exact time, schedule medications, and count pulse make it an essential accessory for this profession. 
However, not every watch is suitable since the requirements depend on various conditions nurses work in. That's why we've decided to bring you the best watches for nurses and medical workers that are spot-on for such situations.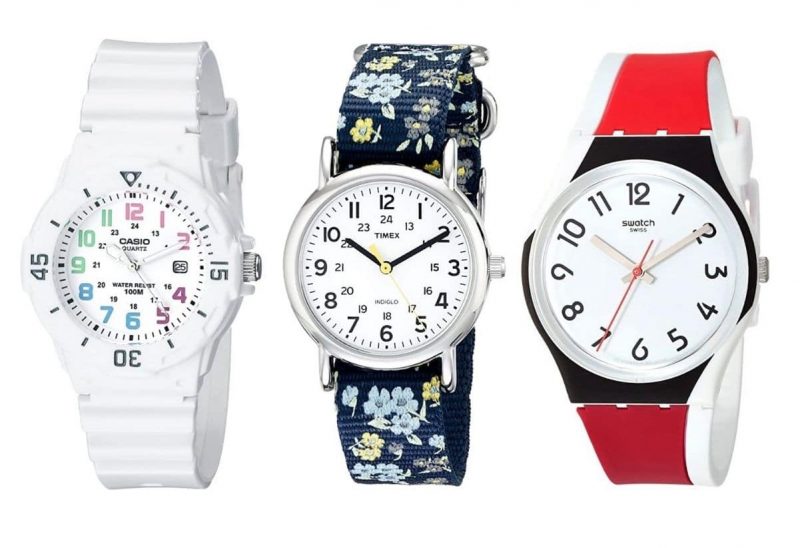 Watches for Nurses
The timepieces you'll find here are easy to read and simple yet offer practicality this field of life requires. They won't cost you a fortune either, staying well below the $100 line, but provide decent quality for everyday use.
Without further ado, here are the watches.

Speidel Scrub Watch Original
Case Size: 38mm
Water Resistance: 30m (100ft)
Luminescence: No
Band: Silicone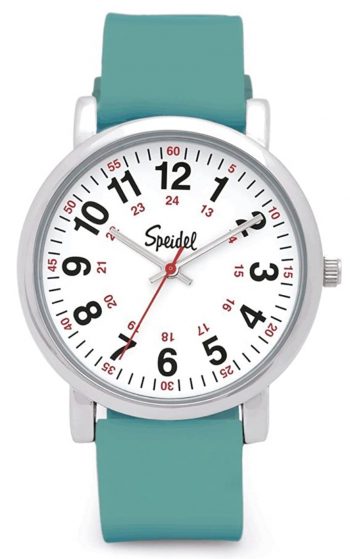 We start the list with the most popular and sought-after nurse watch on the market – the Speidel Scrub Nurse watch. What precisely makes this timepiece so special, then?
Hands down, the most significant reason for this is the utmost simplicity.
A nurse watch can't be some flashy and feature-rich fashion piece where you encounter difficulties even with differentiating between the hands and background – it has to be highly legible. That's why such wristwear, especially the Speidel watch, comes as simple as it can get. 
For that purpose, the watch's second hand has a contrasting red tint in front of a white background. The numbers are also contrasting and with a decent size for simplified time-tracking. The watch itself is relatively large at 38mm in case diameter, but even this characteristic serves the purpose of enhanced readability.
A catchy addition to this Speidel watch is the option to choose between the different colors of silicone straps. In this way, you can easily match your timepiece with the exact coloring of your nursing scrub. The silicone itself is simple to clean and withstands wet conditions perfectly.
If you're not into larger timepieces or they just don't suit your wrists, we have another Speidel coming up next.
---

Speidel Scrub Petite Watch
Case Size: 28mm
Water Resistance: 50m (165ft)
Luminescence: Hands
Band: Silicone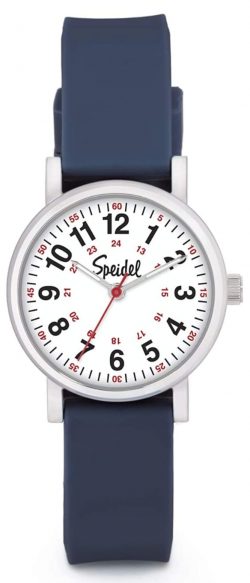 The petite version is, in principle, similar to its larger model in featuring simplistic dial and shared designing. However, the most significant discrepancy is the luminous hands the smaller version comes with. Thus, the Speidel Scrub Petite compensates for its relatively small size (28mm case diameter) with superior visibility in dim lighting conditions.
Similar to Speidel Original, the watch has an extended option for various silicone strap colorings, ranging from widely popular light green and blue to red and pink tints. 
The 3-hand movement is powered by a reliable and accurate Japanese quartz mechanism, while the 50m (165ft) water resistance protects the timepiece from any water damage that might occur.
The watch makes a perfect gift as well because the stainless steel caseback that all the Speidel Scrub timepieces come with is engravable.
---

VAVC Nurse Watch
Case Size: 40mm
Water Resistance: 50m (165ft)
Luminescence: No
Band: Calf leather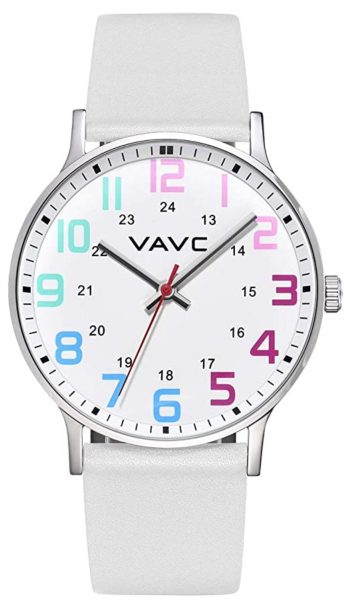 VAVC is another significant player in the field of medical-oriented timepieces. The style is comparable to Speidel when a simplistic face with effortlessly glanceable time provides a convenient user experience. 
However, the VAVC Nurse watch we have here is somewhat more fashionable with its variously colored numbers and large 40mm stainless steel case.
Another difference comes with straps when a genuine calf leather band replaces silicone. Although the latter is considered better in terms of being more waterproof and sturdier, the leather is still more than enough for the profession.
You've also got an option to easily swap them for whichever suits your taste due to the quick-release spring bars. The variety of bands that go well with the VAVC watch is wide because the 20mm band's width is the most widespread.
Providing resistance to all sorts of knocks and hits is a sapphire-coated mineral crystal, which is an enhanced version of a standard mineral glass. Last but not least, the water resistance is guaranteed to 50m (165ft), enabling it to be used during hand washing, showering, and swimming.
---

Casio Women's LRW200H-7BVCF
Case Size: 33mm
Water Resistance: 100m (330ft)
Luminescence: No
Band: Resin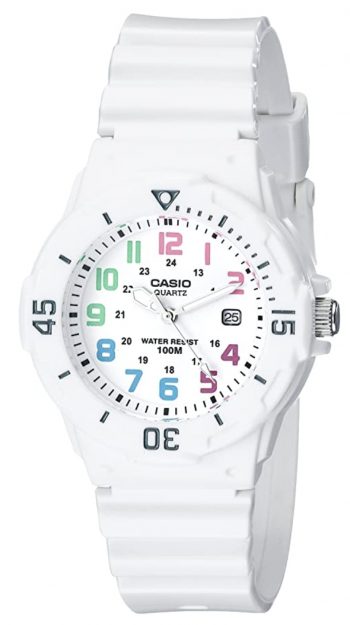 Casio is a world-famous Japanese watchmaker that is known for its tough and durable wristwatches. Although the selection for women's medical field timepieces is not that extensive, some models are still spot-on for the cause, such as the Casio LRW200H.
The watch borrows some of its aesthetics from the famous G-Shock line but maintains a proper nurse watch's simplicity. 
Cased in a lightweight 33mm resin and coupled with a molded resin band, the timepiece remains relatively unnoticeable because of its weight. It's not large either, which guarantees the aptness for the majority of wrists.
The dial has a variegated coloring of hour numbers and comes with a three-hand movement. However, compared to the previous entries on this list, this Casio's seconds hand does not have a distinctive red tint. Although not a major setback for many, it may still become an issue for those with weaker eyesight.
All in all, the Casio LRW200H is easily cleanable, withstands wet conditions fabulously, and is very comfortable for day-to-day use.
---

Timex Weekender 31mm
Case Size: 31mm
Water Resistance: 30m (100ft)
Luminescence: Indiglo backlight
Band: Fabric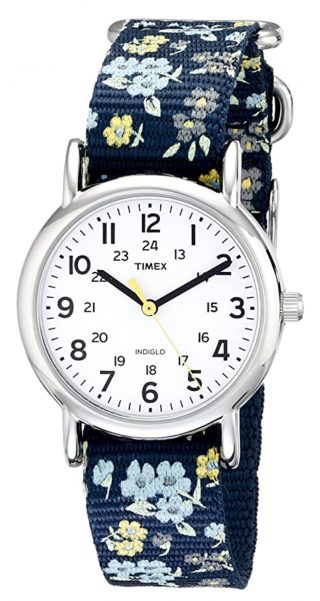 Timex is more than often considered some of the best watch brands selling their timepieces for less than $100. The watches are very reliable and come with an iconic Indiglo backlight.
These characteristics make it also a perfect watch for medical workers that can wear it without worrying too much about severing it during everyday tasks.
The Timex Weekender 31mm watch comes with a simple face that features 12/24-hour time and a notable yellow seconds hand. The straightforward appeal ensures an easy read of the time, including convenient pulse rate counting. And if you find yourself in dim lighting conditions, make use of the greenish-blue backlight.
Despite the fact that the watch is not suitable for swimming, it provides decent protection from water when washing hands or dealing with liquids.
The nylon strap is another great thing about this watch – since it's slip-thru and fits up to 7.5-inch wrist circumference, it suits different wrist sizes and can be easily replaced.
---

Ticci Unisex Medical Quartz
Case Size: 38mm
Water Resistance: 30m (100ft)
Luminescence: No
Band: Silicone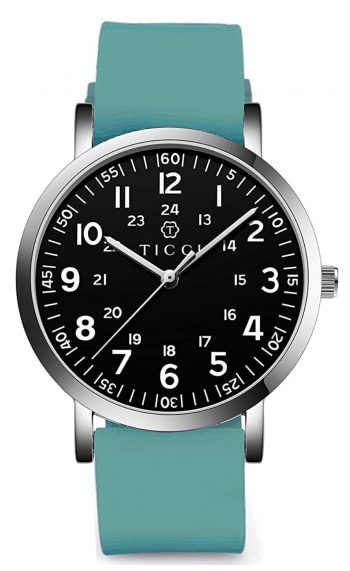 The Ticci Unisex is a medical watch as any other, but the dominating color is black instead of white. However, since the hands and numbers are contrasting, the legibility is as good as in reverse option. 
Due to being a unisex watch, the size measures a universal 38mm and comes with an appearance suitable for both men and women. The silicone straps, which you can replace with ease, also feature a unisex size to fit different wrist shapes and sizes.
The Ticci watch runs on quality and accurate Japanese quartz movement, comes 50m (165ft) water-resistant, and features 12/24-hour time.
If you're not into the black appeal, you can opt for the white-faced Ticci watch instead – the brand has several styling options available.
---

Dakota Nurse Watch
Case Size: 38mm
Water Resistance: 50m (165ft)
Luminescence: Moonglow backlight
Band: Silicone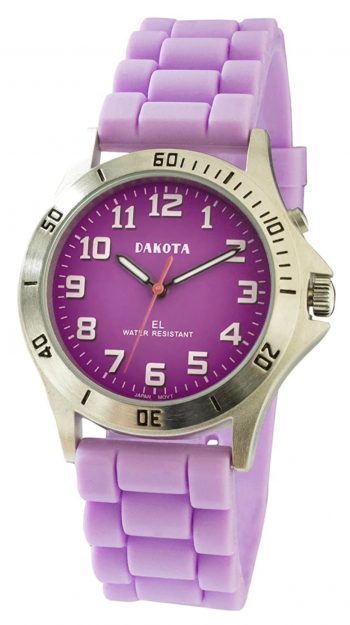 This Dakota nurse watch has feminine aesthetics that make it a perfect watch for nursing students not yet interested in sophisticated looks but more of a style statement. Though it doesn't mean the timepiece lacks in terms of quality.
Quite the contrary, the Dakota features decent water resistance and electro-luminescent backlight that ensure its utmost practicality for intense daily use in the medical field. The backlight appears for a couple of seconds after pushing the button located at 2 o'clock.
Like with the majority of nursing watches, this Dakota also comes with a distinctive red seconds hand. On top of that, the watch is pretty large as well, which complements its effortless time tracking.
Besides the pink appeal that already works as a styling addition, there's also the gold-toned stainless steel case and fixed bezel with numbering. Therefore, you can wear this timepiece not only for work but for numerous other casual occasions.
---

Speidel Scrub 30 Medical Watch
Case Size: 38mm
Water Resistance: 50m (165ft)
Luminescence: Hands & markers
Band: Silicone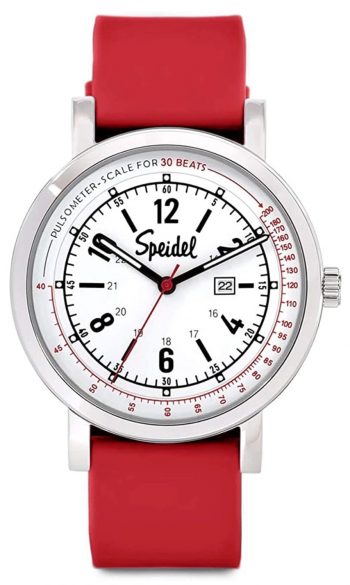 The two Speidels that already feature on our list have a laidback analog face for a straightforward utilization. This Speidel Scrub 30, on the other hand, comes with a more sophisticated dial.
It's the comprehensive pulsometer scale you'll find from an outer ring, making it one of the best watches for nurses and medical workers.
Printed in a red tint, you can easily take a pulse reading after 30 pulse beats without making any calculations.
Another excellent addition besides the pulsometer is the date window at the 3 o'clock position – filling in medical records and other similar paperwork becomes even more convenient now that you don't have to search for a calendar.
All in all, the Speidel Scrub 30 is one of the most feature-packed medical watches on the market.
---

Swatch 1907 BAU
Case Size: 34mm
Water Resistance: 30m (100ft)
Luminescence: No
Band: Silicone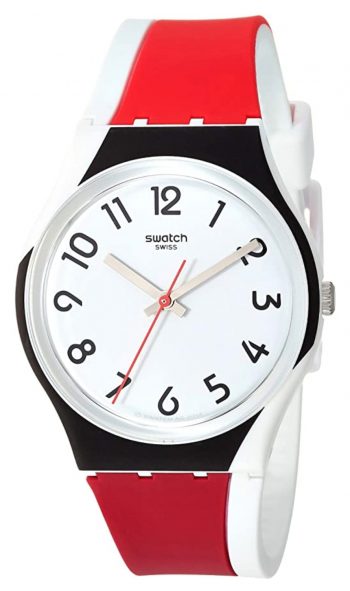 Combining medical timepieces with renowned Swiss quality is often complicated since the famous industry doesn't provide many options in this regard. Although the Swatch 1907 BAU we have up next is not a genuine nurse watch, this Swiss-made model can still be used as one due to its suitable characteristics.
The most significant prerequisites of medical timepieces – legibility and cleanability – are provided through a simple analog face with a red seconds hand and a silicone case and band. No matter the conditions, the Swatch will be carefree to use and maintain.
Powered by a reliable Swiss quartz movement and protected from water immersion with a 30m (100ft) resistance, you can also be sure of its quality standards.
Like with the Dakota watch we covered earlier, this particular piece goes well with various attires. Therefore, whether it be a workday in a hospital or a night-out in a bar, the Swatch 1907 BAU will serve you on any occasion.
---

Wristology Olivia Silver
Case Size: 38mm
Water Resistance: 30m (100ft)
Luminescence: No
Band: Faux leather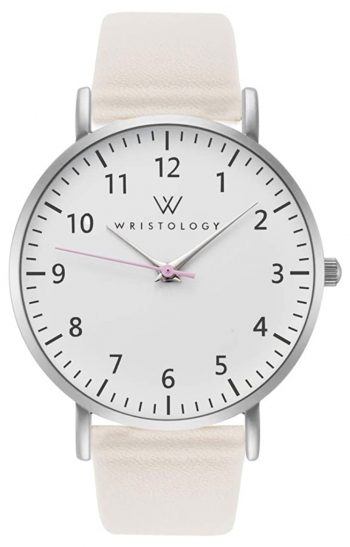 Another all-rounder timepiece suitable for various occasions, including nursing, is the Wristology Olivia Silver watch.
Cased in an anti-corrosive 38mm stainless steel and powered by an accurate Japanese quartz movement, the Wristology oozes quality and style for a sub-$50 price. When most medical professional timepieces come with a red second's hand, this one stands out with its pink hand, equipping the watch with personality.
The faux leather strap is also stylish with its beige coloring, however, not suitable for showering and swimming. Still, washing your hands or cleaning the timepiece with a wet cloth will do no harm. 
The watch comes with a 2-year warranty. Besides, the brand offers a 100% satisfaction guarantee, meaning that they replace it or entirely refund it if the timepiece is not what you expected.
---

Timex Nurse Watch
Case Size: 38mm
Water Resistance: 30m (100ft)
Luminescence: Indiglo backlight
Band: Leather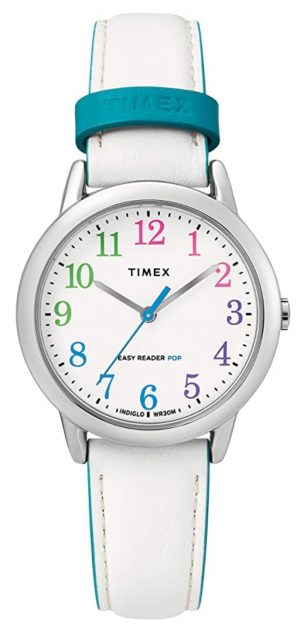 Another Timex featuring on this list is this time with a more medical-oriented appearance. Similar to VAVC and Casio pieces, it comes with a variegated coloring of numbers that, in combination with a blue second hand, result in easy reading of the time. 
The Timex Classic Nurse watch is of decent size for most women's wrists with its 30mm case diameter and provides a comfortable wearing experience with the white and medical blue leather strap.
The water resistance is guaranteed to 30m (100ft), however, it's not enough for it to submerge into the water. Therefore, stick to hand washing and brief immersions only.
Other than that, this Timex is a sturdy piece of accessory that will do the job just fine.
---

Plaris Medical Watch
Case Size: 36mm
Water Resistance: 30m (100ft)
Luminescence: No
Band: Silicone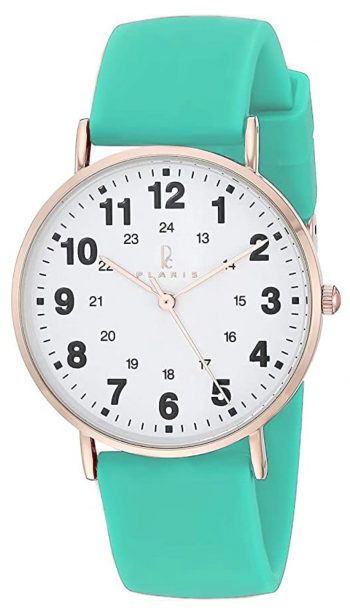 The Plaris Medical watch is a nice alternative to widely popular Speidel and VAVC timepieces. If you wish to stand out with something different, go for this one. Also, make use of the extensive strap selection that comes with it.
Appearance-wise, the Plaris doesn't reflect that much of a medical appeal, besides the greenish band, of course. The dial is plain and simple, with the only features being the 24-hour time and a three-hand design. Reading the time is easy due to fitting contrasts and the size of the numbers.
You can expect the 36mm Plaris to hold decent accuracy because of the Japanese quartz movement – typical quartz deviates only about a second a day.
---

Prestige Medical
Case Size: 40mm
Water Resistance: Yes
Luminescence: No
Band: Plastic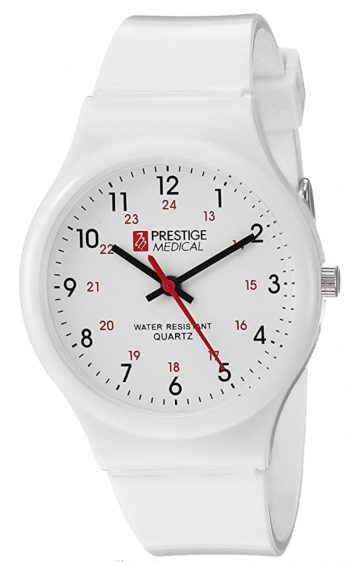 The next entry makes it a fitting watch for nursing students – it's simple, cheap, and practical. 
Indeed, the Prestige Medical watch doesn't reflect style in any possible way. It's as if you're wearing a miniature wall clock on your wrist due to its simplicity. However, that's what it's all about – to provide practicality in an unnoticed manner.
Another pro for this Prestige Medical is that it's very slim and lightweight on your wrist. On the other hand, it tends to receive scratches much more often than stainless steel or silicone due to being made of plastic.
Apart from that, the ticker is very suitable for the profession for keeping accurate time and featuring adequate water resistance.
---

Alternative Options for Nurse Watches
The watches we covered up until now represent the classic nursing timepieces with their easy-to-read dials and second hands. However, the next two examples will do equally fine, despite being somewhat different from the standard path.

Apple Watch
Case Size: 44mm
Water Resistance: Swimproof
Luminescence: Digital display
Band: Silicone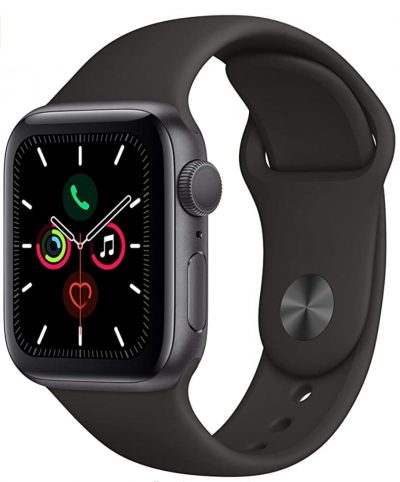 The Apple Watch is the most sold wristwatch in the world, eclipsing traditional brands by a mile (or two, if you like). Although not an ideal option for medical professionals, it provides a whole new dimension with uncountable apps and hands-free opportunities.
Apple Watch Series 5, for instance, comes with an always-on Siri function for various support in dozens of languages. The chance to draft notes hands-free or communicate with colleagues is unavailable in traditional timepieces.
Also, what separates this smartwatch from the traditional hand watches is the possibility to set alarms for important reminders, such as checking patients and administering medication.
Therefore, if your life is fast-paced, and you wish to go along with the newest trends, Apple Watch could become your inseparable companion on and off the nursing job.
---

Clip-On Watch
Case Size: 33mm
Water Resistance: Yes
Luminescence: No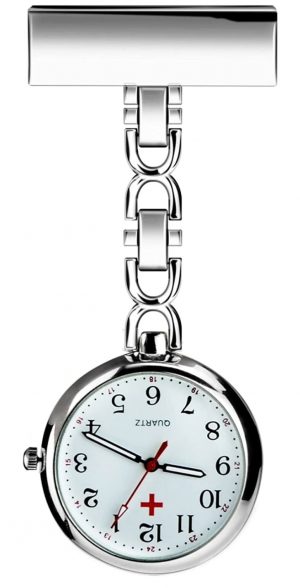 A clip-on watch can be a piece of perfect nursing equipment if you can accustom yourself to using it. It may not be as convenient as a hand-worn time tracker, but it sure does provide a more professional look.
For example, the WIOR Nurse lapel pin watch can be pinned anywhere you find comfortable. It's not massive either when the face measures 33mm, and, together with the chain, not more than 10cm (4in).
Similar to wristwatches, the clip-on nurse pieces run on quartz movements that keep fantastic accuracy and come with 12/24-hour time. They also stand brief immersions with water and can be easily cleaned.
---

Buying Guide for Nurse Watches
Like we stressed earlier in this post, not any watch is suitable for a nursing job – they should meet some essential criteria. The timepieces we covered here meet the expectations, but we'll go them over again for a bit more comprehensive overview.
In addition, if you didn't find a fitting nurse watch to your needs and taste, you can use the following buying guide for determining other options. In the end, the most crucial thing with medical-oriented timepieces is their aptness for this field of work.

Clean & Highly Legible Dial
Probably the most significant determinant of a suitable nurse watch is its clean and legible face. 
Imagine yourself checking the time from a dial full of small windows, various colorings, and design elements – it could take you a while to get your attention to the most important feature of the watch, the time.
Thus, choose a timepiece with a simple analog face rid of unnecessary extras.

Existence of a Second Hand
Since many minimalistic watches come without a second hand, it can be rather easy to pick the wrong timepiece. Therefore, make sure your next nurse watch has it. But why is the second hand so important?
Timing is essential in the medical profession. Counting pulse rate or any other significant time-critical measurement is the best to do with precise gauges, and the seconds counter is the best, as well as an easy option to have. It's even better if it is colored distinctively.
There are also the sweeping second hand watches where the hand glides instead of ticking. Such timepieces cost significantly more than typical medical wristwatches and are powered mostly by mechanical movements.
However, the practicality is not as useful since capturing the exact seconds takes too much concentration. Therefore, go for traditional one-tick-a-second timepieces.
Water Resistance
Nurses and other medical professionals have to wash and sterilize their hands more often than anyone else. Thus, a proper nurse watch has to be resistant to water impacts.
The minimum rating you should be looking at is 3 ATM, or 30m (100ft). It means that the watch stands splashes and slight immersion of water.
Indisputably, the better is to go for those timepieces that stand showering and swimming as well, because the more protected they are, the longer they will last you. 
Luminescence
Though the feature is not vital, it nevertheless provides enhanced possibilities for the time to be verified. Checking patients during the night is a common task; thus, your luminescent watch could become handy.
Whether you prefer lume-contained hands and markers or a full-lit background is a matter of preference. Both of the functions will do the job.
The Timex brand, for instance, has a world-famous greenish-blue electro-luminescent backlight. The full-lit face is also available in the G-Shock line-up. However, the majority of watchmakers have limited the luminescence only to watch hands and indices.
Durable & Easy to Clean Band
Since the nursing job involves all kinds of liquids, the watch band needs to be long-lasting and easily cleanable. That's why most of the bands come in silicone – the substance stands water better than anything else and is easy to clean at the same time.
Some of the leather bands will do fine as well, but compared to the silicone are much less resistant to water. The same applies to nylon straps. They, too, tend to wear up and get stains more quickly.
Stainless steel, which is the most widespread material for watch straps, is not recommended for the profession due to its relatively heavy weight.
This particular characteristic takes us to the last prerequisite to consider obtaining a suitable watch for nurses.
Weight
A typical nurse works 12-hour shifts. If a watch that nurse carries on her/his wrist for long hours is heavy, it will become cumbersome and even annoying. Therefore, choose a watch that is lightweight.
Luckily, you don't have to comb through the long list of specifications since a simple guideline is that a watch with silicone, resin, and plastic case and strap is almost without an exception lightweight.
---

Final Take
We hope this article has been of help to you in finding the watch that suits your taste and requirements.
No matter whether you choose from the timepieces represented here or find yourself another one, be sure to follow the essential prerequisites, such as decent water resistance, the existence of a second hand, and a legible dial. Only this way, you can guarantee yourself a long-lasting and functioning nurse watch.

You may also like:
Affiliate Disclosure: As an Amazon Associate I earn from qualifying purchases. Details
Latest posts by Carl Pender
(see all)