Affiliate Disclosure: As an Amazon Associate I earn from qualifying purchases. Details
Casio's G-Shock series top many rankings throughout the web in the military and outdoor categories. There's no doubt we're going to see it continuing in the future.
But what is it that makes a G-Shock tactical watch so respected?
The watch has PLENTY to offer, and we are going to present all the fantastic attributes in a tactical wristwatch that have shaped G-Shock's success story in becoming one of the most popular watch brands on this planet.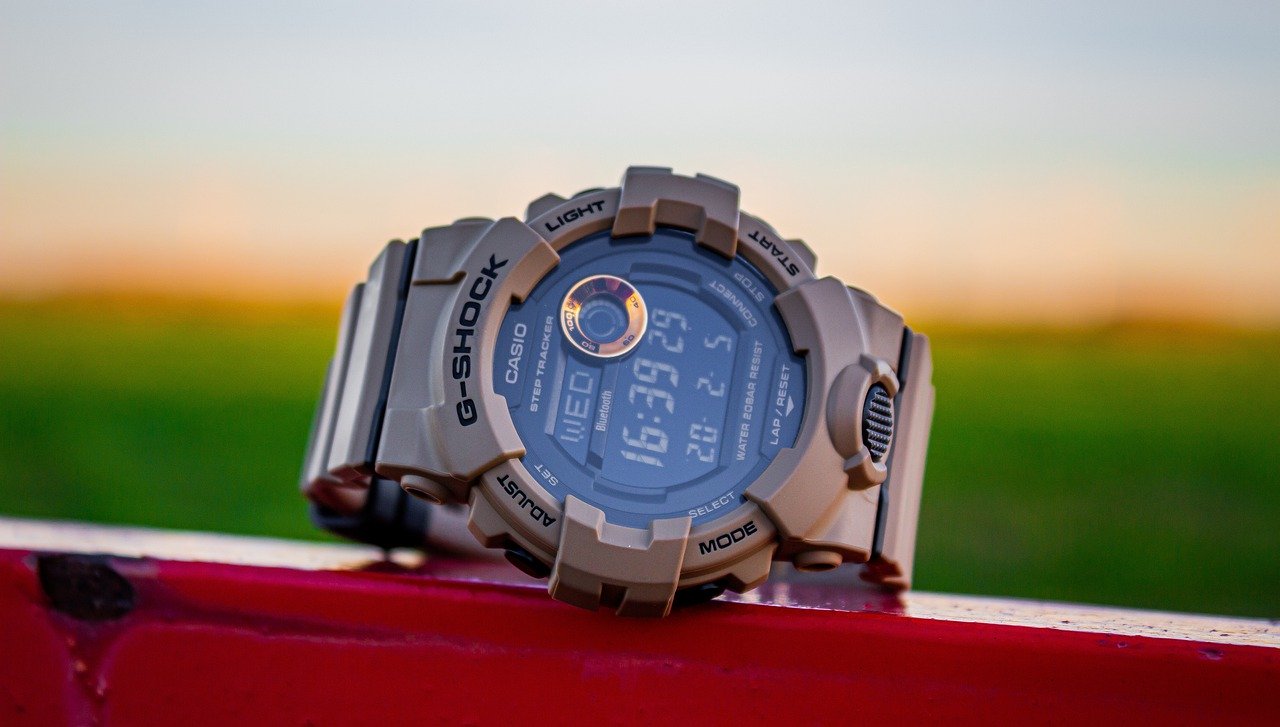 How It All Started?
Casio is a Japanese company that started producing G-Shock watches at the beginning of the 1980s, with a dream of "creating a watch that never breaks." Kikuo Abe was the leading watch designer who is the creator and mastermind of the G-Shock.
His small team worked on a mission to create an indestructible watch and focused on the Triple Ten concept – to resist a 10-meter drop, withstand ten atmospheres of water pressure, and have a battery life of ten years.
Finally, in 1983, after two years of exhausting work, the first G-Shock watch – DW-5000C – went on sale. The timepieces soon became the embodiment of innovation, robustness, and functionality. To this day, the original model is highly sought-after by collectors.
Before diving into the tactical merits, you'll find an overview of G-Shock watches in the following infographic. But for a thorough analysis, please keep reading the full post.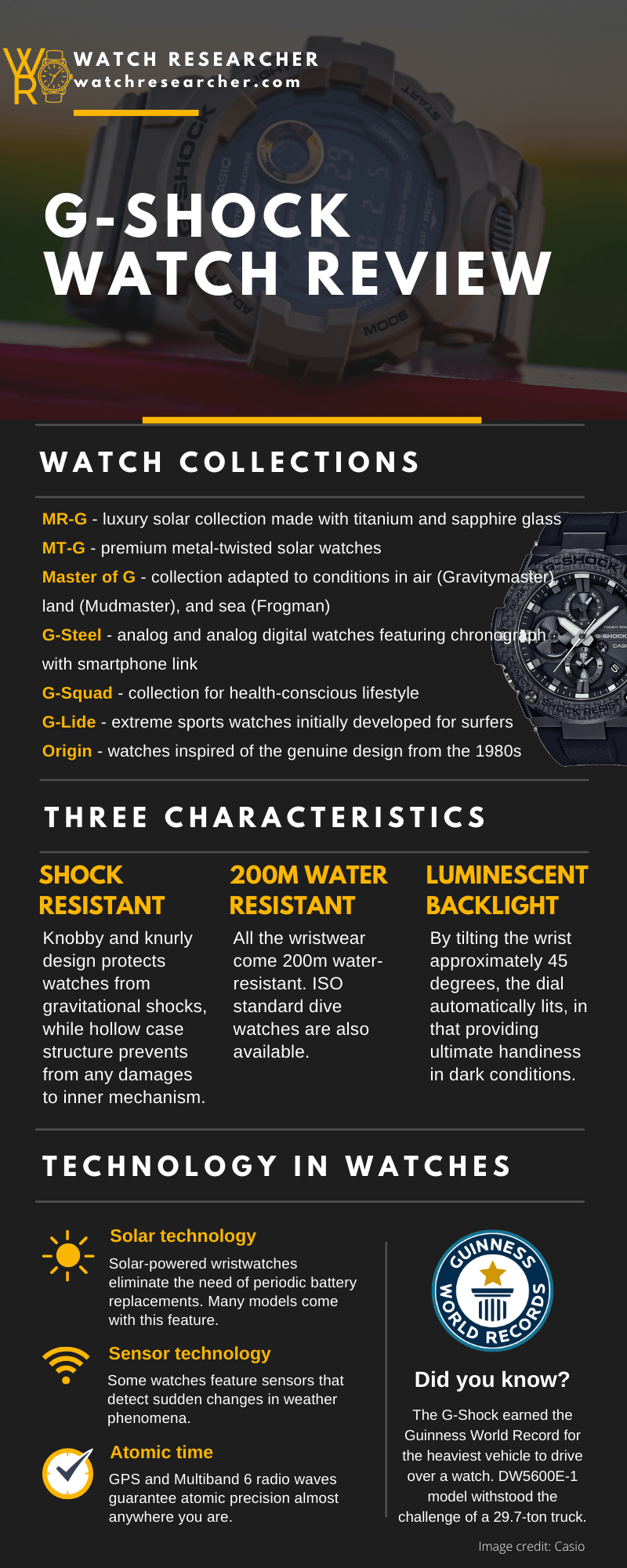 What Makes a G-Shock Watch So Popular?
Military watches have certain defining attributes describing them. So, what makes G-Shock so popular?
Before we dive into the fantastic features a G-Shock watch offers, it's worth mentioning that the G-Shock watches have appeared in numerous movies and TV series.
Tom Cruise, for example, wears a DW5300 in "Mission Impossible," Chris Pratt has a GD-100 in "Jurassic World," and "American Sniper" shows a DW6600 on Bradley Cooper's wrist. The list is long, and, in no doubt, the watches keep appearing in the future as well.

Shock Resistance
It would be unfair to start the list without describing the shock resistance first. The reason lies in the innovation no other watch producer matches.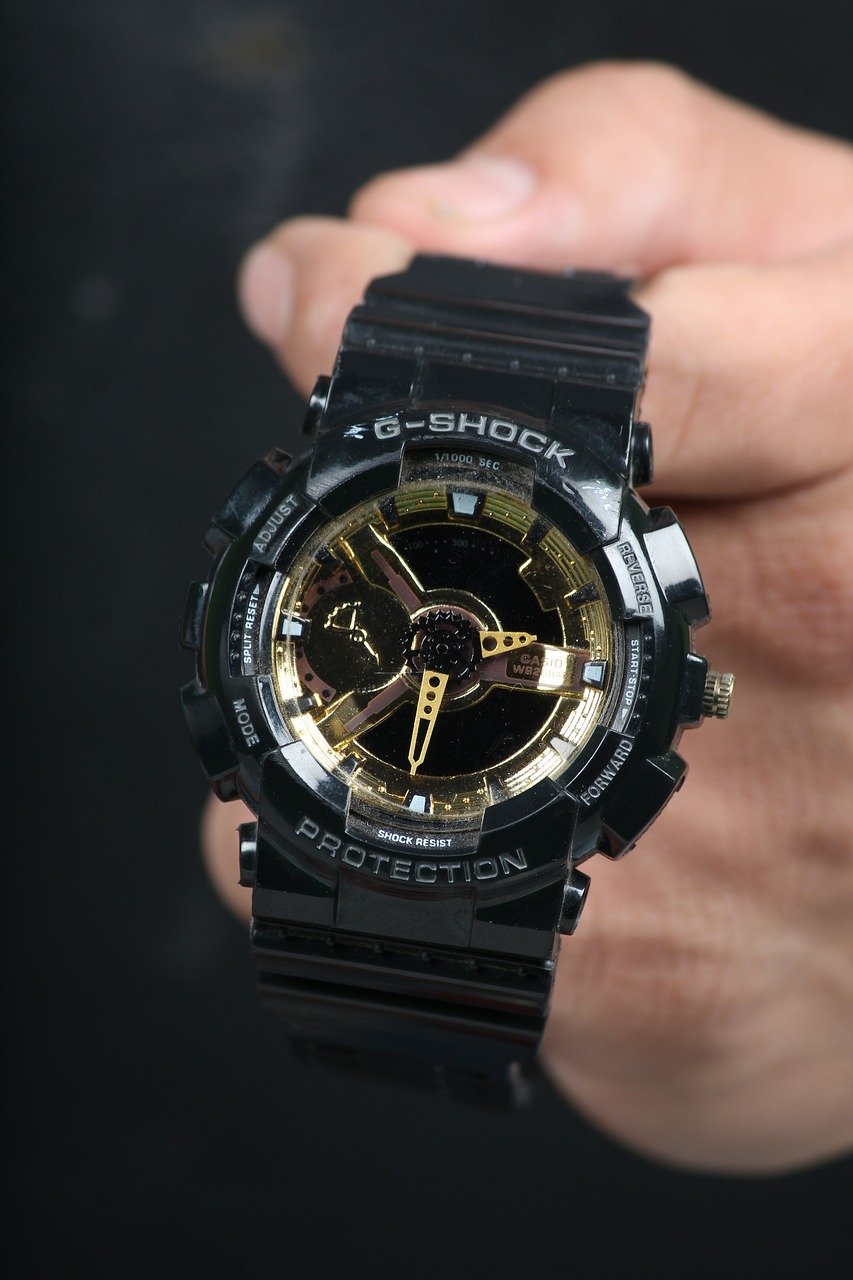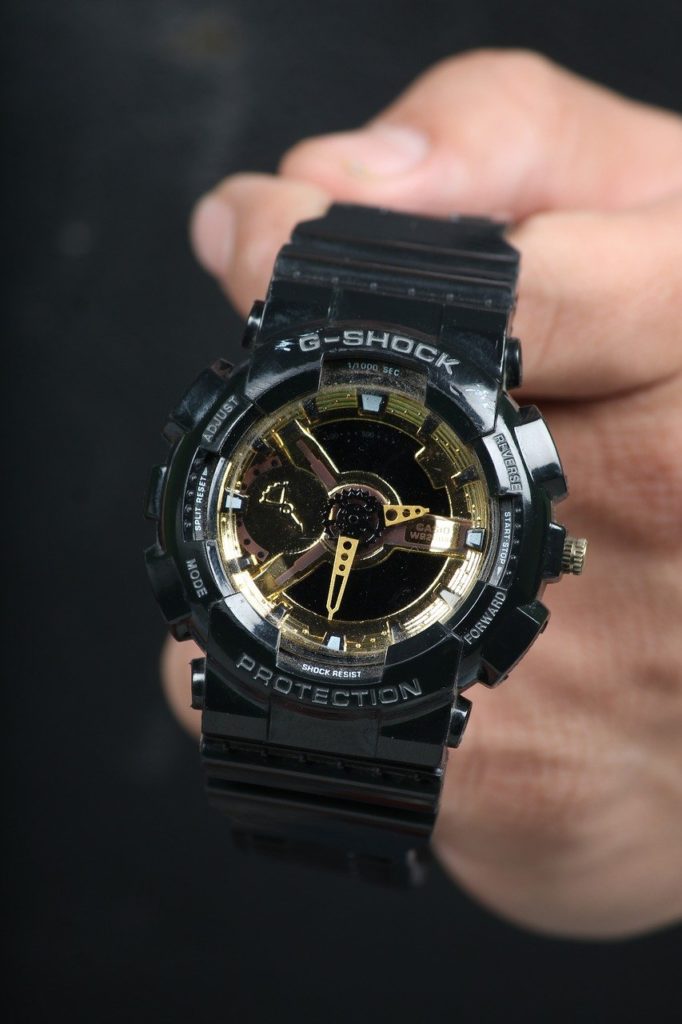 All the timepieces look rugged, mainly due to the knobby and knurly urethane-resin bezel design. One might wonder why all the knobs and knurls? For a good reason – to protect the vital parts that could get affected by gravitational shocks. It would be impossible to avoid any hits your watch may encounter. Therefore, the more protected it is, the better your watch will last.
Another quality adding to the shock resistance is the extra cushioning between the bezel and case, thus softening direct shocks to the latter as well.
When moving inside the watch, there will be quite a lot of space between all the mechanisms. It is due to the hollow case structure every G-Shock watch features.
The module inside is supported at just a few points and forms a "floating" effect. The before-mentioned cushioning protects the essential parts, such as the crystal oscillator (the timekeeping electronic circuit). As we can see, even the inner pieces are fortified against any shocks.
A watch is not complete without a band. G-Shock offers two main types of straps made of urethane and metal.
The urethane band acts as a shock absorber itself, preventing shocks from behind. There's no need to worry about the strap being too uncomfortable because they have thought about the balance between comfort and shock resistance.
Similar to urethane, a metal band is also shock-proof, having wide intervals at the connection points between the band pieces.
The ultimate shock resistance that G-Shock offers can be summed up by a fascinating watch fact: the DW5600E-1 model holds the Guinness World Record for the heaviest vehicle to drive over a watch. Even nearly a 25-ton truck couldn't break it! That is the level G-Shock sets with their shock resistance!

200m Water Resistance On All Watches
What's extra cool about the G-Shock series is that all the watches come 200 m water-resistant. Not many brands offer such a bonus. And let's be honest – a watch without proper water resistance is not a good use in the military.
Therefore, no matter how much you're willing to invest, a G-Shock that always bears a minimum of 200 m of water resistance in any price range would be a perfect fit.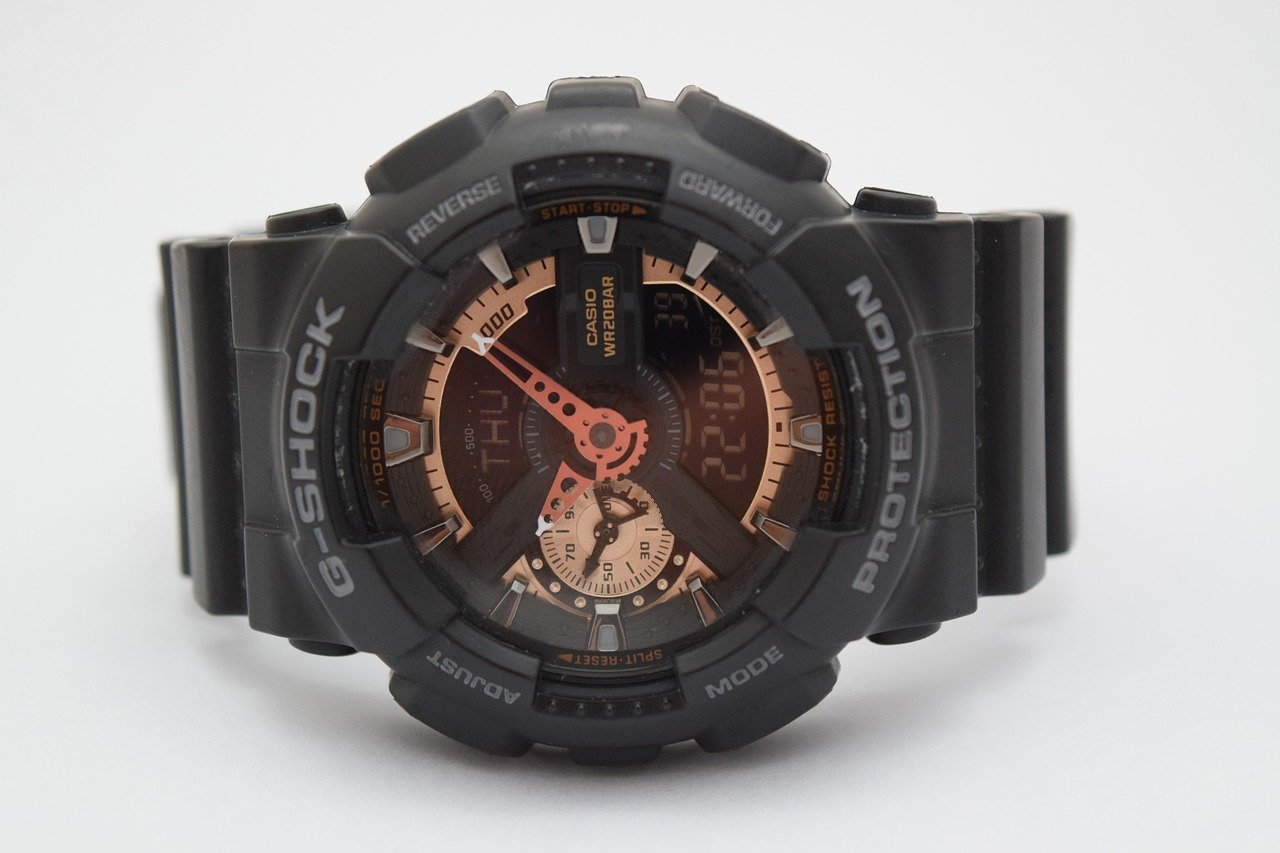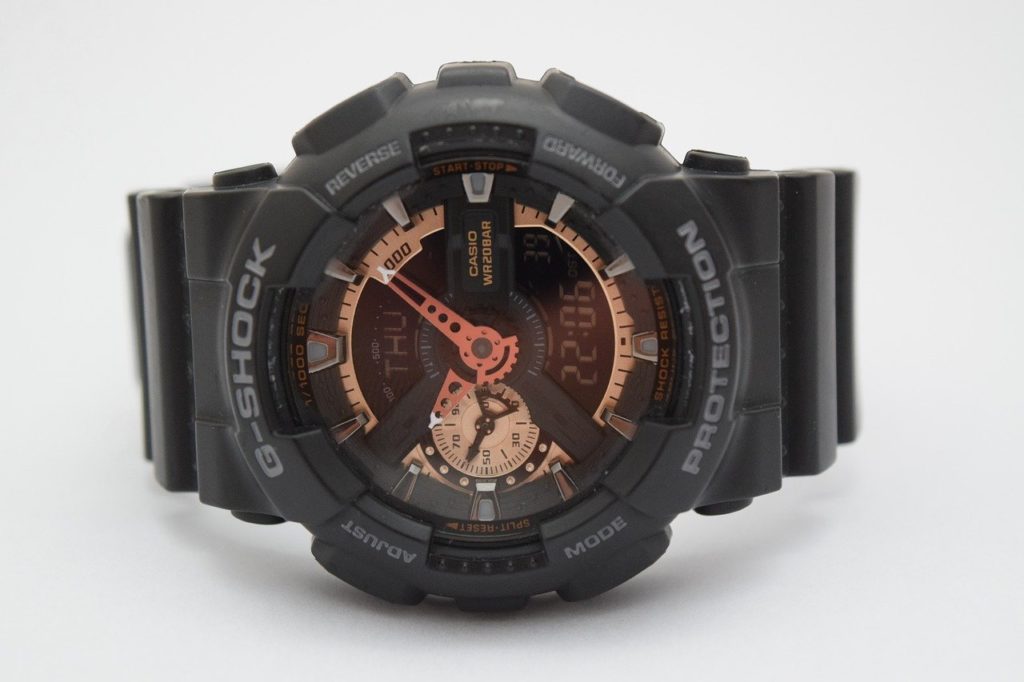 G-Shock's Frogman series has an ISO standard for a 200 m diving water resistance, being the only series in the brand's collection with that standard.
Just to be clear, the notion "200 m water-resistant", or "20 bar" on the watch has a different meaning to the Frogman series' "Diver's watch 200 m" concept.
Since the latter has the ISO standard for deep diving, it means the watch is used for continuous underwater activities, such as scuba diving. All the rest can resist the penetration of water to a certain degree, but not entirely. That doesn't mean you can't swim or wade through swamps, but it's not for constant deep-water conditions.
Learn more about the different levels of water resistances on watches.

EL Auto-Light
Electro-luminescent (EL) backlight is another wonderful feature you can find from G-Shock watches.
Imagine being in a pitch-black room in need of the correct time. Typically, you would have to find a button to turn the light on, but it can be a fussiness in dark-light conditions. So, how to get the backlight on with the G-Shock watches? Just tilt your wrist approximately 45 degrees, and the dial gets lit! Isn't that convenient?
The same technique works on hybrid analog/digital G-Shocks as well, where the hands and hour markers start to glow after the tilt.
In order to turn on/turn off the function, a light button needs to be pushed and then held for a couple of seconds. Obviously, you wouldn't need the feature throughout the whole time, so turning it off while not in need is a useful option.

Exact Time All Around The World
G-Shock uses an innovative GPS Hybrid technology that guarantees atomic precision almost anywhere you are. It uses a high-performance GPS and Multiband 6 radio technology that complements each other, this way displaying the precise time.
The radio signal for an atomic watch is received from six stations located in Japan, China, the USA, the United Kingdom, and Germany. Don't be concerned if your location is far from these signals – the watch also corrects the time automatically using GPS. 
World Time, another time-related function, lets you pick between tens of cities to set the time according to your location. In addition, you can set two simultaneous city times displaying at the same time.
Which models have atomic time precision? GPRB-1000, GBD-H1000, GW9400, GWG-1000, MTG-B1000, + more

Solar Technology
What if there was a tactical watch that never runs out of a battery? "No problem," declared the Casio's specialists in confidence, and developed the solar-powered recharging system for their timepieces as early as in 2002.
A lot of G-Shocks now have the technology, eliminating the bother of periodic battery replacement. G-Shock's solar military watch is available for an attractive price as well, which is a sigh of relief for those with a limited budget.
Now, how does the system work? A solar cell on the face of a watch stores energy from sunlight and other light sources. A large-capacity rechargeable battery stores "surplus" energy and the power will be released if the watch is in the dark. If the no-light condition lasts for a more extended period, the watch goes into an energy-saving mode and can eventually last up to 24 months without any light whatsoever.
The solar charging is fully automatic and doesn't require any manual activation; also, the technology is environmentally friendly.
You can check out the post on the best solar watches where numerous G-Shocks are represented. Also, visit our solar watch guide for more information about the working mechanism and other specifics.
Which models have solar technology? GWG-1000, GMW-B5000, MTG-B1000, GW-9400, + more

Sensor Technology
Some of the G-Shock watches feature three miniature sensors for measuring direction, barometric pressure/altitude, and temperature.
With these features, it's possible to detect sudden changes in natural phenomena. The sensors are highly sensitive and extremely small, fitting obliviously in the hollow case.
An altimeter can measure heights up to 10,000 meters (33,000 feet), while the temperature measurement has the limits between -10C and +60C. You'll also get a notice through an alarm when drastic changes in weather patterns are occurring.
The sensor technology is trendy and handy amongst mountaineers and hikers but is also widely used in the military. The soldiers often end up in all kinds of situations, terrain, and climate, thus the technology helps to cope better in extremes.
Which models have the sensor technology? GW-9400, GWN-1000, GWG-1000, GW-9400, GGB-100, + more

Digital & Analog-Digital Displays
Digital displays are highly rated because of their easy readability, which is an invaluable asset in the military. A typical G-Shock watch has a digital or a hybrid analog/digital face. Digital displays are also irreplaceable in presenting various informative data from the temperature to measuring the heights and air pressure.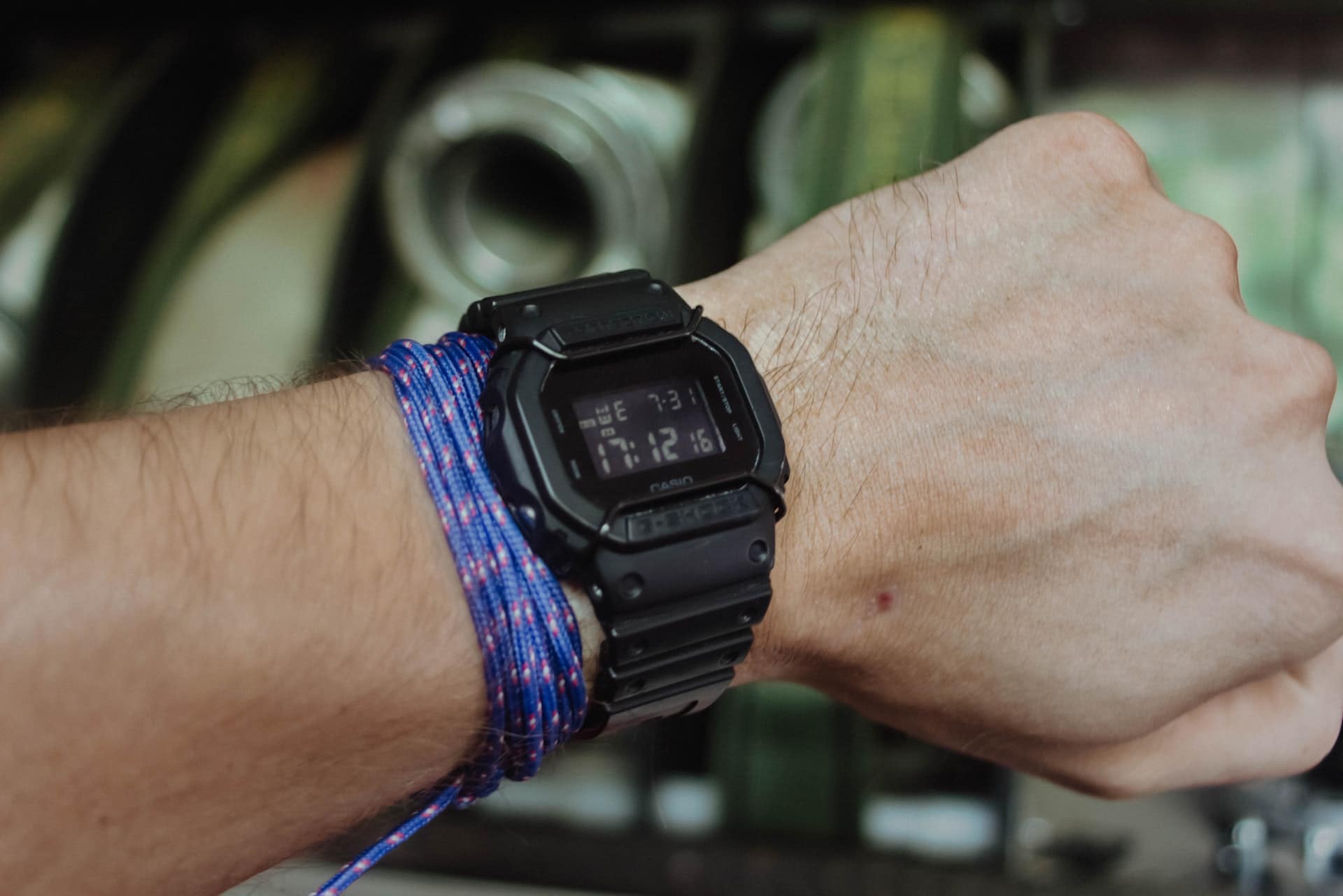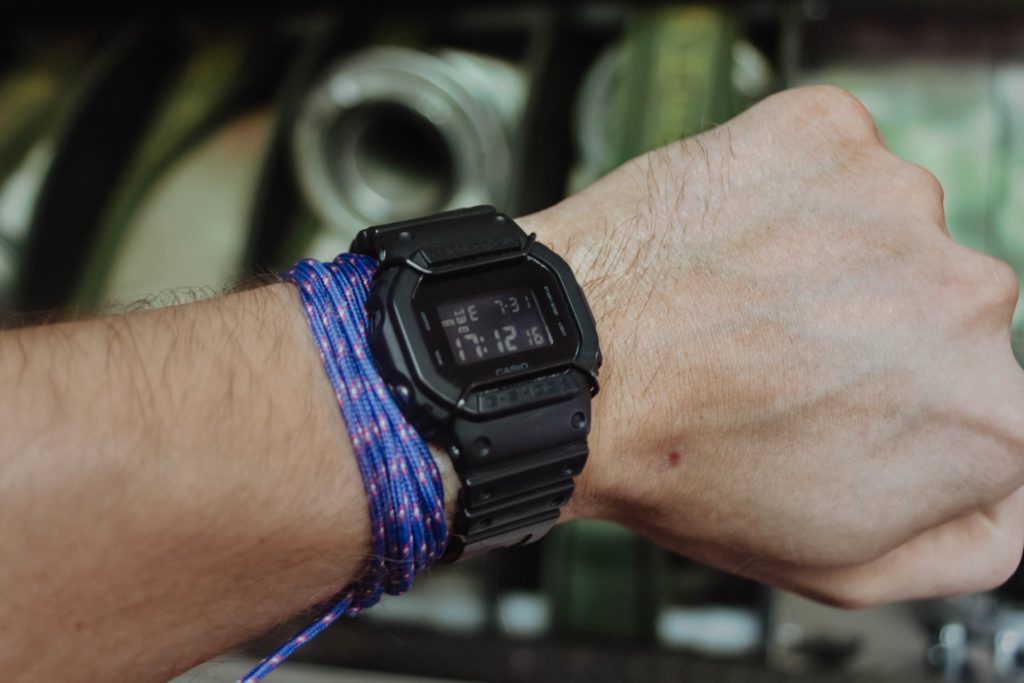 All the G-Shock digital watches have a 12/24-hour format and possess a stopwatch functionality with some models measuring an astounding 1/1000 precision. As you may already know, a 24-hour format is prevalent amongst the military personnel in keeping misunderstandings minimal without the confusing AMs and PMs.
A stopwatch engages precise timing and countdown opportunities, which is, again, a beneficial property in tactical operations.
An analog/digital hybrid display is capable of showing all the necessary data you'll need out there. Though a fully digital display is more widespread in combat, the hybrid version is vastly gaining popularity.
Many find the classic dial clearer in giving a better sense of time with the watch's hands displayed. Of course, it's up to everyone to decide, but you definitely can't look past the opportunities both face types can offer.

How Much Does a G-Shock Cost?
Depending on functions and technologies, the prices range from 70$ for a simple yet functional to 1,500$ for a watch full of high-tech features and expensive materials.
We'll point out three G-Shocks – low-priced, medium-priced, and high-priced – to offer a glimpse of the functions each one of them offers. The examples are retrieved from G-Shock's homepage; thus, the prices may vary between resellers.

Low-Priced Model: GA100-1A1
Price: 99$
As with all the G-Shocks, this watch has every resistances you can expect – shock, magnetic, 200 m water, etc. Being a hybrid face watch, it has Auto-Light with glowing hands and afterglow, which is another fundamental feature in all the models.
Also, it possesses a stopwatch of 1/1000 precision, world time with 29 time zones (48 cities), and a 12/24-hour format. The case and band are made of resin, while the dial window is mineral glass, and a battery lasts approximately two years.
The watch is very durable and has many great features for the buck, but you'll not find any high-tech functions.

Medium-Priced Model: Rangeman GW9400-3
Price: 300$
Besides the resistances and features all the G-Shocks hold, this Rangeman has a Triple Sensor technology capable of keeping altitude, barometric pressure, temperature, and direction readings at your fingertips.
Atomic Timekeeping receives time calibration radio signals up to six times a day, maintaining the precise time throughout the lifetime of the watch. Last but not least, solar power eliminates the need for a battery replacement, making this a perfect solar atomic watch.
For only a couple of hundred bucks, you'll get a high-tech and extremely durable timepiece suitable for all kinds of strenuous activities.

High-Priced Model: MTG-B1000BD-1A
Price: 1,000$
The model has a solar-powered battery recharging system with a battery level indicator, which is one of the best features the G-Shocks have deployed over the years.
Besides the renowned functions of atomic timekeeping and World Time, the defining factor that sets the price is the low-energy Bluetooth connectivity. By connecting a smartphone to the app, you can use your watch to locate your lost phone, conveniently change time zones, check the battery level, and many more.
The ion-plated bits on the case and band add an elegant touch, while resin parts inside the dial help to lower the thermal conductivity.
The world is moving towards more connected and smart-equipped accessories, and a military wristwatch is no exception. The more advanced technologies and materials it embodies, the higher the price will be.

Conclusion
"Extreme durability and functionality with a tempting price" would be the overall conclusion. Not many military watch brands are capable of offering that much quality for such a low price. The highest standards are set, of course, with the extreme reliability you'll find from each and every G-Shock on the market. "The strongest watch" is not just another marketing slogan; it truly IS the strongest. And when adding the solar power system, the sensor technology, and atomic time precision, we truly understand why the G-Shock tactical watch is so respected and sough-after among the outdoor enthusiasts and military personnel.

You may also like:
Affiliate Disclosure: As an Amazon Associate I earn from qualifying purchases. Details
Latest posts by Carl Pender
(see all)