Affiliate Disclosure: As an Amazon Associate I earn from qualifying purchases. Details
The adoption of solar energy in various industries is gaining momentum with every passing year. Take, for example, the watch industry. In the beginning, there were only a handful of courageous manufacturers applying solar power to their watches. Now we see it trending in numerous brands. Among the types of watches, the military time-trackers benefit the most from solar energy.
A solar military watch never runs out of a battery, and this way, quite likely, helps to save lives of those on a mission who can't afford a battery to run out when being heavily dependant on timekeeping.
We'll dig into the cores of a solar military watch by explaining its running, presenting the best brands, and helping to choose the prime fit.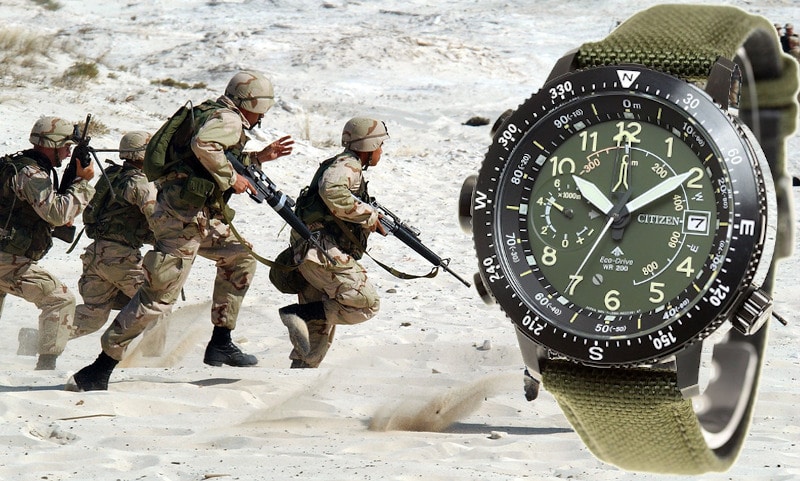 History of Solar Watches
Although the solar cell (photovoltaic cell) had already been invented in the 19th century, it was implemented into a timepiece not until 1972. Roger William Riehl wrote his name in the history books after producing the first solar wristwatch.
It was called "Synchronar 2100". The timepiece required quite a lot of space to equip it with a photovoltaic cell, thus resulted in a peculiar appearance.
At the time of the quartz movement's rising popularity due to its cheap price and accuracy, the solar-powered watches remained a luxury accessory in the 1970s instead. It was still considered a phenomenon, and the likes of Paul McCartney and Egypt's long-serving president Hosni Mubarak were truly fascinated by its innovative looks.
"Synchronar" was a digital solar watch with a very futuristic appearance, which, most likely, hindered its farther growth in the industry. It was just too ahead of the time. A solar-system watch had to be more plausible for a broader population to gain popularity.
The Citizen brand took the bull by the horns and invented the world's first light-powered analog quartz watch in 1976. The invention established the base for the Eco-Drive, which has become one of the most known solar technologies in wristwatches.
Over time, photovoltaic devices have improved their efficiency and capacity, thus resulting in numerous brands offering solar watches as a significant part of their range of products.

Working Principle of a Solar-Powered Watch
A typical solar watch absorbs sunlight and other sorts of lights through a solar panel behind the crystal. Miniature in size, it fits perfectly under the dial. The panel then converts the light into electrical energy, which eventually powers the watch.
The unused power is stored in a rechargeable cell that is actually a battery. During the night or when covered, the watch uses the stored energy.

Most of the solar-powered watches go into hibernation or a power-save mode when not presented to a light source for an extended period. During the hibernation, the watches can last between one to two years without any exposure. The timepieces without the power-save mode usually last approximately six months.
So, in brief, a solar wristwatch uses a rechargeable battery instead of a disposable battery, thus eliminating the need to change it. The solar mechanism is one of the most convenient movements out of all the various watch movements.
If you wish to know more about the various solar technologies, visit our comprehensive solar watch guide.

Why a Solar Military Watch?
The primary advantage of a solar military watch is the needless battery replacement. A typical battery lasts up to two years, after which it needs service from a watchmaker, or a time and money investment into DIY and suitable equipment. For a lot of owners, it's not a big problem, but if there was a way to avoid it, then life would become much simpler.
A rechargeable cell eliminates the headache and rarely needs any repairs or corrections in this matter.
Besides convenience, a solar watch is also environmentally friendly. As we know, batteries consist of toxic, and sometimes even flammable materials. They require lots of energy to manufacture and end up in high greenhouse gas emissions. Therefore, opt for a solar watch when you care for the well-being of the environment.
The military highly appreciates the previously-mentioned pros, especially the fact that the watches won't stop ticking in the middle of a critical mission or a task.
Although the usage of solar military watches is not as high as one would expect, mainly owing to a rather small number of models and above-average prices, there's still a bunch of amazing brands and watches ideal for tactical combats.
Subsequently, you'll find a list of the best brands offering genuine solar military watches.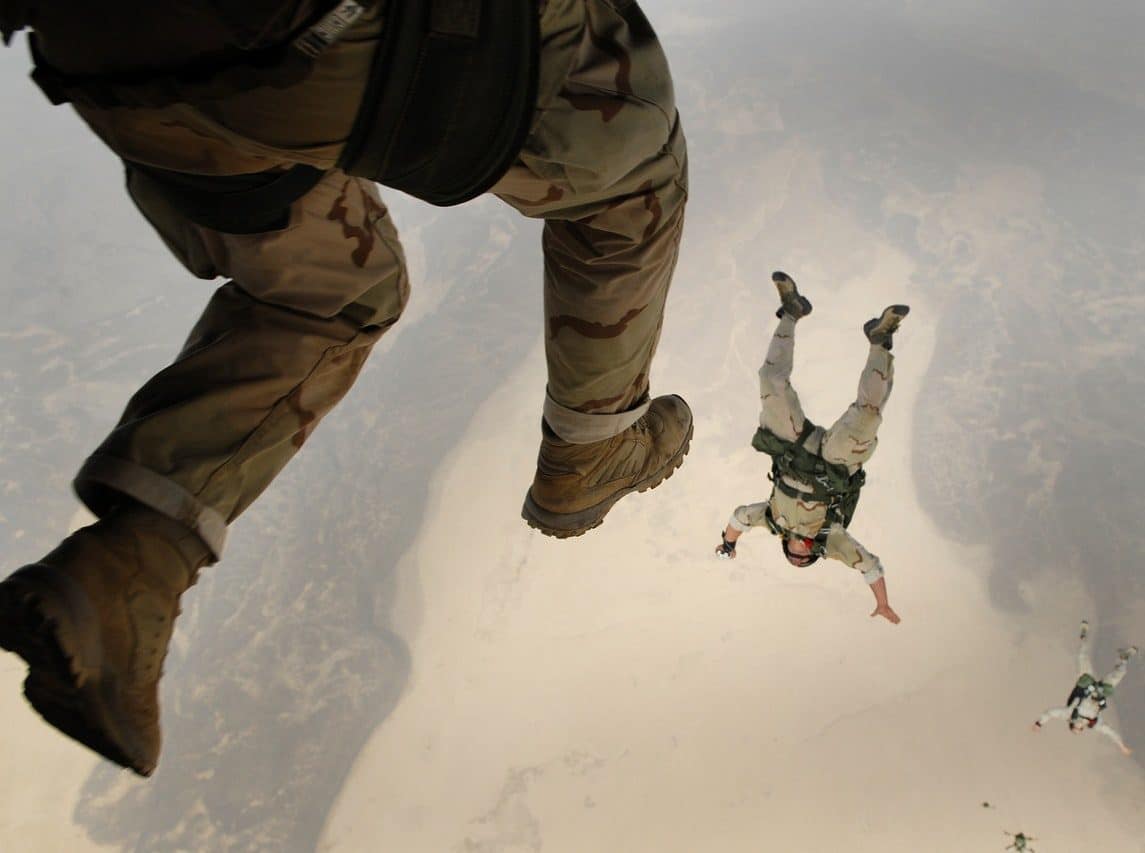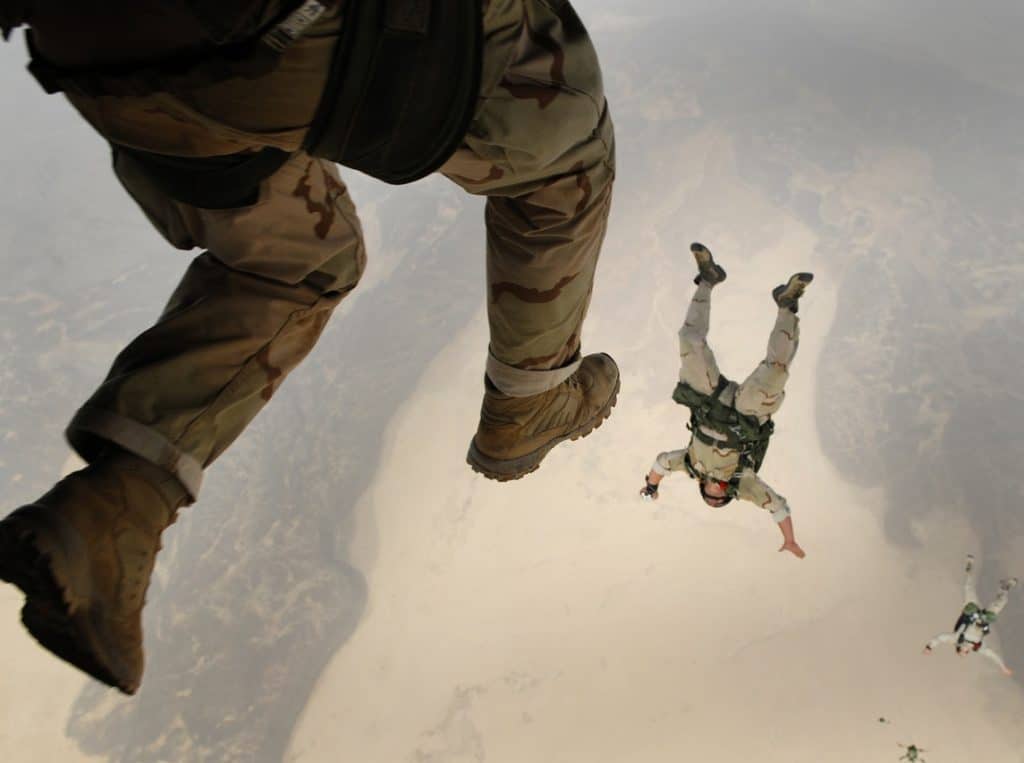 Solar Military Watch Brands
You'll find numerous brands with solar watches in their product line, but only a couple of them have focused on providing solar military watches.
Our post on the best solar-powered timepieces includes several timepieces that are just perfect for military activities, so feel free to check it out.

Citizen Eco-Drive Series
Eco-Drive is probably the most known solar power technology in the watch industry. The time-trackers are equipped with a rechargeable lithium-ion battery charged by an amorphous silicon photocell located behind the dial. A fully charged cell will run six months with no charging.
Some of the models have Insufficient Charge Warning, which alerts the wearer of insufficient light sources by moving the second hand in 2-second intervals. Power Saving Function, another feature in some of the watches, stops the hands to save energy when the watch is left in the dark.
The Citizen brand claim that the rechargeable batteries will last up to 40 years, and it is highly unusual for these batteries to fail.
Besides solar technology, the brand also offers the utmost precision in its wristwear. Citizen's atomic watch receives synchronizations from atomic clock through radio waves, making their solar atomic wristwatches infallible in terms of accuracy.
Citizen's Promaster series is the sports and military watch product line, comprising of tickers for Land, Air, and Sea.
Land series watches are highly shock-resistant and anti-magnetic. They function in extreme temperatures and are easy to read with anti-reflective sapphire crystal and luminous hands. Altichron models also feature an altimeter and a compass. Prices stay in the region of $400-$500.
Air series has the features you would expect from aviation wristwear – a chronograph feature, atomic timekeeping, dual time, and a pilot's rotating slide rule bezel. A solar-powered system keeps these fantastic features running smoothly. You can buy these watches for $600-$900.
Sea series watches have a diver's ISO standard to the depths of 200 to 1,000 meters (660ft to 3,300ft). The diver's ISO standard is quite rare on the market, taking a long time and lots of finances into development to obtain. So, a watch with that standard has a certified quality.
Depending on the number of unique features, prices range from a couple of hundred to nearly two thousand dollars.
You'll also find military-inspired watches from other collections, such as the Citizen Chandler BM8180-03E and Citizen Corso AT0200-05E that have much more humble apparel but will work just perfectly for the military. The price below the $200 line for these two is also something that should not go without attention.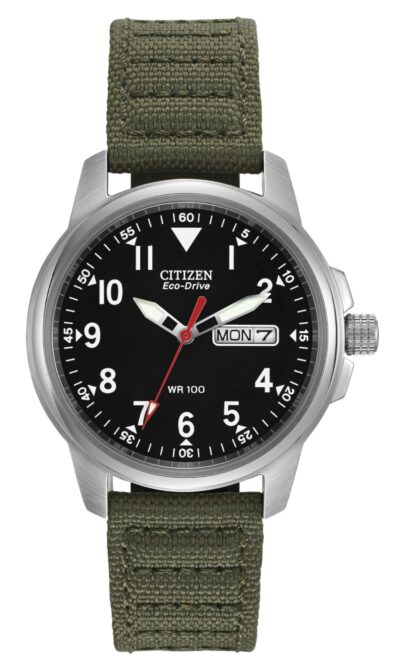 If you're into a deeper overview of the brand, feel free to visit our dedicated post on Citizen brand review.

Casio Tough Solar
Casio has received lots of regard throughout our blog, and this post is no exception. Casio's Tough Solar technology is world-famous.
The solar-charging system converts all kinds of light into power, feeding the energy-hungry time-calibration signal reception, 5-motor operation, alarms, sensors, backlights, and many more. The battery that stores the energy is with a large capacity, thus able to stay uncharged up to two years (depending on models and usage conditions).
Casio offers two series of solar watches for military use – G-Shock and Pro-Trek.
Casio G-Shock is the most recognized brand in the military field. The shock-resistance is incomparable, and all the watches come 20 bar water-resistant. The time-trackers look rugged and sturdy and can stand severe conditions. And when supplementing it with solar power, we get an ultimate solar military watch.
The G-Shocks have featured in numerous Hollywood blockbusters, and a DW5600-E1 model even holds a Guinness World Record when a nearly 25-ton vehicle drove over it with no damage caused.
Solar-powered G-Shock field watch is attractive not only for the fantastic features but also for the prices – a typical watch with solar power costs about $250-$400.
Pro-Trek series is an excellent line of products for sports and outdoor enthusiasts but suits perfectly for the military as well. As the name already hints, the watches are perfect for outdoor activities, with most models comprising of an altimeter, barometer, and compass.
Atomic timekeeping secures precise time throughout the lifetime of your wristwatch, while fully digital and hybrid analog/digital displays with a scratch-proof surface guarantee high readability.

Pro Trek watches with solar power are available for $200-$300.

Seiko Solar
Prospex collection has the most affordable line of solar military watches that Seiko offers. The collection has timepieces for Land, Air, and Sea, as with most of the military watch brands. But a military diver's watch is the most popular type they offer.
What might come as a surprise is that Seiko was the main force behind lobbing the International Standard Organization (ISO) to develop the ISO6425 standard for diver's watches. So, when buying a Seiko solar diver's watch, you are guaranteed a wonderful quality.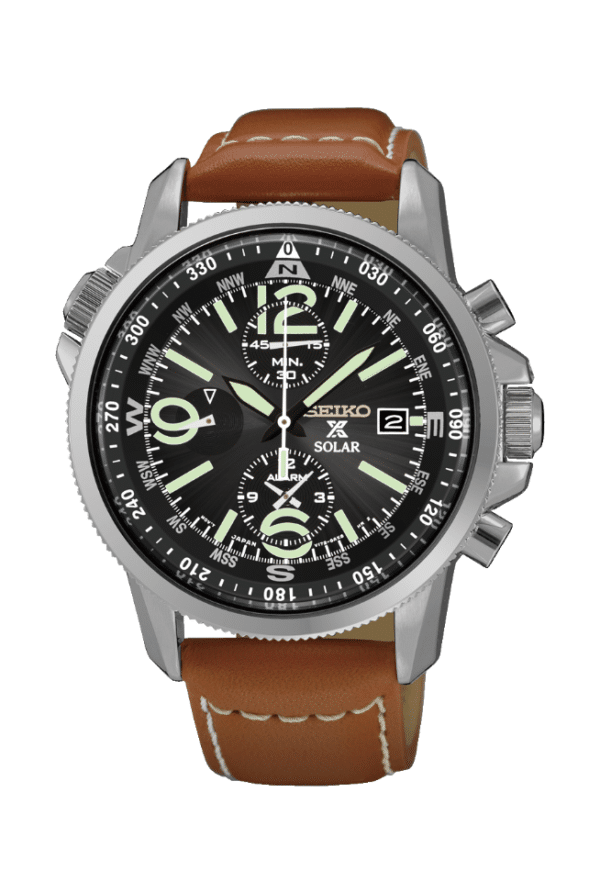 By connecting to the GPS network, the Astron collection adjusts at the touch of a button to the wearer's timezone and takes all the energy from light alone. Whenever the dial is exposed to light, it automatically receives GPS signals setting the time you need.
The solar military watches are highly durable, covered with a strengthened coating, and are anti-reflective and scratch-resistant. One of Seiko's most known technologies – Diashock – absorbs impact on the balance-staff pivot, thus avoiding unexpected breakage.
The prices depend on collections – a Prospex watch costs about $250-$400, while an Astron timepiece has the value between $1,500-$2,000.
If you're interested in a thorough analysis of the brand, feel free to visit our dedicated post on the review of Seiko watches.

Timex Solar
Timex brand is renowned for its simplicity and functionality but decided to implement a solar technology into their Expedition collection to widen the already-rich function volumes.
Two models, Solar Gallatin and Solar Ranger are masculine, rugged, and durable, embracing the merits of environmentally-friendly and maintenance-free.
The solar cells are charged through indoor fluorescent and outdoor sunlight. Once fully charged, the battery life can reach two months without any light source. The two models are both water-resistant up to 5 ATM.

Although the Timex watches don't boast high-tech technologies (besides solar power, obviously), they are still a good match for the military personnel, law enforcement, and many more, for being durable and straightforward.
The watches are also very affordable, with the prices in the region of $50-$100.
Feel free to visit our Timex brand overview for a thorough analysis of the company.

How To Choose a Solar Military Watch?
The best way to choose a suitable solar military watch is by following some guidelines.
By field type – choose a watch from the Land, Sea, or Air categories. Since different types have specific attributes specifying the watch, determine the one that adds the best value to your activities and needs.
By price – decide the amount of money you're willing to invest. The cheapest and simplest solar watch is available for around $50, while technology-featured and ultra-durable wristwear cost around $700-$1,500.
By apparel – appearance is the most important determinant for many. If you're one of them, opt for a watch that appeals and excites you. Luckily, all the solar military watches look professional and cool.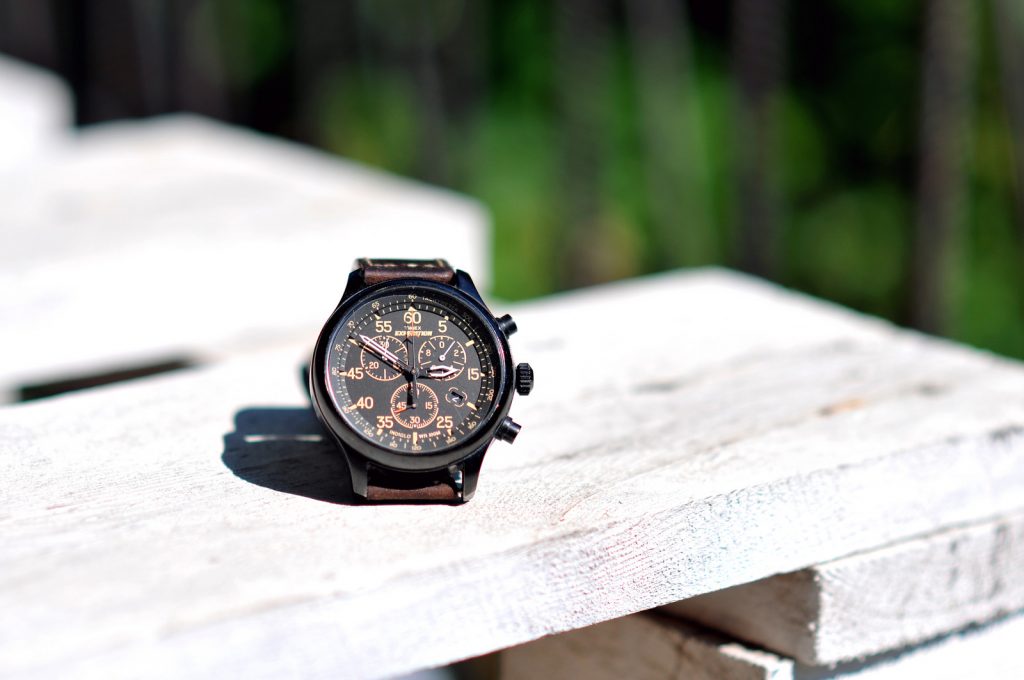 By functions – depending on your needs, you can choose a watch with ABC (altimeter, barometer, compass), GPS, atomic time, or a timepiece with some other necessary function. A general rule is the more functions the watch comes with, the more it's going to cost.
By battery longevity – as we already know, the solar cell can last about 2-24 months without any light, largely depending on a model. If you feel that you won't be wearing the watch all the time and there's a chance the watch will stay in a drawer for some time, you can add this category to your selection guideline.
G-Shock and Citizen solar watches have the longest battery durability, while the Timex tickers have the shortest.

Frequently Asked Questions
We've combined a lot of information about solar military watches. In order to not miss anything important, you'll find the recap of all the essentials.
Q: How Do Solar Watches Work?
A: A solar panel behind the crystal absorbs light and converts it into electrical energy, which powers the watch. The unused power is stored in a rechargeable cell and will be used during the night or when covered. Depending on a model, a fully charged cell can last between 2-24 months.
Q: Are Solar Watches Reliable?
A: Yes. The solar system is regarded as very durable and reliable. Citizen, for example, claims that their rechargeable batteries will last up to 40 years and is highly unusual for these batteries to fail. A solar watch continues to tick for months without any light source.
Q: What Are The Best Solar Watch Brands For The Military?
1. Citizen – Eco-Drive models
2. Casio – G-Shock and Pro Trek series
3. Seiko – Prospex series
4. Timex – Solar Gallatin and Solar Ranger models

Conclusion
Solar military watches are very reliable and durable, able to last even for decades on a wearer's wrist. And the solar technology powering it is state of the art. Once an innovation primarily for the wealthy, solar technology has matured and developed in a way that even an average Joe can afford some of it. Eco-friendly in the approach, solar power definitely has an advantage over the other power sources that are not so "green" to produce.
Now that we have a young Swedish kid called Greta, who's exhortations of our ecosystem's mishandling have made a lot of the world's greats shake like leaves, we can be sure of the tendency's continuity.

You may also like:
Affiliate Disclosure: As an Amazon Associate I earn from qualifying purchases. Details
Latest posts by Carl Pender
(see all)