Affiliate Disclosure: As an Amazon Associate I earn from qualifying purchases. Details
Throughout the whole product line of watches we have on the market, diving watches are probably the most structurally enhanced. The standards they must follow are critical and inevitable because a watch full of electrical parts and movement systems must stay fully protected from the impact of water.
Several branches of the military use diving in their operations – divers are in the service in the navy, army, marines, air force, and coast guard. Thus, a genuine military dive watch is something a tactical diver cannot ignore.
Through explaining the standards and features it offers, and presenting some affordable models, we'll guide you in the vast world of dive watches that are extensively employed by the military forces.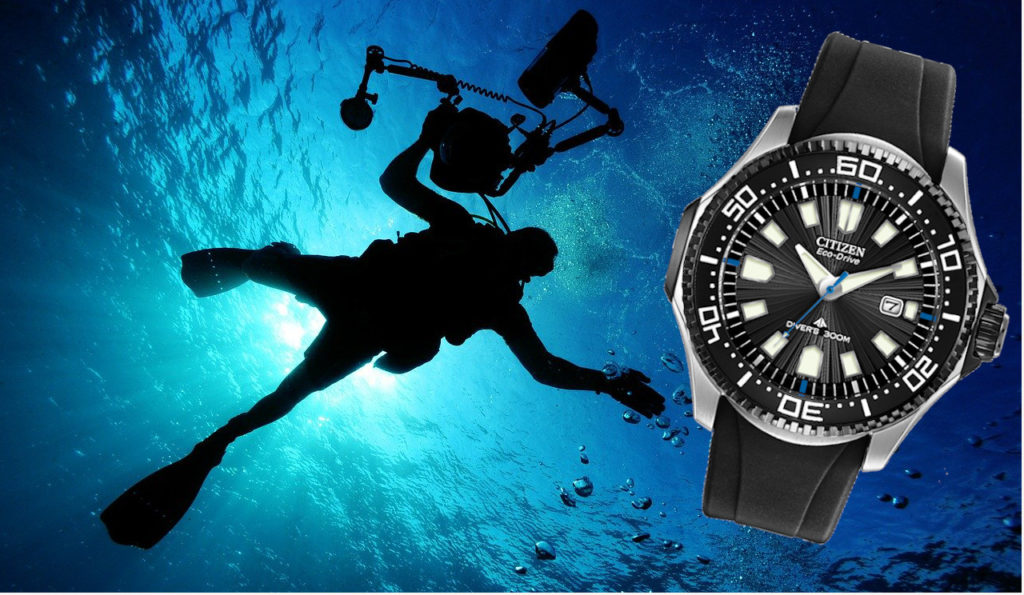 What Is a Dive Watch?
The history of a dive watch stretches back to the 17th century when inventors attempted to configure water-resistant and waterproof pocket watches to stand wet conditions. In the 19th century, water-resistant watches were a rarity when only enthusiasts and explorers ordered them custom-made for their adventures.
Probably the first watch that stood a "waterproof" epitome was the Rolex Oyster, with a watch case featuring an airtight seal.
In 1932, the first industrially produced dive watch for the wider public was delivered, called Omega Marine. Rectangular in shape and with a removable case, it could stand a depth of 135 m (440 ft). Diving watches were also produced for warfare and were used in WWII, but didn't make to masses.
As likely as not, Rolex Submariner became the most recognized diving watch and is the synonym of deepwater adventures to this day. Rolex started to produce it in 1954, at the time of the development of scuba equipment (excellent timing, right?).
During the 50s and 60s, the production of diving watches took off when many brands decided to follow the pattern.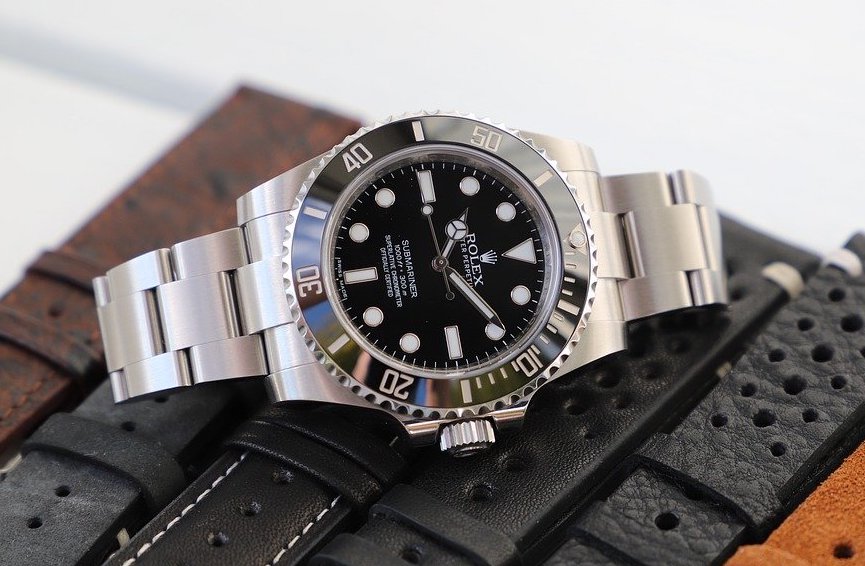 With the rising number of different models available, it became quite vague to distinguish between the highly durable and the not-so-durable diving watches.
ISO Standard 6425, as we know it today, was introduced in 1996, and helped to solve the issue. Now it was possible to separate professional watches from the more commercial ones.
Though the standard defines a durable diver's watch and adds value, many luxury brands still have decided not to go for it, but conduct their own testing procedures.
Rolex, for example, has its in-house certification tests, while Omega has deliberately chosen not to obtain the ISO standard, even if the watches pass the tests. They were both significant contributors to the development of the standard, though, but we can rest assured that the quality they offer far exceeds the norms required.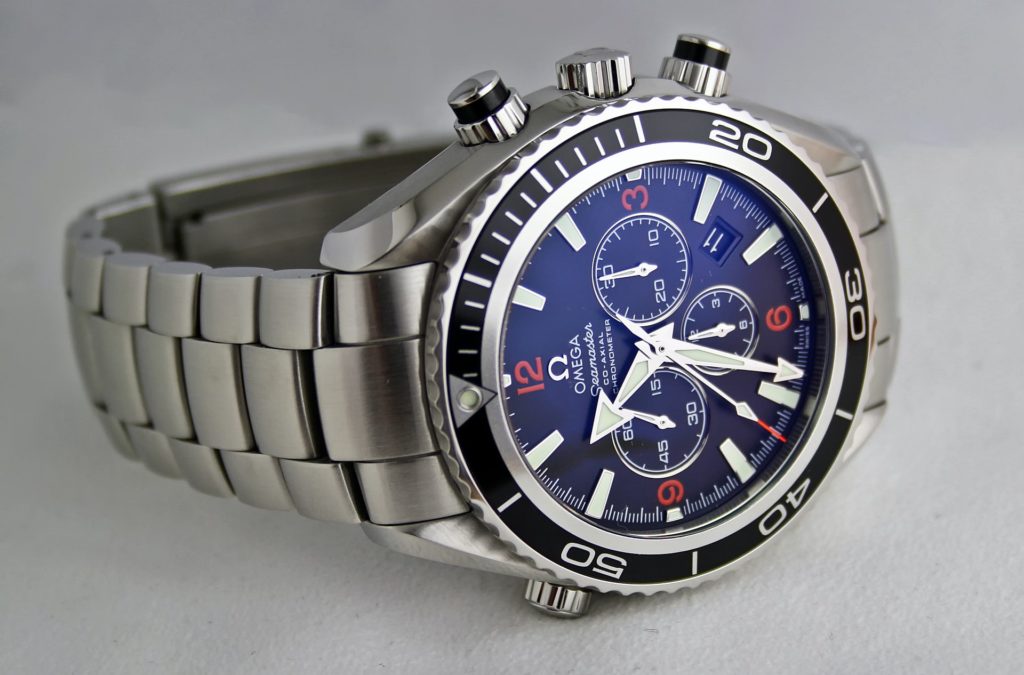 So, what is a military dive watch, and how it differs from a typical diving watch?
To be honest, there's not a big difference because the prime purpose of these watches is to stand severe water conditions and be as durable as possible. The question here is which ones suit the military the best.
Since the military, and especially naval forces, require a high-standard and reliable timepiece, we know that not all the diving watches meet the criteria. Thus, a diver's watch with ISO 6425 standard should be considered as a real military dive watch.
Not only the acquired standard defines it but also the overall endurance, timekeeping precision, and humble appearance. In essence, you wouldn't want to rely on a flashy and pace-losing wristwatch on tactical missions.
Since ISO standard is one of the determinants of a military dive watch, it would be spot on to have a closer look at it.
ISO 6425 Explained
ISO 6425 is like a secret code defining professional diver's watch. Let's decode it and discover the expectations a time-tracker has to meet to achieve it.
An ISO standard diver's watch is specified as "a watch to withstand diving at depths of at least 100m and holding a system to control the time." The timepieces are tested in static water under 125% of the rated pressure. So, a watch with a water pressure of a 100-meter rating will be water-resistant under 125 meters of static water.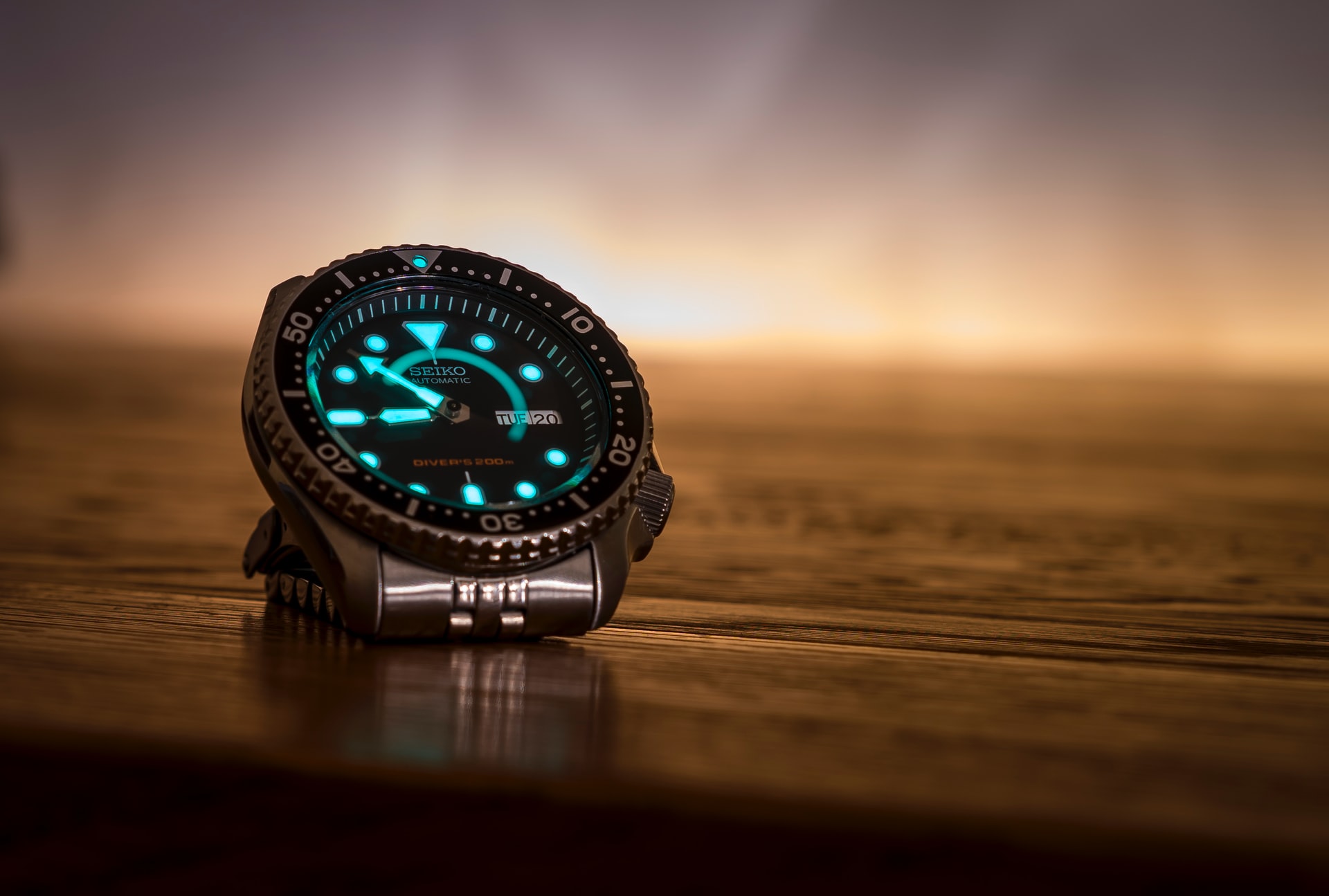 Now, if you thought that only one or a couple of examples of a model are tested, you're wrong – to obtain the standard, every single watch has to go through the testing process. The experiments include:
Reliability under the water – the subject is dipped in water to a depth of 30 cm for 50 hours at 18 – 25C
Condensation – the item is placed on a heated plate at a temperature between 40 – 45C until it has reached the temperature of the heated plate; then a drop of water at 18 – 25C is placed on the glass of the watch; to pass the test, no condensation shall intrude the interior of the glass
The resistance of devices – the watches will be subjected to a 5 Newtons (N) of external perpendicular force in the water under 125% of the rated pressure for 10 minutes
Water-tightness – the watch is placed in a container full of water, and then a 125% of the rated pressure is applied for 2 hours; the third hour of the test sees the pressure to decrease at 0.3 bar
Resistance to thermal shock – the subject undergoes the temperatures of 40C, 5C, and 40C again for 10 minutes each in 30 cm of water
Besides the testing procedure, a diver's watch must meet specific minimum requirements. They include the existence of a 60-minute bezel visible at a distance of 25 cm (9.8 in), resistance to salty water, a running second hand indicating the watch is working correctly in the dark, magnetic resistance, shock resistance, and also strap/band resistance to an external force.
All the passing models must have a marking "DIVER'S WATCH xxx M," or "DIVER'S xxx M," so it's fairly easy to recognize ISO-specified watches.

Who Employ Dive Watches?
US Navy and US Marine Corps are the most notable forces employing divers in their ranks. The SEALs are trained for multiple underwater tasks, such as explosive disposals, construction and demolition works, and combat swimming. At the same time, the Marine Corps conducts its specialized Combatant Diver Courses, taking place in Panama City, Florida.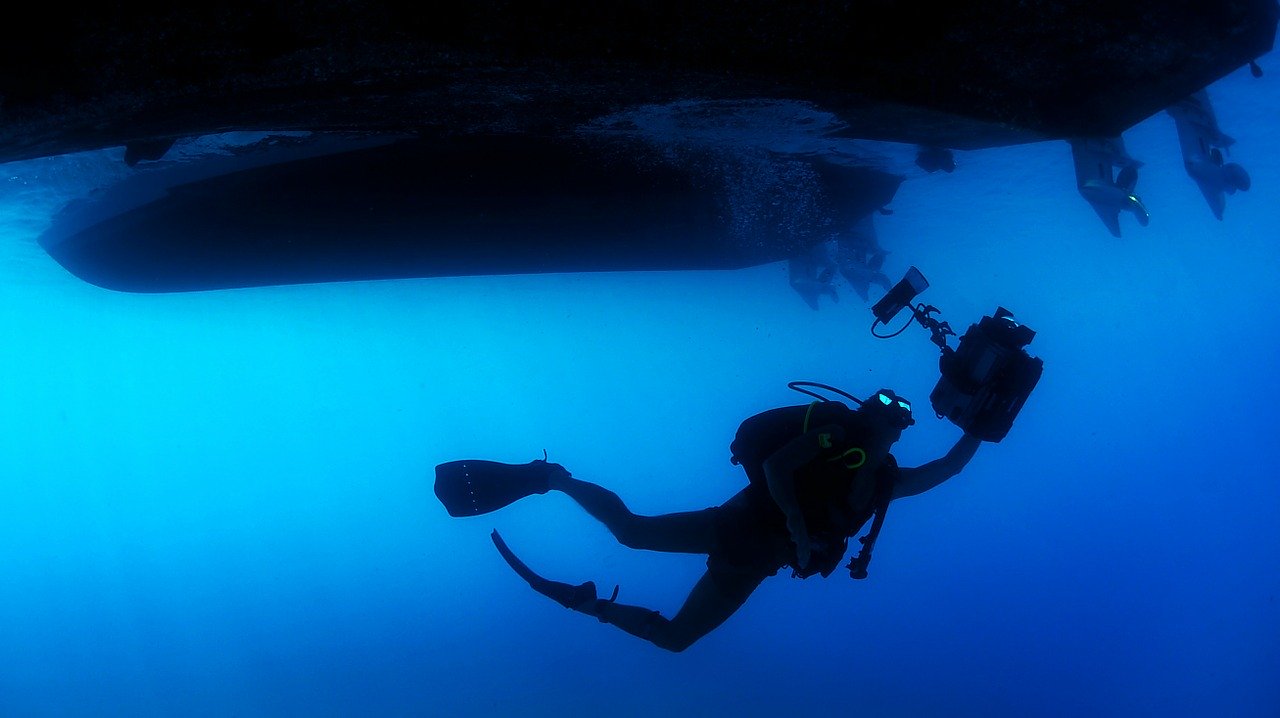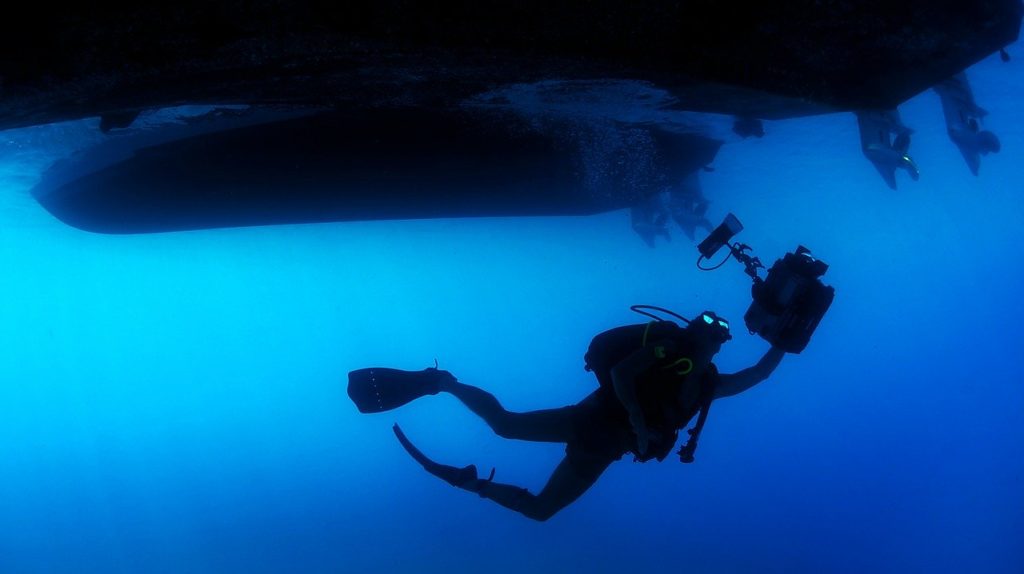 In the Army, Delta Force members are trained for combat diving, while Special Forces have one member per company trained for sub-surface maritime infiltration operations. Even the Air Force has trained divers in their ranks for tactical operations.
Of course, the most significant users of dive watches are professional and amateur divers. After the emergence of scuba equipment, which came out in 1954, this extreme and eye-opening activity has reached a whole new level with ordinary people able to explore the underwater world.
Nowadays, a wrist-worn dive computer does the hard work of measuring the time and depth during a plunge. Therefore, diving watches are sort of secondary, and many have decided not to use them at all.
Still, most of the divers find it as a perfect backing option if the computer malfunctions and wear both of the devices on the wrist.
The lot of you, who haven't seen a dive watch, might think it's a device with thick glass and the looks of some scientific apparatus. Quite the contrary, sometimes it's common for ordinary people not to notice the difference between a typical hand watch and a specialized diver's watch.
What a Dive Watch Possesses?
But what contrasts then? Subsequently, we'll look at the features a dive watch possesses.

Strong Watch Case
For a dive watch to stand water pressure and avoid corrosiveness from seawater, the case must be of reliable and robust material. High-grade stainless steel, titanium, ceramics, and synthetic resin are thus popular materials. Typically, the straps are rubbery or made of nylon, but some timepieces come with a metal band.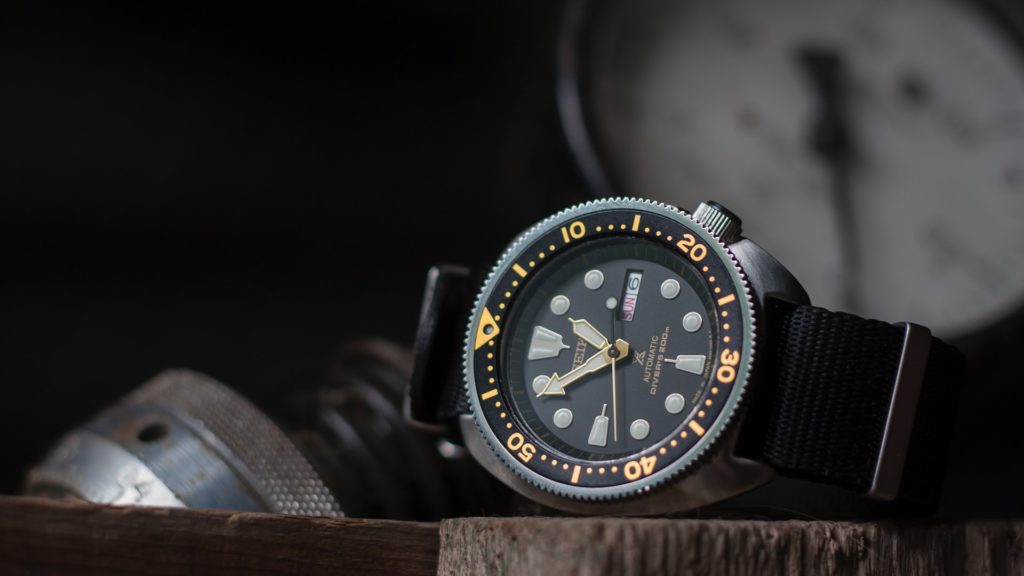 A thing to mention about metal straps is that they must be of the same metal alloy as the case, in this preventing metal with higher corrosion levels from corroding. And, undoubtedly, shock and magnetic resistance is also inherent.
Thick Crystal
Dive watches use relatively thick crystals for enhancing the pressure-resistance. A dive watch crystal is typically a hardened glass, sapphire, or acrylic glass. All of them have their pros and cons regarding scratch-resistance and breakage points, but the most advanced crystal has a scratch-proof sapphire and a hardened glass combined.
Rotating Bezel
A rotating bezel is typical on analog watches. The core principle of a bezel is to measure elapsed time under the water up to one hour.
Since timekeeping is crucial, it must not be altered in any way. It's guaranteed in the possibility to rotate it only in one direction – anti-clockwise. If a diver unintentionally moves the bezel, the time moves forward rather than backward, thus shortening the time underwater.
Some of the watches have a function locking the bezel while in the water, which eliminates the inadvertent rotating.
The bezel is not used in professional diving for time tracking, though, as a dive computer with enhanced and specific data does the job. Still, a backup never harms anybody and is available for those in need of extra protection.
But how to use a dive watch bezel? Just before submerging, a diver sets the zero-marker on the bezel in line with the minute hand, allowing to keep track of elapsed and remaining time.
Digital diver's watches usually have a timer replacing the bezel's function.
Easily Readable Hands & Markers
This is a no-brainer of being the most crucial feature a diver's watch has.
When in deep waters, reading a watch from a very short distance is already a challenge. As we already found out from the ISO tests, the reading must be visible at a distance of at least 25 cm. It's obtained with luminous hands and markers.
Quite often, numbers on the dial have been replaced with indicators for better readability, and essential times of 3, 6, 9, and 12 are better recognizable to prevent disorientation. Digital dive watches have the whole dial lightened.
Power Reserve Indicator
All the diving watches have a power reserve indicator that notifies the diver if the battery is getting low on power. Usually, the indication is through a second hand when it starts to jump a two- or four-second intervals.
Digital watches receive a warning message of insufficient reserves on the dial.
Durable Straps
The durability of straps is as important as the durability of a case.
Typical straps are of materials resistant to pressure and corrosion, such as rubber, stainless steel, silicone, fabric, and polyurethane. Metal straps need to be of the same metal alloy as the case, this way preventing the corrosion impact to a more-responsive metal.
Diving watches have longer straps than typical hand watches, and this is for a good reason – it has to fit on a wrist, covered with a suit.

Types of Dive Wristwear For The Military
Most of the professional dive watches look quite similar, having a dark dial, markers replacing numbers, and a rotating bezel. It's all understandable because, from a functional point of view, the appearance doesn't add much value.
Still, there are some interesting yet modest enough examples suitable for watch enthusiasts and military personnel alike.
Additionally, dive wristwear is available with all the different watch movements ideal for diverse tastes. The specter of types is thus wide enough to choose the most suitable timepiece.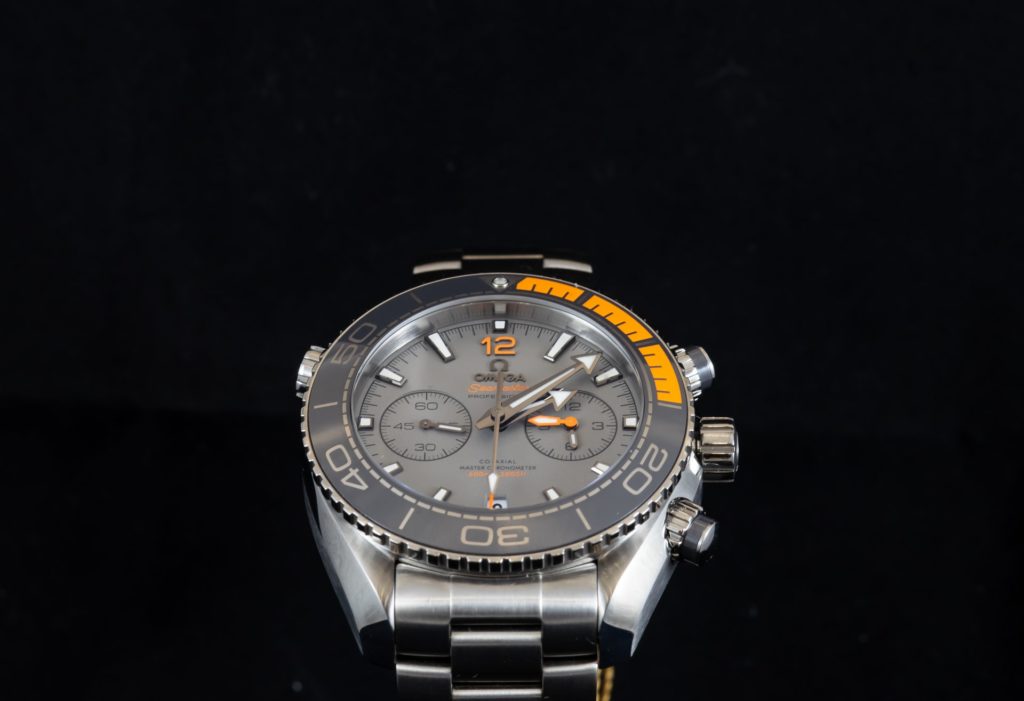 Dive watch product line is famous amongst a lot of brands, from luxury powerhouses to affordable mainstream brands. Rolex Submariner and Omega Seamaster models are with a historical reputation for being pace-setters in the industry and are definitely worth every penny.
However, a marine or a SEAL, and even a hobby diver may only dream about buying one. And to be fair, very functional, quality and good-looking dive watches are available for only a couple of hundred bucks.
We've listed five examples of perfect dive watches suitable for underwater tactical operations without breaking a bank to get one.

Seiko Prospex Automatic SKX009K1
It would be unfair to Seiko without first mentioning that they were behind lobbying the ISO to develop a new and advanced certificate for professional diver's watches – the ISO 6425, as we know it today.
It's a clear indication of Seiko's commitment to providing high-quality timepieces ideally suitable for scuba diving and vigorous tactical operations.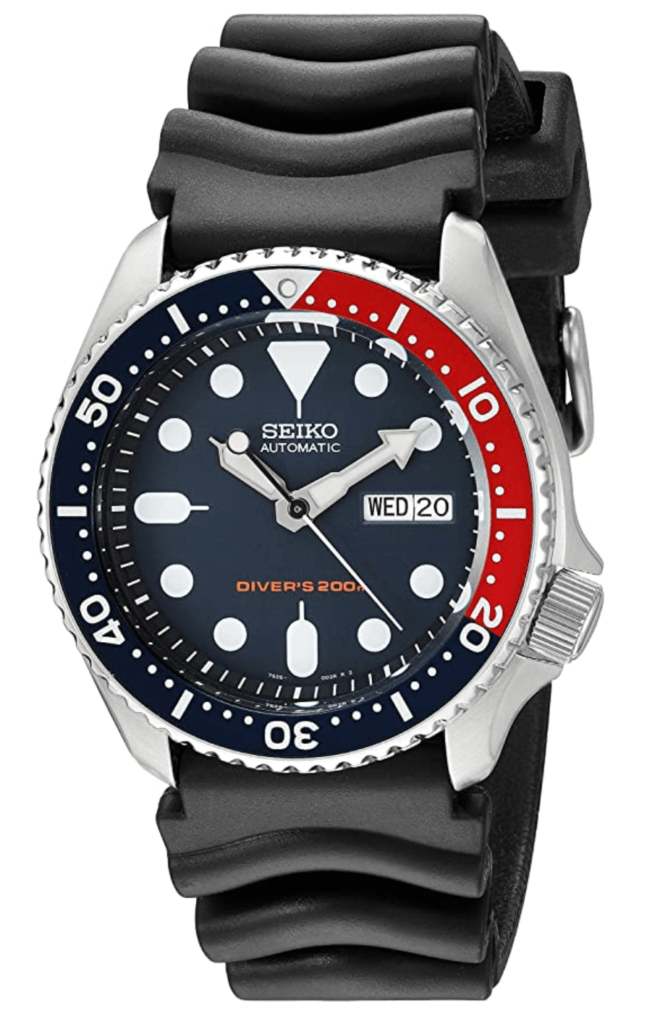 Seiko Prospex series is a spot-on for divers – it has an ultimate quality for a reasonable price. The Seiko SKX009K1 model, also known as the Pepsi model (no wonder where it got its nickname) represents it thoroughly.
Being a trendy model for years, this ISO standard automatic self-winding watch has a water resistance of 200 m (660 ft).
The blue and red rotating bezel is unidirectional, while the hands and markers are luminescent, making it perfect for diving in pitch-black conditions. Screw-down crown and solid case back protect the timepiece from any water impact.
What makes it so popular? You can get the Seiko Pepsi bezel watch for as little as $250-$300, depending on a reseller.
If you're interested in a thorough analysis of the Seiko brand, feel free to visit our dedicated post on Seiko watch review.

Victorinox I.N.O.X. Professional Diver
Victorinox, one of the many Swiss army watch brands, have their I.N.O.X. models tested through their in-house testing procedure. 10-meter drop resistance, vibration resistance, and ton resistance are just a few out of 130 (!) tests conducted for a watch to get permission to go on sale. Wouldn't it be a perfect wristwatch for Navy SEALs and other military divers?! Hell, yeah!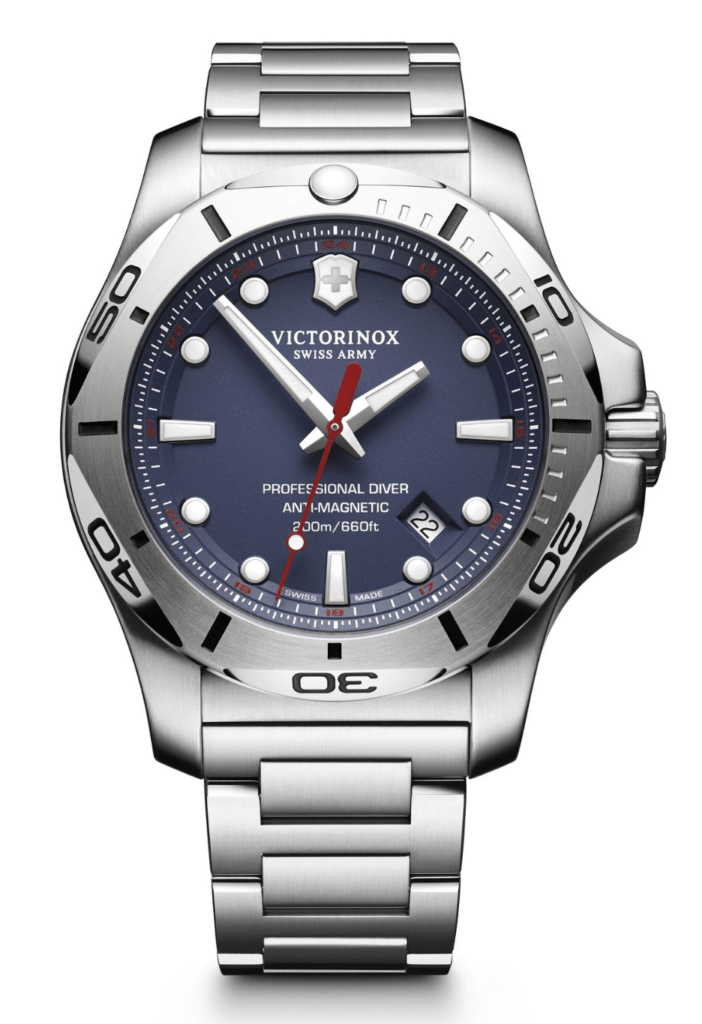 The I.N.O.X. Professional Diver has a 200m (660 feet) water resistance, and, obviously, the ISO 6425 standard to support it officially.
High-quality anti-corrosion stainless steel protects the case and extendable straps from salty waters, whereas an analog quartz movement provides the most accurate time.
Like with other diver's watches, the rotating bezel is unidirectional, and all the necessary indications glow. Last but not least, the end-of-life indicator signals when the battery is getting low on power.
The Swiss quality that Victorinox offers in this watch is genuinely astonishing. And when to consider the fact you can get if for around $400, the better it gets.
If you're interested in the brand, feel free to visit our dedicated post on Victorinox watch review to get a better insight into the company.

Citizen Eco-Drive Promaster Diver BN0085-01E
Eco-Drive technology is one of the most known solar power systems in a wristwatch. By using solar power, you can completely forget the annoying battery replacements. All Citizen dive watches follow the ISO 6425, thus guaranteeing their watches' suitability for professional dives.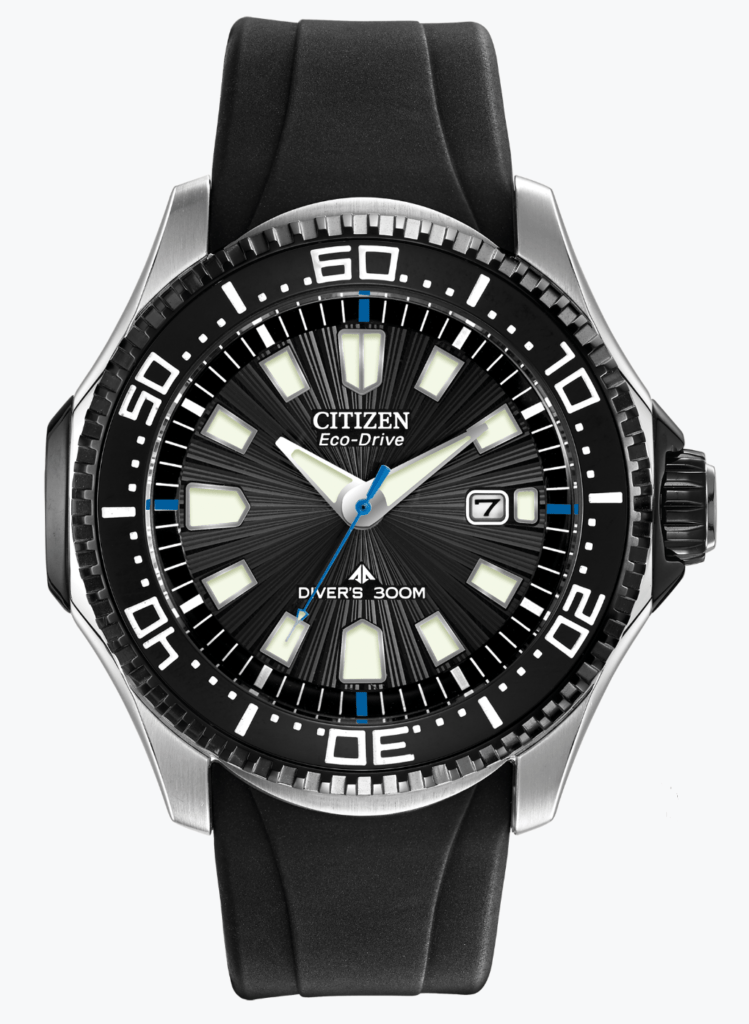 The fact this watch is solar-powered eliminates the need to open case back, thus preventing any unnecessary attempts to compromize the vital inner parts.
The Citizen BN0085-01E is water-resistant to 300m (660ft) and has luminous hands and markers. Damages from unexpected hits get protection from anti-reflective mineral crystal glass and stainless steel case. Rubber band supports the convenience of everyday wear, while Japanese quartz movement, known as the most precise movement, keeps the time accurate when it's needed the most.
The sunray design on the inner dial makes it appealing for those who appreciate the aesthetics of a genuine dive watch. This attractive and functional timepiece is available for around $200 – $250.

Casio G-Shock Frogman GWF1000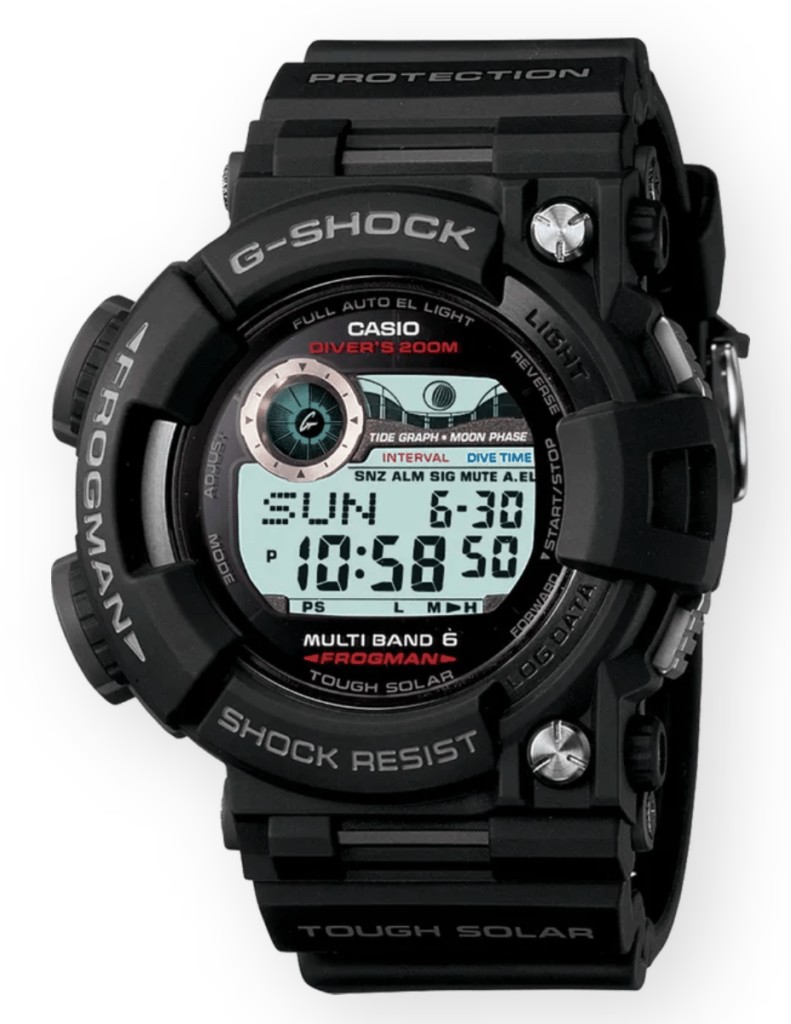 Casio's G-Shock is known to offer a lot of functions in a watch.
All the G-Shocks look rugged and provide ultimate protection – that's where the name of the series originates. Besides ISO 6425, this particular watch comes with ISO 764 magnetic resistance, this way keeping all the functions operating if a strong magnetic field is in the vicinity.
The functions that all are so excited about include atomic timekeeping (automatically corrects time up to six times a day through radio signals), solar power, and World Time (displays 31 time zones). Water-resistance is up to 200 m, while full-auto backlight with afterglow enhances visibility in the dark.
All these features combined make this model a perfect example of solar atomic watches with a dive function.
With the G-Shock GWF1000 model being digital, the dive timer displays on the dial. Another impressive feature is that the backlight turns on when tilting the hand approximately 40-45 degrees.
The price of the watch is about $450-$500, depending on a reseller.
If you're interested in a more detailed overview of the G-Shock watches, visit our dedicated post on the best features of a G-Shock tactical watch.

Tissot Seastar 1000 Powermatic 80
Tissot is one of the most appreciated Swiss luxury brands that also markets professional diver's watches. Although the word "luxury" may scare some of you off, several of the quality timepieces are actually available for less than $500.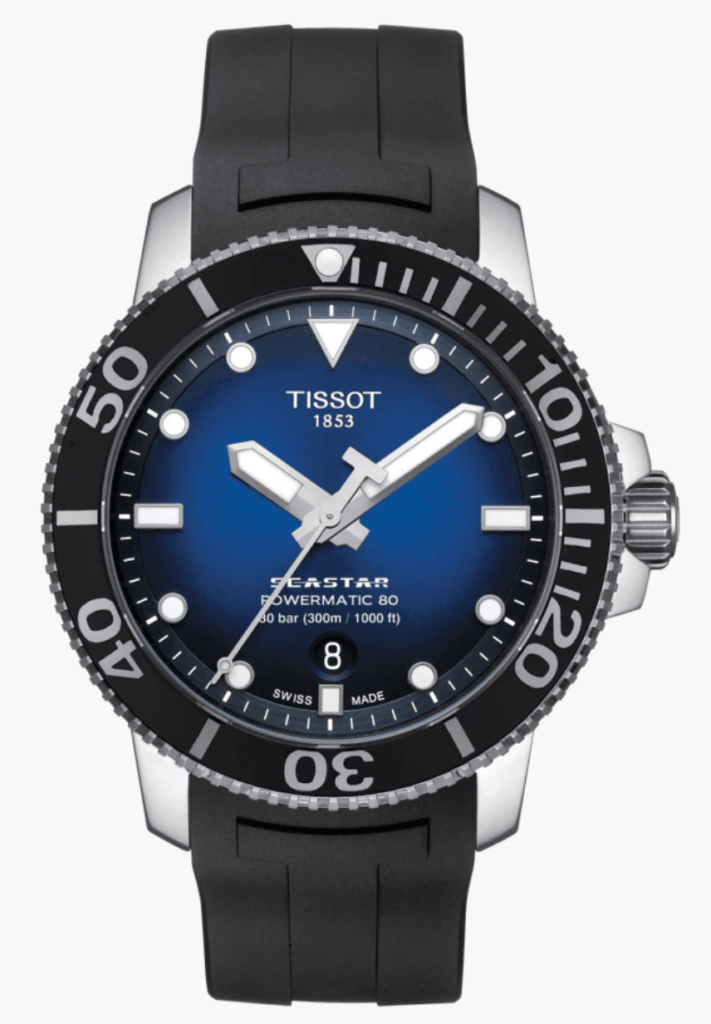 Being highly rated for its quality, Tissot firmly deserves to be regarded as a genuine provider of sophisticated dive watches. One of the exemplary models is the Seastar 1000 Powermatic 80.
This model features an automatic movement, called Powermatic 80. The difference between a regular automatic and Powermatic is that while the normal automatic movement has a 40-hour energy reserve, the Powermatic technology runs on 80-hour reserve.
Also, all the essential features of a diver's watch are present – unidirectional bezel, anti-corrosive stainless steel case, and adjustable strap made of silicon.
Seastar 1000 comes with 300-meter water resistance.
You can get the model for $450-$600, depending on a reseller.

Taking Care Of a Dive Watch
Like with any other timepiece, a dive watch also needs regular maintenance.
Most of the manufacturers recommend taking pressure tests by a service facility after every 2-3 years. Also, the seals and gaskets need replacements while servicing.
Although the watches are of anti-corrosive materials, extra care is never too much.
By placing the ticker in freshwater for overnight after every dive, the exterior parts get cleansed of seawater. When taking reasonable care, you can expect your watch to last for years to come.

Summary: Military Dive Watch
A military dive watch is a high-quality, long-lasting, and functional piece of equipment that helps in all sorts of tactical and naval endeavours. Although the emergence of dive computers, able to give different valuable information, has diminished the need for dive watches, there should always be a backup option available. And not only the dive support is essential, but also several other tactical features and characteristics that come with these wristwatches.
You don't need to pay a fortune to get a decent professional, ISO-certified military dive watch because many brands have desirable prices. If you're a Navy SEAL, marine, or just an ordinary dive fan with limited budgets, go for the affordable models – they undeniably offer the quality required.

You may also like:
Affiliate Disclosure: As an Amazon Associate I earn from qualifying purchases. Details
Latest posts by Carl Pender
(see all)