Affiliate Disclosure: As an Amazon Associate I earn from qualifying purchases. Details
Heavy-duty jobs, such as construction works, mechanical engineering, and agriculture, don't necessarily require a wristwatch in day-to-day dealings. However, it can become real handy timing particular tasks, reminding of lunch breaks, or just being the so-called time compass on a wrist helping orientate through the day.
Unlike many other types of jobs, not every timepiece is suitable for heavy-duty tasks. Hence, a proper work watch has to be tough as stone, highly accurate, and as affordable as possible because wearing a thousand-dollar mechanical watch for construction works could leave a significant hole in your wallet.
For you to end up with a durable and reliable timepiece that is also budget-friendly, we've compiled the best work watches for construction workers and other heavy-duty workmen.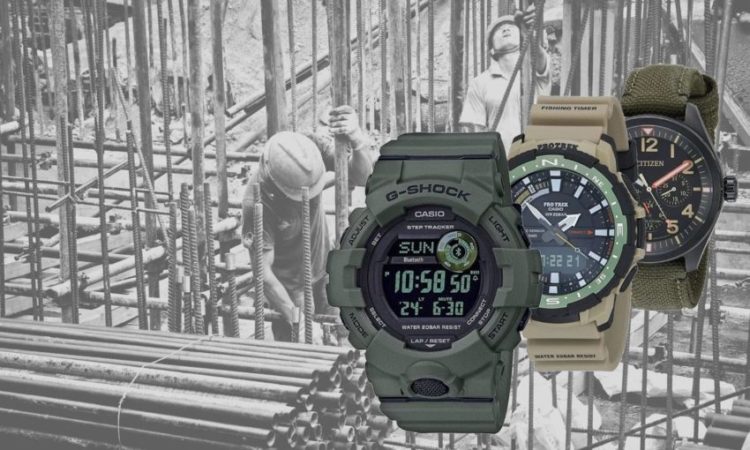 The second part of this post delves deeper into the characteristics of proper work watches. So if you don't find an appropriate one from our list, make use of the prerequisites that determine the suitable ones.

Best Work Watches
The following work watches come from various acknowledged manufacturers and won't cost you more than $350. Further, they have all the makings to last you for long years and withstand all kinds of extremes you find yourself in.
Without much ado, here they are.

Casio G-Shock Green Watch
Case Size: 49.5mm
Water Resistance: 200m (660ft)
Crystal: Mineral
Starting the list of the best work watches with a G-Shock watch is no coincidence, especially considering the very reason why such timepieces were created in the first place. Namely, G-Shock watches were constructed to withstand various shocks, from gravitational to water pressure. These days, the timepieces are widely considered to be the toughest watches a man can buy.
The Casio G-Shock GBD800UC-3 leaves no space for doubt in it. The watch is made for the extremes with a knobbed and knurly exterior, shallow and cushioned case intrinsics, and 200m (660ft) water resistance. Therefore, hitting the watch against a hard surface or falling into the water will cause not even the slightest of damages.
Besides the rugged construction, this G-Shock comes with a handy blue-toned backlight, timer, stopwatch, and even a step counter. Hence, it can be more than just a work watch with its wide array of functions.
Another great thing with this G-Shock is that it won't cost you an arm and a leg. Barely reaching the three-digit sum, it is a real bang for the buck.

Casio G-Shock Carbon Core
Case Size: 45mm
Water Resistance: 200m (660ft)
Crystal: Mineral
The G-Shock Carbon Core Watch has a more casual appeal than the previous G-Shock we covered. However, that doesn't mean it gives away in terms of durability. Quite the contrary, with a resin case that is reinforced with carbon fibers, this G-Shock is even less prone to shocks and deformations than a timepiece without carbon fibers.
Another advantage of this watch compared to many other rugged G-Shocks is its size when the case diameter measures only 45mm and the height stands at a mere 12mm. Therefore, it is possible to slip the watch conveniently under the sleeve and uncover it as easily.
The black octagon-shaped G-Shock is an analog-digital watch, which means it comes with a small digital screen at the bottom of the dial. The screen shows the time in a digital format, but also the stopwatch results, alarms, and World Time. A neat addition is a circle on the left, which is for a convenient overview of a current weekday.
All things considered, the G-Shock Carbon Core is a top work watch for medium-sized and slender wrists with a versatile appearance that is appropriate for more than just a heavy-duty job.

Casio Pro Trek PRT-B70
Case Size: 51mm
Water Resistance: 200m (660ft)
Crystal: Mineral
The Casio Pro Trek PRT-B70 is a very capable work watch as much as a feature-rich outdoor piece. Hence, you should consider going for this timepiece if, besides physical work, you are into fishing, hiking, or any similar outdoor activity. Combining several purposes into one watch is not only convenient for you but also more budget-friendly as you wouldn't have to buy two separate watches.
In terms of durability, this Pro Trek shares similarities with G-Shock watches – it has a rugged appearance with protrusions, comes water-resistant for up to 200m (660ft), and is equipped with awesome features. For instance, you'll find an altimeter, barometer, and digital compass, along with standard functions of a stopwatch, alarm, and timer.
Furthermore, the Pro Trek PRT-B70 is Bluetooth connectible, counts your steps, and comes with fishing-specific functions.
Appearance-wise, the watch adds a pleasant color palette with a green bezel ring and a desert tan band. Also, it is an analog-digital timepiece with a classic three-hand movement and a digital screen at the bottom.

Casio Tough Solar Illuminator Watch
Case Size: 47mm
Water Resistance: 100m (330ft)
Crystal: Mineral
The following Casio watch is an affordable option for construction workers and other heavy-duty workmen. However, regardless of the $50 price tag that typically suggests for a very straightforward timepiece, you'll get plenty out of this Casio Tough Solar Watch.
First of all, the watch powers itself from light, which means you don't have to mess with cumbersome battery replacements and worry about the watch running empty of charge. When this Casio is fully charged, it has enough reserve to run for several months without any additional charge. Further, such a mechanism doesn't require batteries as it employs a rechargeable cell instead of a disposable battery.
Another handy feature is the illuminator function that lights up the small digital screen with a simple push. You'll also find the minute and hour hands lume-filled.
Like most Casio watches, the timepiece sports several handy features, from stopwatch and alarms to World Time and calendar. And, above all, the watch is resistant to daily shocks as it comes with rugged construction and is water-resistant to 100m (330ft).

Victorinox Swiss Army I.N.O.X.
Case Size: 43mm
Water Resistance: 200m (660ft)
Crystal: Sapphire
Victorinox is a Swiss watch manufacturer that offers highly durable watches with a Swiss-made seal of approval. The most acknowledged and also the most hard-wearing are the I.N.O.X. watches that go through hundreds of endurance tests before going on sale.
The Victorinox Swiss Army Black I.N.O.X., for example, has passed a 10-meter drop test, vibration test, and temperature shock test, among others, which makes it a suitable work watch for heavy-duty activities in any climate.
The Swiss-made Victorinox watch differs from other work watches with its all-metal construction that gives a pleasantly heavy feel on a wrist. Also, it's a simple analog timepiece that does the one and only job a typical watch should do – show accurate time. And the watch is, indeed, accurate due to a quality Swiss quartz movement ticking inside the case.
The watch is also equipped with a sapphire crystal that is protected against unwanted reflections and is almost impossible to scratch. Complementing the high-quality characteristics of this affordable Swiss watch is the 200m (660ft) water resistance, enabling the watch to be taken with you for a swim and even for a deep dive.

Luminox Leatherback Sea Turtle
Case Size: 44mm
Water Resistance: 100m (330ft)
Crystal: Mineral
Another Swiss-made work watch on this list is the Luminox Leatherback Sea Turtle. It's a timepiece as durable as the previous ones we've covered for its lightweight and hard-wearing carbon compound case and a 100m (330ft) resistance to water pressure.
However, what other work watches don't have is the tritium luminosity that offers the ultimate convenience in dim conditions. Such a luminescence is guaranteed to glow for up to 25 years without any light applied to it. The tritium-filled gas tubes are placed on every other hour marker and the top of a bezel ring.
The shatterproof mineral crystal and the crown protectors safeguard against unwanted hits and knocks to the dial and crown. Another appropriate element supporting its use for construction works is the nylon strap that is difficult to break and is easily cleanable.
All in all, the Luminox Leatherback is one of the most affordable Swiss watches that, at the same time, comes with durability comparable to premium-class military timepieces.

Suunto Core
Case Size: 49mm
Water Resistance: 30m (100ft)
Crystal: Mineral
The Suunto Core watch is widely used by military personnel, police forces, and other severe jobs that face strenuous activities. This means the watch is more than suitable for construction works as well.
What makes it long-lasting are the metallic fiber case and shatterproof mineral crystal that withstand various shocks and maintain the watch's functionality. Further, the Suunto Core comes 30m (100ft) water-resistant, making sure it keeps ticking in the rain and mud.
When it comes to features, you'll find an altimeter, barometer, and compass, along with a temperature gauge and an alarm function. One feature that finds good use in outdoor jobs is the storm alert that notifies the wearer of an approaching storm.
Appearance-wise, the Suunto Core goes well with various outfits and is not limited to work clothes only. Therefore, you can apply the merits of this timepiece for other purposes as well, such as training, hiking, and casual events.

Timex Expedition Scout 40mm Watch
Case Size: 40mm
Water Resistance: 50m (165ft)
Crystal: Mineral
The Timex Expedition Scout is one of the best work watches due to its durable build quality and favorable price tag. Although it doesn't have the wide array of features as several others on this list, the Timex Expedition works like a charm when it comes to keeping precise time and staying unscathed in severe conditions.
The watch is highly legible due to contrasting hands and hour numbers on a dark background. Further, the hands contain luminosity, which helps to better capture the time in dim lighting conditions. And if that is still insufficient, you can push the crown to light up the entire dial.
Compared to other work watches on this list, the Timex Expedition comes in a brass case, which is not as durable as stainless steel or resin but still offers decent protection against knocks and hits. Its size is also much smaller, standing at 40mm in diameter. Therefore, this Timex is an appropriate wearable for slender wrists rather than larger ones.

Citizen Garrison BU2055-16E
Case Size: 43mm
Water Resistance: 100m (330ft)
Crystal: Mineral
A similar timepiece to the Timex Expedition appearance-wise is the Citizen Garrison BU2055-16E. It comes in an army green tone and has a dark dial with easily readable time.
However, what many watches don't have is the solar-powered quartz movement. In fact, the one Citizen offers is the most acknowledged solar movement one can find. The Eco-Drive system, as it is called, can maintain a solar charge for up to half a year and never requires battery replacements.
Besides the ultimate convenience you get from the powering system, you'll also find quite unique subdials showing weekdays and dates. This function is typically settled on a small quadrangle window, so finding them prominently on subdials is a breeze of fresh air.
Last but not least, this Citizen Garrison sports a thick and long-lasting Cordura fabric strap that withstands unwanted tears, cuts, and rubs.

Seiko Essentials SUR325
Case Size: 41mm
Water Resistance: 100m (330ft)
Crystal: Hardlex
Our last watch among the top work watches for heavy-duty jobs is the Seiko Essentials SUR325. It follows a militaristic style with its khaki green fabric strap and dark-toned patterned face, making it an appropriate wearable for non-office environments.
This Seiko is also water-resistant to 100m (330ft), enabling its use for swimming and other intense water activities. You'll also find the watch hands and hour indices luminous.
When it comes to overall durability, there's nothing to complain about. For instance, the case is made from stainless steel, the crystal is made of Seiko's proprietary Hardlex, and the strap is made of water-repellent nylon. The latter has been visually enhanced with rubber edges, giving the watch an eye-catching appeal.

What to Consider When Buying Work Watches?
If you're searching for an appropriate timepiece for heavy-duty jobs, there are certain things you need to bear in mind before the purchase. The following five factors should be seriously considered when the best work watches are what you're after.
Construction
First and foremost, an appropriate heavy-duty watch must be constructed to withstand not only daily wear but also more severe conditions. Physical factors that make a watch suitable for such causes include rugged design, protrusions, crown protectors, and high bezel rings.
Watches that won't be good fits for such jobs, despite their initial suitability appearance-wise, are the ones that have domed crystals or extra push-buttons without protectors. The more the vital parts of a watch are protected, the longer the watch will last.
Straps
Another factor to consider is the material of watch straps. The most befitting are nylon and rubber straps as they won't break as easily as leather and stainless steel bands.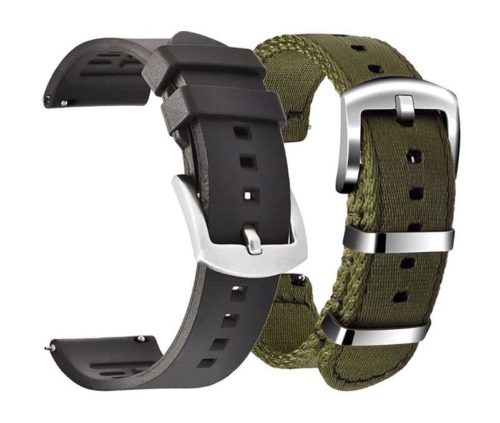 Moreover, nylon and rubber are more fitting to the wrist, are light in weight, and are easily cleanable/washable.
Water Resistance
Proper work watches must resist water pressure as rain is a frequent weather phenomenon on construction sites and open spaces.
It would be best to aim at watches with a water resistance rating of at least 50m (165ft). Although the rating doesn't mean you can submerge it to 50m underwater, it still provides enough protection in wet conditions.
One of the work watches we covered, the Suunto Core, comes with a lower water resistance than the 50m we suggest. However, unlike most timepieces with high resistance ratings, the Suunto watch has been genuinely tested in actual real-life conditions at 30m. It means you can submerge it to that depth without any concerns, not to mention wearing it in the rain or swimming with it.
Readability
A watch is not much of a use when you can't read it. Yes, fashion or dress watches can get away with it, but not heavy-duty wristwear. Increased legibility ensures instant time capture, no matter the lighting conditions or environments you are located.
If your job involves working in poor lighting conditions, you should also consider timepieces that have an additional lighting option by means of a LED backlight. Casio and Timex are the best options in this regard.
Price
Last but not least, appropriate work watches shouldn't cost too much. Imagine yourself breaking a brand new thousand-dollar ticker on a construction site. Not a pleasant feeling? No.
Therefore, aim for timepieces that come with price tags not exceeding $300-$400.

Conclusion on the Best Work Watches
Appropriate watches for construction workers and other heavy-duty jobs come with durable construction, are resistant to water, feature either nylon or rubber straps, come with high legibility, and won't cost too much. Finding such watches might seem difficult at first due to a high number of required features, but when properly searched, you can find loads of suitable timepieces.
One thing is for sure, the best work watches we covered in this post stand up to severe conditions and will carry on working even after years of heavy-duty wear.

You may also like:
Affiliate Disclosure: As an Amazon Associate I earn from qualifying purchases. Details
Latest posts by Carl Pender
(see all)