Affiliate Disclosure: As an Amazon Associate I earn from qualifying purchases. Details
Fossil is an American fashion brand that sure knows how to impress its buyers. Watches that often look like premium-class tickers with their sleek designs and posh chronographs are available for anywhere between $100 to $300 in reality.
Despite the very favorable prices and the fact that Fossil is a fashion brand, which typically raises concerns over the long-term quality, the watches have really stood up to the test in terms of reliability. Thus, it's no wonder Fossil is considered the best fashion watch brand in the world.
Fossil is known for another thing as well – it manufactures watches on such a large scale that the number of different models reaches well into several hundred.
We know how tedious and laborious it is to comb through all the information. Therefore, we've made the hard work for you in bringing you the best Fossil watches men can currently buy.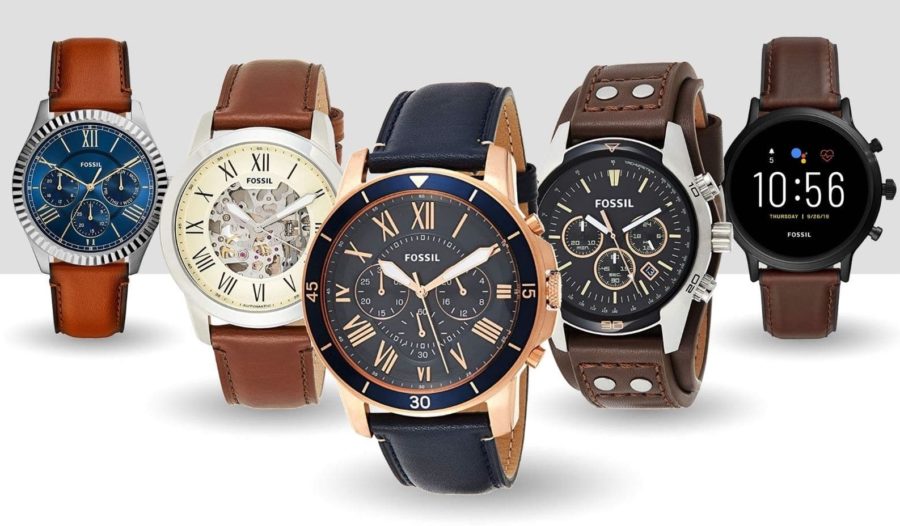 But before heading to the overview, let's discuss the reasons why Fossil watches are so popular and why to buy them.

Reasons to Buy Fossil Watches
First of all, Fossil makes stunningly beautiful watches that look way more luxurious than the price tags would suggest. All the way from subtle Roman numeral dress watches to skeletonized automatic timepieces, the brand seems to have them all.
What's even better, Fossil watches rarely cost above the $300 line, even the automatics. The median price for a watch stays conveniently between $100-$150.
Understandably, Fossil is not comparable to the renowned watchmakers in the industry, such as Seiko, Citizen, or Tissot, due to its tendency of being a fashion company rather than a pioneering brand.
Regardless of that, the watches have been decently built and outlive the majority of other fashion timepieces around.
Another reason supporting Fossil's popularity is that the watches are abundantly available and easily accessible. You can find them on various online shops, as well as from thousands of physical stores around the world.
If you wish to know a little bit more about the brand, starting with its birth story and quality levels and finishing with its full line-up and the origin of the name, feel free to check out our Fossil brand review.

Best Fossil Watches for Men
Now that the reasons for buying Fossil watches are loud and clear for all, it's time to check out the top 20 timepieces from this eye-catching fashion conglomerate.
We've tried to compile as versatile a selection as possible by selecting watches with different movements, styles, and purposes.
In addition, all the Fossil watches represented on this list come with very high reviews from verified owners.
Without further ado, here are the best of the best in no particular order.

Fossil Dean Dress Watch FS4795
Case size: 45mm
Movement: Quartz chronograph
Water resistance: 50m (165ft)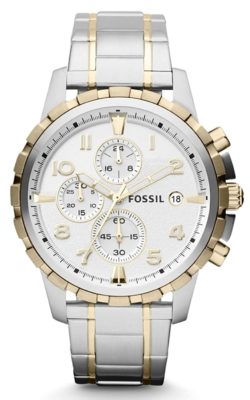 The first watch on our list comes in a classic shape but with modern appeal. The Fossil Dean Dress Watch may not be the most straightforward dress piece in the world due to employing stopwatch subdials, but it beams real elegance with its two-tone design of gold and silver.
The 45mm subtle stainless steel Fossil that goes perfectly well with smart and casual attires likewise is protected with a hardened mineral crystal, a slightly enhanced version of standard mineral glass.
The 22mm band is also of stainless steel and it is durable and without any rattling noise, enabling it to be worn conveniently without being too tight around the wrist.
In terms of functionality, the Fossil Dean watch features a chronograph, 24-hour time, and date function. The timing mechanism is powered by a quartz movement that keeps a standard +/-15 seconds a month accuracy.
Last but not least, the water resistance is guaranteed to 5 atmospheres, meaning you can shower and swim with it for short periods.

Fossil Coachman Leather Watch CH2891
Case size: 44mm
Movement: Quartz chronograph
Water resistance: 100m (330ft)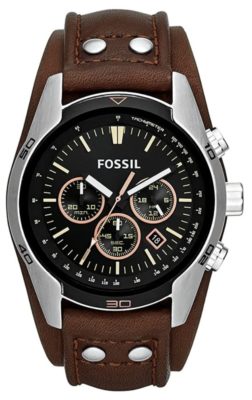 The Fossil Coachman watch is one of the most iconic models from this American fashion conglomerate.
Probably the most significant factor supporting its popularity is the casual appearance that sees a simple chronograph face combine with a wide leather strap. These features make it a perfect everyday watch that can be worn for a variety of occasions.
The Coachman is decently sized at 44mm, runs on an accurate quartz movement, and comes 100m (330ft) water-resistant.
The primary feature of the timepiece, the stopwatch, lies on two subdials and measures in 1-second intervals for up to 30 minutes. The third small window is occupied by the 24-hour time format.
This Fossil watch is suitable for both younger and older audiences, regardless of their walks of life. In addition, as it only costs a little more than a hundred bucks, it won't cost you an arm and a leg either.

Fossil Gen 5 Carlyle Smartwatch FTW4026
Case size: 44mm
Operating system: Wear OS
Water resistance: Swimproof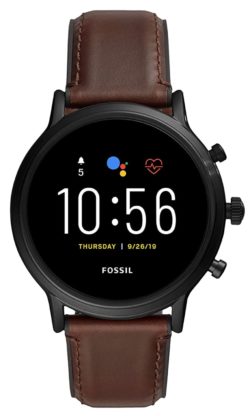 Fossil took up a real challenge when it entered the field of smartwatch manufacturing. Today, Fossil's Wear OS timepieces are highly sought-after as excellent alternatives to widespread Apple Watches.
The Fossil Gen 5 Carlyle, the fifth generation smartwatch, is the bestseller model out of the smartwatch line of wristwear. You can sync it with both iPhone and Android phones, and it charges up to 80% in under an hour.
When fully charged, the battery typically lasts at least 24 hours, with up to a couple of days in a multi-day extended mode.
The typical characteristics of a smartwatch are all present in the Gen 5 Carlyle piece, including notifications for calls and texts.
From the health and fitness side, the wearable comes with a heart rate monitor, activity tracking, and sleep statistics. A built-in GPS for distance tracking is another invaluable addition for tracking your lifestyle.
Another great thing with smartwatches is that you can personalize this swim-proof Fossil watch right according to your taste by choosing between more than a thousand faces and tens of quality interchangeable 22mm straps.

Fossil Gen 5 Garrett Smartwatch FTW4041
Case size: 46mm
Operating system: Wear OS
Water resistance: Swimproof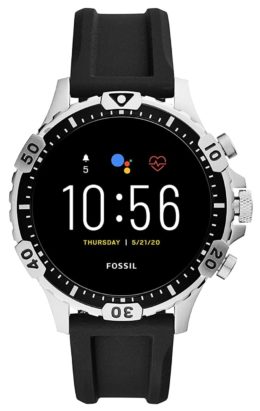 Yet another popular smartwatch collection from Fossil is the Garrett line. The Fossil Gen 5 Garrett differs from Carlyle watches for the inclusion of a stainless steel bezel, giving it an added appeal of a classic wristwatch.
Due to the bezel, the Garrett is 2mm larger, standing at 46mm in case diameter. The band, however, is still 22mm wide. This particular watch comes with a silicone band that withstands water much better than a leather one.
In terms of functions, the Fossil Garrett watch provides the same opportunities as the Carlyle – it shows notifications for texts and calls, measures heart rate, tracks activity, and provides you with sleeping data.
A nice thing with Fossil smartwatches, including this model, is the 8GB storage space, which you can fill with your favorite music tracks.

Fossil Townsman Automatic Watch ME3110
Case size: 44mm
Movement: Automatic
Water resistance: 50m (165ft)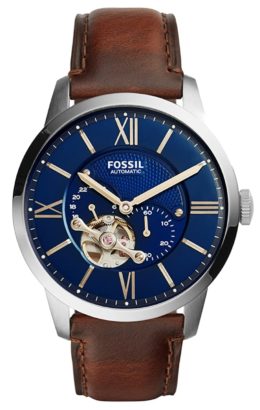 Despite Fossil's heightened focus on producing quartz-driven timepieces on large scales, there are still a couple of automatic watches in its line-up that offer decent quality levels and, above all, look real eye-catchers, just what you would expect from a top-class fashion-oriented manufacturer.
The Fossil Townsman Automatic ME3110 is one such timepiece that offers both – reliability and visual masterclass.
This blue-faced beauty features a prestigious open-heart design that showcases the caliber's most spectacular part, the constantly in motion balance wheel. Right next to the cut, you'll also find the watch's seconds counter and 24-hour time.
What's missing from this timepiece, though, is the date window. However, with the existence of a skeletonized cut that takes all the attention, you probably wouldn't mind this minor disadvantage.
The Townsman charges itself through the natural motion of the wearer and runs for up to 40 hours when fully charged. When the timepiece has stopped, the turning of the crown or shaking the hand winds it up again.
All in all, for around two hundred bucks, the Fossil Townsman is an excellent value-for-money automatic watch to any man's watch collection.

Fossil Chapman Quartz Watch FS5630
Case size: 42mm
Movement: Quartz chronograph
Water resistance: 50m (165ft)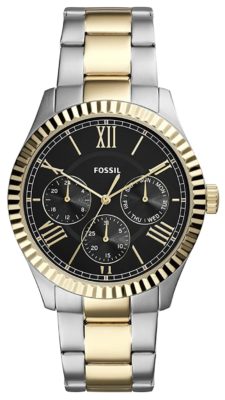 The Fossil Chapman FS5630 is an affordable quartz sweeper for smart casual wear. It employs three distinctive windows on the dark-toned dial that show the date, weekdays, and 24-hour time format.
Further, the timepiece keeps accurate time, withstands daily exposure to water, and fits the bill for many wearers for its widely suitable 42mm case size.
However, the best bit with this Fossil has to be the distinctive appearance when the crown, bezel, and center bracelet links come in a golden tone. The addition makes the watch way more expensive visually than it is in reality.
Another visual element separating this Chapman from many other casual wristwatches is the coin-edge texture of the top ring. The element provides a stylish addition that adds spark and uniqueness.
A fantastic opportunity for a Fossil buyer is the possibility to engrave it in one of the official U.S. and Canadian Fossil stores. What's even better, it is entirely free of charge. So, pick a message from our watch engraving ideas and give it a go!

Fossil Collider Hybrid Smartwatch FTW7008
Case size: 42mm
Operating system: Wear OS
Water resistance: 50m (165ft)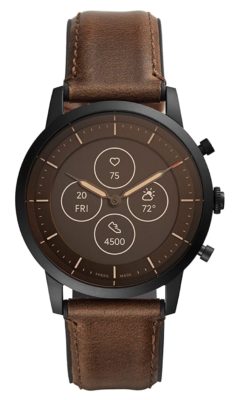 If you're not quite into smartwatches but, on the other hand, don't want to miss out on the uncountable possibilities they offer, maybe you should be looking at a midway between a classic timepiece and a smartwatch.
The Fossil Collider Hybrid Smartwatch offers precisely that.
It has standard watch hands that are powered by quartz movement, providing a classic analog appeal. However, the inner circle belongs to the smartwatch part. From there, you can keep track of your heart rate, steps taken, calories burnt, and current weather conditions.
Also, the watch has a gentle vibration to notify you when somebody is calling you or has sent you a message. The various features are accessible through the three pushers on the right side of the case.
The Collider Hybrid is one of the best Fossil watches also for the reason that it comes with a battery that requires charging only twice a month, making it a more convenient option than a typical smartwatch in terms of handiness.
Thus, consider this hybrid timepiece if you don't want to miss out on the perks of both sides, especially considering its sub-$200 price tag.

Fossil Neutra Chronograph FS5381
Case size: 44mm
Movement: Quartz chronograph
Water resistance: 50m (165ft)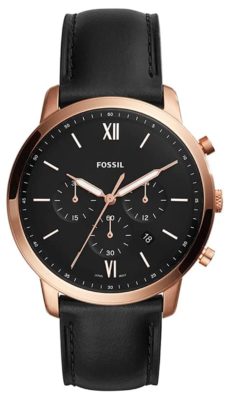 The following timepiece among the best men's Fossil watches has a dressy appeal, which is not that widespread from this manufacturer, as for the most part, it emphasizes producing casually styled watches.
The Fossil Neutra Chronograph comes in a 44mm copper-toned stainless steel case with a humble black dial. The subdials that belong to a stopwatch function and 24-hour time are not that eye-catching by staying discreet, which perfectly matches the timepiece's overall styling.
The watch employs an accurate and reliable Japanese quartz movement, comes with a 22mm black leather band, and has a hardened mineral crystal lens for dial protection.
Since the Fossil Neutra is only 11mm thick, it slips neatly under a sleeve, making it a suitable wearable for festive events, as well as for an office job that requires smart shirts and suits.

Fossil Machine Quartz Chronograph FS5164
Case size: 45mm
Movement: Quartz chronograph
Water resistance: 50m (165ft)
The Fossil Machine Quartz Chronograph does not represent the classic line of Fossil's watch sizes – it is somewhat larger.
The masculine timepiece is 45mm large with a knurled top ring. Although the 45mm may not seem that oversized for some, it is the 24mm stainless steel band that makes the difference.
In terms of functionality, it employs a chronograph measuring in 1-second intervals for up to 60 minutes. The typical additions, such as a 24-hour time and date window, are also present in this Machine piece.
The watch is 50m (165ft) water-resistant, so you can wear it for swimming, showering, and snorkeling without worrying about breaking it.

Fossil Grant Sport Leather Watch FS4835IE
Case size: 44mm
Movement: Quartz chronograph
Water resistance: 50m (165ft)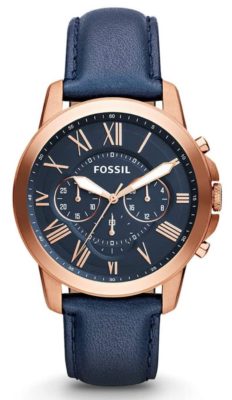 The Fossil Grant Chronograph is a sporty yet exquisite timepiece. The wonderful symbiosis of these two has resulted in an outcome that places this ticker firmly among the top Fossil watches currently available.
For around a hundred bucks that the Fossil Grant costs, not only will you receive an eye-catching time tracker but also a very functional piece.
As such, it runs on a reliable quartz mechanism keeping perfect time, employs a chronograph function, and comes with a three-hand movement where the minute and hour hounds are luminous.
Since the Fossil brand is very successful in the leather business as well, it's no wonder the vast majority of its watches come precisely with this type of band. Fossil's leather watches belong among the best there are; thus, you can expect this appreciated chronograph piece to sit comfortably on your wrist.

Fossil Decker Chronograph Watch CH2600IE
Case size: 44mm
Movement: Quartz chronograph
Water resistance: 100m (330ft)
While it may seem that Fossil's manufacture follows a similar pattern too often with chronographs, 44mm case sizes, and leather bands, it's not actually the case. The Fossil Decker Watch is a perfect example of that.
The watch comes entirely in silver stainless steel and has a contrasting black face, providing a visual appearance of a dive watch at first sight. Of course, it's not really a dive piece but an aviation-inspired ticker with its cockpit stylings.
The stopwatch function offers a time capture in 1/10-second increments, which is a nice feature in a hundred-dollar watch. Also, you'll find full seconds and minute counters from the other miniature circles. In addition, the Decker watch provides a solid, easy-to-read date window at four o'clock position.
Last but not least, this Fossil is suitable for various wrist sizes and shapes due to its decent case size of 44mm. You can even take it swimming and snorkeling as the water resistance is rated at 10 ATM.

Fossil Grant Automatic Watch ME3099
Case size: 44mm
Movement: Automatic
Water resistance: 50m (165ft)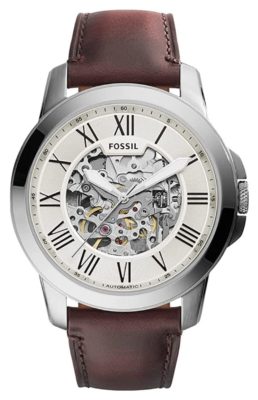 The Fossil Grant Automatic ME3099 strikes with a stunning skeleton face that showcases the intrinsics of a complicated automatic caliber. Another incredible view to the mechanism opens up from the case back, where you can enjoy the working of a spinning rotor.
Hence, for the price it sells, it is one of the best value-for-money skeleton watches you can find.
The timepiece is a bang on companion for wearers attending fancier events or having a job that requires smart outfits. Though, no one limits its use for other occasions, too, even for casual everyday wear.
In terms of accuracy, this brilliant suit watch surprises with a very precise movement, although the brand does not state its origin. Regardless of that, you can expect decent reliability for the bucks spent.

Fossil Commuter Casual Watch FS5403
Case size: 42mm
Movement: Quartz chronograph
Water resistance: 50m (165ft)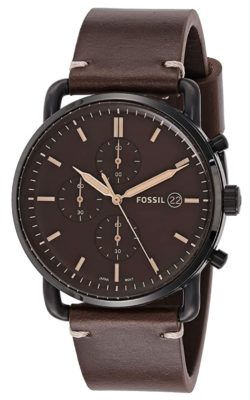 The next timepiece is a classic hybrid of casual and dressy style, which you can wear basically for any event there is. The Commuter FS5403 is also equipped with a simple chronograph feature for various time measurements.
Quality-wise, the watch comes in a 42mm stainless steel case, has a genuine smooth leather strap, and employs a decent mineral crystal lens. Powering this ticker is a reliable Japanese-origin quartz movement.
One of the downsides, though a minimal one, is the date window that can be too small to read for some of the wearers, especially if it displays two-digit dates.
Other than that, the Fossil Commuter is a proper wearable for less than $100.

Fossil Townsman Leather Watch FS5279
Case size: 44mm
Movement: Quartz chronograph
Water resistance: 50m (165ft)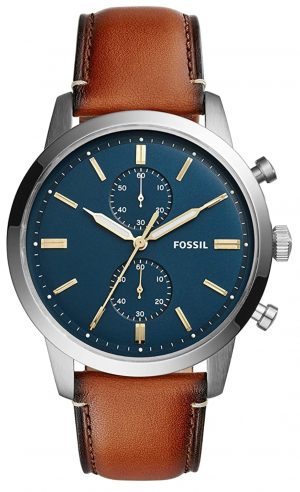 Another sub-$100 watch that suits perfectly well for everyday wear is the Fossil Townsman FS5279.
Inspired by the 1960s automotive and architectural design, it comes fully symmetrical and with an elevated construction.
The blue-faced ticker employs a stopwatch function with two easy-to-read subdials at twelve and six o'clock and has luminous hands for a better time capture in dim lighting conditions. The golden tone of the hands and hour markers in front of a blue dial also add to quick and hassle-free reading.
Another convenience-adding element with this Townsman lies in the leather strap. Numerous wearers have found it comfortable on the wrist, as well as very sturdy to withstand daily wear and tear.
If you're not quite into leather for some reason, you can always swap it for another type of band as the selection for the 22mm width is the largest from Fossil.

Fossil Grant Stainless Steel Watch FS4736IE
Case size: 44mm
Movement: Quartz chronograph
Water resistance: 50m (165ft)
In between the numerous leather watches that Fossil provides, you'll find the Fossil Grant Stainless Steel Watch. The all-metal timepiece features classy Roman numerals and a three-hand quartz chronograph movement, cased in a sturdy silver-toned stainless steel.
The Fossil is furthermore enhanced with the inclusion of protectors on either side of the crown. The special design also provides protection for the two pushers at two and four o'clock, making the watch resilient against unexpected knocks and hits.
Due to its favorable design that involves elements from both casual and formal style, this Fossil Grant fits the bill for all kinds of lifestyles.
You can even go swimming with it because the 5 ATM water resistance, along with an appropriate band, guarantees sufficient protection against humidity.

Fossil Grant Chronograph FS4735
Case size: 44mm
Movement: Quartz chronograph
Water resistance: 50m (165ft)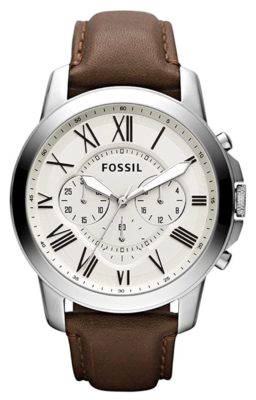 The Fossil Grant Chronograph FS4735 is one of the bestseller Fossil watches. The reasons for that are pretty simple – the timepiece employs the best bits that the brand offers.
First of all, it comes with an elegant and stylish cream-colored dial with Roman numerals that make it a visually luxurious timepiece. With the addition of well-placed and legible stopwatch dials, the Grant watch becomes versatile as well, providing the wearers with the possibility to time various events.
Secondly, this Fossil has one of the best leathers from the brand – it sits utterly comfortably to the wrist, as well as provides decent reliability for years to come.
And thirdly, the Grant FS4735 costs only about $100, which is an excellent value-for-money deal considering the materials and design it comes with.
All in all, this Fossil is a spot-on watch for any outfit and event, no matter your age or walk of life.

Fossil Nate Quartz Watch JR1437
Case size: 50mm
Movement: Quartz chronograph
Water resistance: 50m (165ft)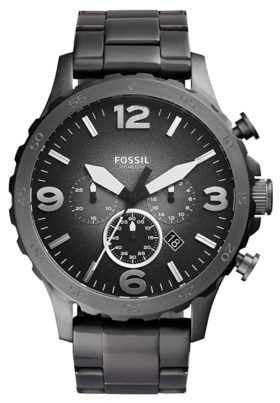 The next watch suits the best for wearers that appreciate a masculine appeal at its straightest meaning. How else would you describe an oversized watch with a gunmetal finish and militaristic style?!
The Fossil Nate JR1437 is, indeed, oversized when it stretches to 50mm in diameter. Therefore, make sure to check your wrist dimensions before going for this ticker, as slender wrists may not be the best fit.
In terms of appearance, the watch comes with an all-black appeal when gunmetal grey-plated stainless steel case and band combine with a textured black dial. The chronograph subdials are somewhat small for the watch's overall size but are still easy to capture even for people with weaker eyesight.
Since the Nate piece is military-inspired, you'll find decent water resistance levels from this ticker as well. A 100m (330ft) resistance is sufficient for various water activities, including snorkeling, swimming, and sailing.

Fossil Minimalist Slim Watch FS5439
Case size: 44mm
Movement: Quartz
Water resistance: 30m (100ft)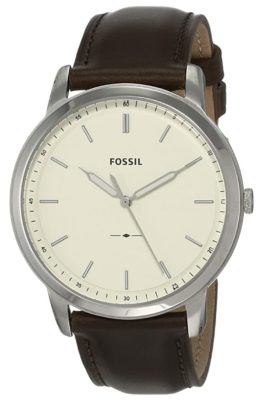 If you're after a vintage-looking minimalist watch with very few details, the Fossil Minimalist FS5439 could be your best fit.
The three-hand quartz-driven ticker has a cream-colored face with humble hour markers. The silver-toned hands are slim but enough present to contain luminosity. Reading the time is also fairly easy due to the contrast between the hands and background.
The Fossil Minimalist timepiece is an excellent wearable for suits and tuxes as it comes only 8mm in width. Thus, you can swiftly slip it in under a sleeve and uncover it with ease if required.
With the engraving options that Fossil offers free of charge in one of its local stores, it can also be a perfect gift for an elegant man for his birthday, graduation, or Christmas.

Fossil Minimalist Black Watch FS5308
Case size: 44mm
Movement: Quartz
Water resistance: 50m (165ft)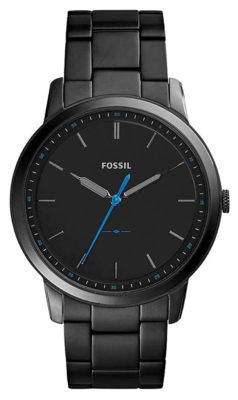 The Fossil Minimalist Black FS5308 is very similar to the previous entry in possessing very few details and coming as simple as it can get. However, with its black appeal and a distinctive blue seconds hand, it offers the chance to add some spark to dressier outfits.
Another differentiating factor from the previous watch we covered is the three-link stainless steel bracelet. With this inclusion, the Minimalist Black wristwatch can be easily matched with a casual style of clothes.
In terms of functionality, the watch is powered by a quartz movement that holds decent accuracy and is sure to last.
Due to its very minimalist style, you'll not find a date function or any other typical additions that wristwear usually come with. The reason for that is simple – to maintain the dial as neat as possible.

Fossil FB-01 Dive-Inspired Watch FS5668
Case size: 42mm
Movement: Quartz
Water resistance: 100m (330ft)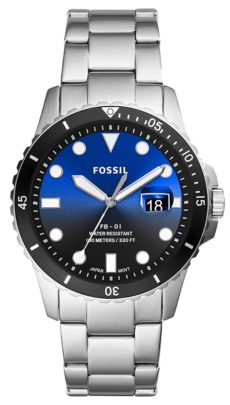 We finish the list of the best Fossil watches with one of the most popular types of wristwear – a dive watch. However, it needs to be noted that the Fossil FB-01 Watch is dive-inspired, meaning it features the design of a dive piece but can't be used as one professionally.
When it comes to appearance, it truly does follow the design of premium dive watches.
Take, for example, the ratcheted bezel (though, a fixed one) and luminous hands and hour markers; or a magnified date window and crown protectors. It's also sized as a proper dive piece with its 42mm case diameter.
However, in terms of functionality, the FB-01 suits for swimming, snorkeling, and shallow diving the most, which, to be true, is sufficient enough to the majority of wearers anyway. Therefore, the absence of a one-way rotating bezel and ISO certification for professional diving won't become significant stumbling blocks for casual men.
All in all, this expensive-looking watch that in reality costs around a hundred bucks is a genuine bargain for anyone wishing to decorate their wrists with dive-inspired timepieces.
---

Final Words
We hope this overview of the best Fossil watches has helped you closer to choosing a timepiece from this renowned American fashion conglomerate.
Like you may have noticed, the brand doesn't offer anything spectacular in terms of innovations and horological advancements, but that's not why Fossil was established in the first place anyway.
Its mission is to provide nicely designed and reliable wristwatches accessible to broad masses. That's exactly what you've witnessed with these 20 timepieces covered in this post.

You may also like:
Affiliate Disclosure: As an Amazon Associate I earn from qualifying purchases. Details
Latest posts by Carl Pender
(see all)