Affiliate Disclosure: As an Amazon Associate I earn from qualifying purchases. Details
The vast array of styles the watches come these days make them suitable for any imaginable event, hobby, and profession. They can be worn for very different occasions, starting with super posh gala nights and business meetings and finishing with professional diving and strenuous trekking.
However, sometimes you just want a watch that you can wear every day without worrying too much about breaking it or whether it goes well with the new t-shirt you just bought.
It has to be affordable, long-lasting, and, most importantly, versatile in its looks.
This post about the best everyday watches combines exactly this kind of timepieces – they cost well below $500, are reliable for years to come, and have an all-around aesthetics to be worn daily.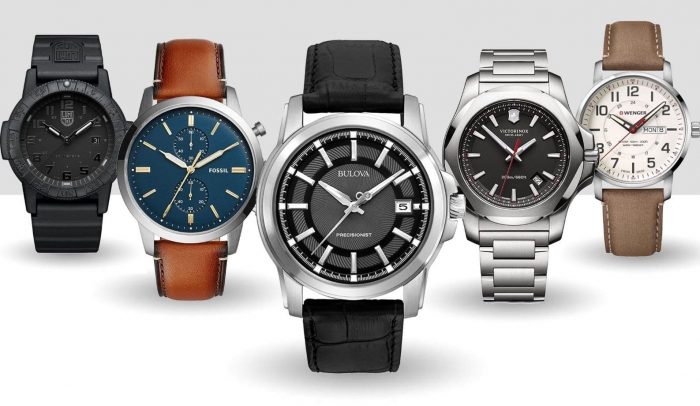 But first, what is an everyday watch, after all?

What Is an Everyday Watch?
Quite frankly, an everyday watch doesn't have any unanimously agreed characteristics like, for instance, dive-purpose or dress pieces have. What's the most important about a daily-worn watch, though, is its comfort and adaptiveness for different activities in your daily schedule.
Therefore, it can't be anything too flashy or too minimalistic but a midway between them to suit universal wear. Also, it shouldn't cost too much as frequent wear and tear the timepiece goes through could cost you a fortune in the long run. Finally, the watch must be very reliable to withstand this wear and tear.
Thus, in short, an everyday watch is an affordable piece with reliable quality and versatile looks that provides a convenient wearing experience whatever the daily activities involve.

Best Everyday Watches
Now that you're aware of the characteristics, it's about time to move to the perfect examples of that type of wristwear.

Timex Expedition Scout 40mm
Movement: Quartz
Case size: 40mm
Water resistance: 50m (165ft)
Crystal: Mineral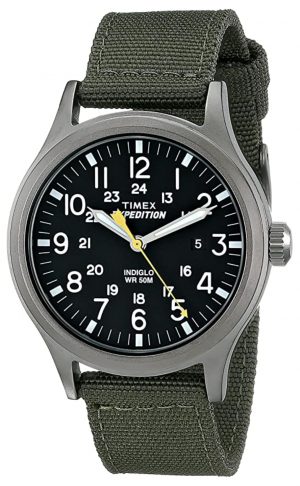 We start the list with an impeccable everyday watch from an American watchmaker Timex. The Timex Expedition Scout comes in a universal 40mm case size and with an appeal that leans towards a militaristic style. However, the watch is still casual enough to be worn for various occasions, whether it be for a job, hiking, or swimming.
The case is made from brass, which is not a widespread material in the industry. Nonetheless, the visual uniqueness it gives to this Scout piece with an industrial feel and pattern makes it unique among other timepieces. A brass case is also sturdy in withstanding knocks and scratches.
Another feature unique to Timex is the greenish-blue Indiglo backlight that enables you to read the time even in the dimmest of conditions. The whole dial will lighten up by simply pressing the crown.
Timex watches are also famous for the longevity of their batteries and the accuracy of their quartzes. This Expedition timepiece won't disappoint you in this regard either – it won't lose much time or die out for at least a couple of years.

Bulova Precisionist 96B158
Movement: Quartz
Case size: 42mm
Water resistance: 30m (100ft)
Crystal: Mineral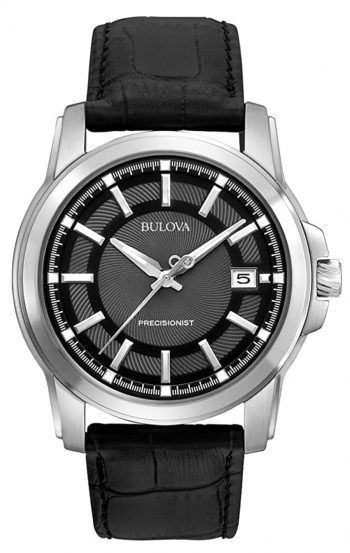 Although the Bulova brand excels in manufacturing very eye-catching and flashy wristwear for confident wearers, there are still some watches that can be considered modest enough to be worn daily. One of such is the Bulova Precisionist 96B158, though the adjective of modest doesn't apply to other characteristics the watch features.
The best selling point of this timepiece is, without a doubt, the perfect sweeping second's hand motion. When a quartz watch takes one step every second and a classic mechanical piece 6 or 8 steps, then this Precisionist marvels with an astonishing 16 in a second.
Another positive you'll receive from the higher frequency is the better accuracy – Bulova claims the Precisionist watches to be accurate to +/- 15 seconds a year.
On the outside, the 42mm timepiece features a textured dial and a date window at 3 o'clock, giving a laidback yet elegant impression that goes well with various attires and occasions.

Seiko 5 SNK809K Automatic
Movement: Automatic
Case size: 37mm
Water resistance: 30m (100ft)
Crystal: Hardlex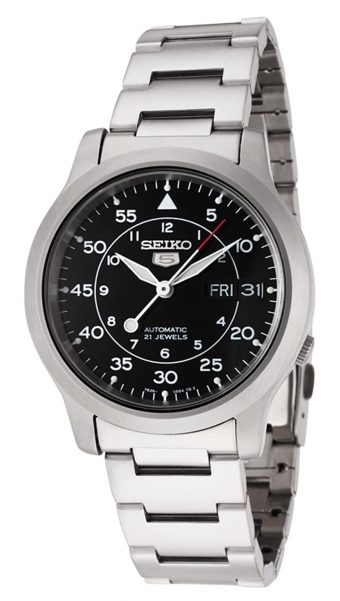 Another timepiece that suits a number of outfits and events is the Seiko 5 SNK809K. The Seiko 5 collection is known for its low prices and versatile nature. Therefore, it's a no-brainer that one of the models features among the top everyday watches.
One of the reasons we decided to include precisely this timepiece is its size and the black color of the dial. It is often said that white or black is the most neutral color for the face that goes well with the majority of daily events. And when you couple it with a 37mm case size, which also stays humble, the outcome is a flawless everyday watch in terms of appearance.
When it comes to practicality, the Seiko SNK809K is as suitable as it is appearance-wise. The watch is powered by a precise and reliable automatic movement, eliminating the need to replace the batteries every two to three years. Since the automatic movement stores around 40h of power, it also means the watch needs daily wear. Thus, when you decide to buy it to be worn every day, it's a perfect match for you.
In fact, the SNK809K model is widely considered to be the best entry-level automatic watch due to its reliability and affordable price. It also features on our list of the top affordable automatic watches on the market. So, if you're interested, feel free to check out how it compares to other similar self-winding timepieces.

Victorinox Swiss Army I.N.O.X. Watch
Movement: Quartz
Case size: 43mm
Water resistance: 200m (660ft)
Crystal: Sapphire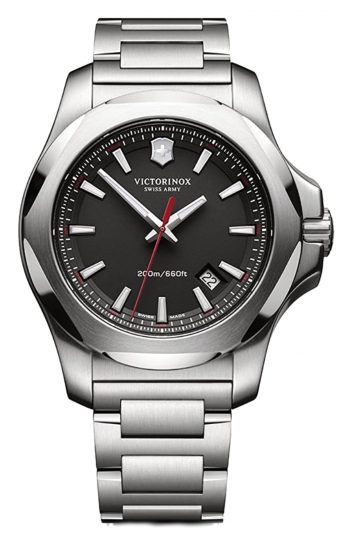 If your lifestyle requires a sturdier piece for everyday wear than the watches mentioned above, then you should consider the Victorinox Swiss Army I.N.O.X. watch.
The I.N.O.X. collection can freely be compared to Casio's G-Shock line for the ultimate endurance against various shocks. The watches go through 130 tests before they're released on sale, including a 10-meter drop, vibration resistance, 8-ton pressure resistance, and temperature shock resistance.
Therefore, if your work or hobbies include one of the extremes, it's your go-to watch, for sure.
The appearance also supports its claim to be the best everyday Swiss watch with an analog black dial and versatile stainless steel case and bracelet. The case is decently sized at 43mm, suiting various wrist sizes and shapes.
Last but not least, the watch is powered by a highly acknowledged Swiss quartz movement, providing incredible accuracy and longevity for years to come.

Citizen Corso Eco-Drive Everyday Watch
Movement: Solar quartz
Case size: 44mm
Water resistance: 100m (330ft)
Crystal: Mineral
The Citizen Corso BU2070-04A stands out from other top everyday watches for a unique powering method. When others employ batteries or get wound from the wearer's natural motions, then this Citizen piece receives energy from all kinds of light.
The famous Eco-Drive solar technology makes sure your timepiece never runs out of power nor requires any battery replacement – when fully charged, the long-lasting secondary cell stores the energy for up to six months. That feature makes the Corso piece one of the best watches to be worn every day because it is completely hassle-free.
Yet, the powering method is not the only reason for its inclusion in this list when the apparel and quality standards also contribute significantly.
For instance, the Corso piece is a marvel to look at with its striking silver dial in combination with day-date and GMT sub-dials. It's also water-resistant up to 100m (330ft), has a Japanese quartz movement, and features a reliable mineral crystal.

Fossil Townsman FS5437
Movement: Quartz
Case size: 44mm
Water resistance: 50m (165ft)
Crystal: Mineral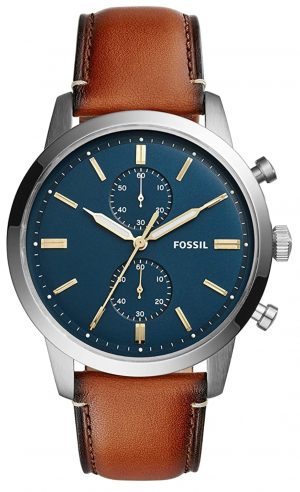 Despite the fact that Fossil is a fashion watch brand, you can still find a plethora of timepieces that provide both durability and universal appeal to suit daily wear and tear.
The Fossil Townsman FS5437 is a nice piece of accessory for office work, a timeout in the park, and restaurant visits. It's neither too posh nor too laidback but an exemplary midpoint between the two.
The watch comes in a 44mm stainless steel case, features quality genuine leather straps, and employs quartz movement. An additional feature you'll find from this timepiece includes a chronograph function for various time-related measurements.
A nice gesture from the brand is the opportunity to personalize your Townsman watch with engraving in one of its stores free of charge. And if you wish to make some more amendments to the appeal, you'll have the possibility to replace the straps with a more favorable one because the variety of different styles is wide.

Hamilton Khaki Field Silver Dial
Movement: Automatic
Case size: 38mm
Water resistance: 100m (330ft)
Crystal: Sapphire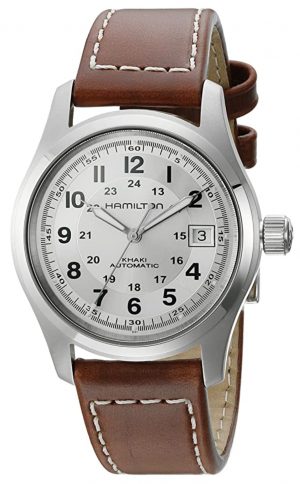 The Hamilton Khaki Field watch has a design of a vintage U.S. military watch but the construction of Swiss sophistication, pleasing those who admire the manufacture of Swiss industry but desire the style of American heritage.
The 38mm everyday watch has an ETA-supplied H-10 automatic movement with an extended power reserve of 80 hours, which exceeds the typical self-winding watches twice in terms of power longevity. The caliber is highly appreciated in the watch community not only for the prolonged reserve but also for the accuracy and reliability.
Due to the modest yet informative silver dial that harmonizes brilliantly with the stitched brown leather straps, the Khaki Field watch can be worn with various outfits, whether it be a Friday night out or a Sunday hike in the mountains.
You don't have to worry about breaking it either because it's equipped with sapphire glass, the best crystal there is, and a waterproof construction up to 100m (330ft).

Tissot Analog Quartz Watch
Movement: Quartz
Case size: 42mm
Water resistance: 30m (100ft)
Crystal: Sapphire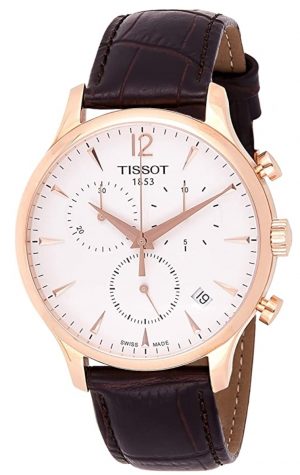 Another Swiss-made everyday watch for every occasion is the Tissot Analog Quartz Silver piece. Similar to the Hamilton watch, it comes with an anti-reflective sapphire crystal and features the attention to detail you expect from Swiss manufacture.
However, the style reflects a more elegant appeal rather than militaristic. Thus, you should consider this Tissot watch as your next daily wearable if most of your time is spent indoors.
The rose gold-plated 42mm stainless steel case and pure white dial add luxury to this timepiece, whereas the 1/10-second stopwatch provides functionality. The chronograph can be started, stopped, and reset through the two pushers at two and four o'clock positions.

Orient Sun & Moon Version 3
Movement: Automatic
Case size: 42.5mm
Water resistance: 50m (165ft)
Crystal: Sapphire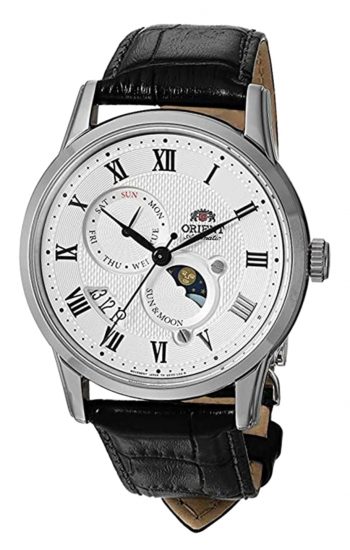 A slightly cheaper option for a luxurious-like everyday watch is the Orient Sun & Moon Version 3 model. This one, too, is better suited for indoor activities and smart casual wear.
The watch is automatic with a standard power reserve of 40 hours and employs two distinct complications – day feature and Sun & Moon display.
The latter is a simplified version of a moon phase complication where the two celestial bodies alternate depending on the day and night. Although it doesn't give much in terms of functionality, it is still a visual treat that adds extravagance to daily wear.
Orient watches are highly appreciated in the industry for providing a lot more than the price tag would suggest. For around $250 the Sun & Moon watch costs, you get an accurate self-winding timepiece with a premium-level quality.

Invicta Pro Diver 8926OB
Movement: Automatic
Case size: 40mm
Water resistance: 200m (660ft)
Crystal: Mineral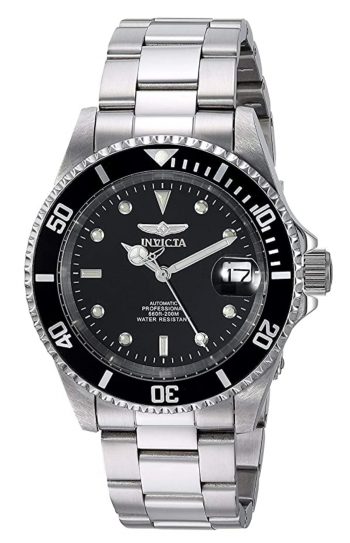 The next entry among the best everyday watches suits for those who cannot afford a Rolex Submariner but wish to have an affordable homage instead. The Invicta Pro Diver 8926OB is a hugely popular watch precisely because of its close resemblance to its luxury counterpart.
Just like the Submariner, the Pro Diver watch is a diver's piece with a 200m (660ft) water resistance, unidirectional bezel ring, and screw-down crown. It runs on a reliable NH35A automatic caliber and keeps a decent accuracy for a self-winding piece.
Since dive watches, including this Invicta, are void of bulky extras, they work out as suitable wearables for everyday use. It's not too large nor too heavy (40mm case size and 150g weight), ensuring a comfortable feel on the wrist.


However, you should watch out for the watch's somewhat weak luminosity that doesn't glow very bright and for too long. You can read more about the pros and cons of this watch from our hands-on review of the Invicta Pro Diver.

Luminox Analog Classic Quartz
Movement: Quartz
Case size: 44mm
Water resistance: 100m (330ft)
Crystal: Mineral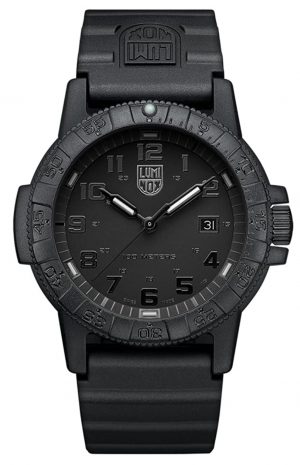 If the comfort of wearing is your primary prerequisite for an everyday watch, then the Luminox Analog Classic timepiece is your perfect fit. Due to a light carbon compound case and polyurethane strap, the Luminox watch weighs only 60g (2.12 ounces).
Not only does the timepiece offer convenience in terms of weight, but also constant night visibility via Luminox Light Technology. You don't have to push any button nor present a light source to charge it because the glow is guaranteed for up to 25 years.
The Swiss-made watch oozes durability and functionality with its aptness for various activities both on the land and in the sea. It's water-resistant up to 100m (330ft), has a unidirectional bezel for measuring remaining time underwater, and employs a quartz movement accurate to +/-15 seconds a month.
Although a typical Luminox watch is primarily meant for the military and has even earned itself an official partnership with the U.S. Navy, this classic quartz watch will be your allrounder, no matter your lifestyle.

Stuhrling Pro Diver Depthmaster
Movement: Quartz
Case size: 42mm
Water resistance: 100m (330ft)
Crystal: Krysterna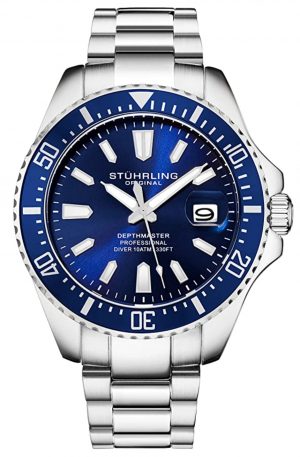 Stuhrling is best known for the flamboyant skeleton watches that won't leave anybody cold. However, the brand also has a selection of dive-inspired timepieces in the line-up that make as perfect watches for everyday use.
One of such is the Stuhrling Pro Diver Depthmaster that has all-around aesthetics with a deep blue dial and stainless steel case and bracelet. With its 42mm size and fully adjustable band, it fits the majority of wrists.
If the coloring is not your cup of tea, then Stuhrling has several other stylings available, ranging from green and black dial options to all-black and golden watches.
Overall, the watch is suitable for recreational diving for featuring a 100m (330ft) water-resistance, screw-down crown, and unidirectional bezel. However, due to modest apparel, it goes with any outfit you're wearing, not only your dive suit or swimming pants.

Wenger Attitude Sport Watch
Movement: Quartz
Case size: 42mm
Water resistance: 100m (330ft)
Crystal: Sapphire-coated mineral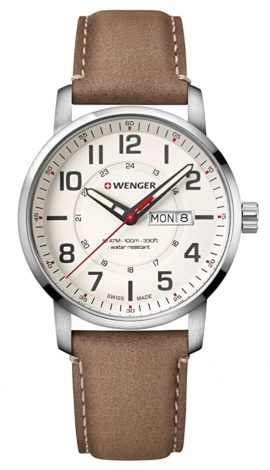 If you're into Swiss watches and wish to acquire one to be your everyday watch, then Wenger, one of the most affordable Swiss manufacturers, could have the right piece for you.
One of the watches that tick several boxes for many in terms of being versatile is the Wenger Attitude Sport. With a price tag below $200, it's one of the best value-for-money Swiss pieces for daily wear.
It's a simple analog watch with a day-date window and a three-hand quartz movement. But it's also very durable due to a quality Swiss quartz movement, sapphire-coated mineral crystal, and 42mm stainless steel case.
A nice extra you get with this watch is a limited 3-year warranty covering defects to the hands, dial, and movement.

G-Shock GW2310 Digital Watch
Movement: Solar atomic quartz
Case size: 46.5mm
Water resistance: 200m (660ft)
Crystal: Mineral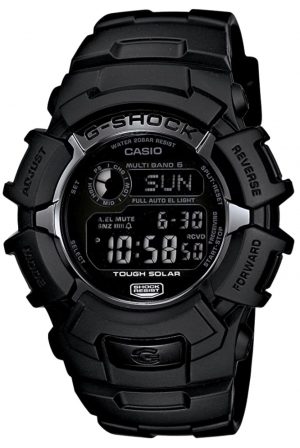 The list of the best everyday watches would be incomplete without the inclusion of a G-Shock timepiece. Although a digital watch may not be the perfect fit for casual wear, it provides a whole lot more than an analog piece can with the possibilities for numerous functions. In this matter, the G-Shock GW2310 has plenty to offer.
First off, the GW2310 is a solar-powered atomic watch – it is powered by light and is accurate to atomic precision. Secondly, it employs a 1/100 chronograph and a countdown timer for timing the length of certain events. The G-Shock also has a full-auto backlight and daily alarms, and many more useful features that you might need in your everyday activities.
The G-Shock GW2310 is an immaculate watch for those spending the majority of their time outdoors. It is water-resistant up to 200m (660ft) – a standard for every G-Shock watch, and withstands gravitational shocks and harsh temperatures.
Therefore, if your lifestyle involves working outside and some of the mentioned functions could be of help to you, go for this ticker. It won't cost you much either, staying conveniently below the $200 line.

Vincero Chrono S 40mm
Movement: Quartz
Case size: 40mm
Water resistance: 50m (165ft)
Crystal: Sapphire-coated mineral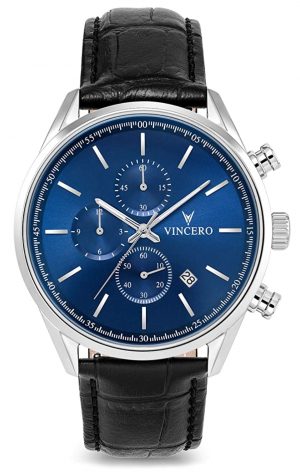 We finish the list with an elegant casual watch from the Vincero brand.
The Chrono S model runs on quality Miyota quartz movement and employs a stopwatch feature on three sub-dials.
The case is made of high-grade surgical stainless steel, while the mineral crystal is sapphire-coated for enhanced protection against scratches and scrapes that a watch in daily use often tends to get.
Vincero offers premium quality leather bands in its wristwear that are cut from Italian calf leather. They're also interchangeable if other colors are preferred.
Despite the relative incredulity of Vincero watches among aficionados, this Chrono S is still a sought-after watch due to its luxurious-like appeal and durable construction.

Conclusion: Best Everyday Watch
We hope this post will help you find the best everyday watch according to your needs and preferences. If none of the watches we covered here didn't appeal to you, then no need to worry – the array of casual timepieces for different lifestyles and activities is vast. Just bear in mind that a watch you intend to use daily should be comfortable to wear, decent in quality, versatile in looks, and affordable enough to dare wearing it every day.

You may also like:
Affiliate Disclosure: As an Amazon Associate I earn from qualifying purchases. Details
Latest posts by Carl Pender
(see all)